The Jordan, Knauff & Company (JKC) Valve Stock Index was up 8.1 percent over the last 12 months, while the broader S&P 500 Index was up 13.2 percent. The JKC Pump Stock Index increased 1.5 percent for the same time period.1
The Institute for Supply Management's Purchasing Managers' Index (PMI) increased slightly in February to 60.8 from 59.1 in January, its highest reading since 2004. The employment component jumped 5.5 points to 59.7. The prices index climbed 1.5 points to 74.2, the highest reading in more than six years. The imports index rose 2.1 points to 60.5, the highest reading since 2007. New orders and production fell slightly, but both remained above 60.
U.S. gross domestic product (GDP) expanded at a 2.5 percent annual rate in the last three months of 2017, a deceleration from the third quarter's 3.2 percent pace. The economy grew 2.3 percent in 2017, above the 1.5 percent seen in 2016. Consumer spending grew 3.8 percent in the fourth quarter, the quickest pace since the last quarter of 2014, following a 2.2 percent rate growth in the third quarter. Growth in business spending on equipment rose 11.8 percent during the fourth quarter, the fastest pace since the third quarter of 2014.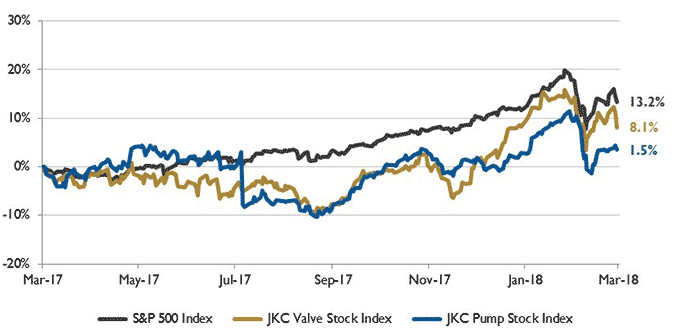 Image 1. Stock Indices from March 1, 2017 to Feb. 28, 2018. Local currency converted to USD using historical spot rates. The JKC Pump and Valve Stock Indices include a select list of publicly traded companies involved in the pump and valve industries, weighted by market capitalization. Source: Capital IQ and JKC research.
The U.S. industrial sector consumes the most natural gas, surpassing electric power in 2017. The bulk chemicals industry consumes the most natural gas in the industrial sector at 3.1 quadrillion British thermal units (Btu) last year.
The bulk chemicals industry includes production of organic chemicals (including petrochemicals), inorganic chemicals, resins and agricultural chemicals. The U.S. Energy Information Administration expects a 40 percent increase in natural gas consumption in the industrial sector, from 9.8 quadrillion Btu in 2017 to 13.7 quadrillion Btu in 2050.
Image 2. U.S. energy consumption and rig counts. Source: U.S. Energy Information Administration and Baker Hughes Inc.
Driven by government policies to reduce air pollution, China increased its imports of liquefied natural gas (LNG) by 46 percent in 2017, reaching an average of 5 billion cubic feet per day. China is now the world's second largest LNG importer after Japan, which imports 11 billion cubic feet per day. Top importers include South Korea, India and Taiwan. The U.S. Energy Information Administration expects China's LNG import capacity to increase to 11.2 billion cubic feet per day by 2021. China accounted for almost 15 percent of U.S. LNG exports last year, behind only Mexico and South Korea. U.S. LNG exports to China increased in 2017 to 103 billion cubic feet from 17.2 billion cubic feet in 2016.
In February the Dow Jones Industrial Average, the S&P 500 Index and the NASDAQ Composite decreased by 4.3 percent, 3.9 percent and 1.9 percent, respectively. Investors worried the Federal Reserve Bank might institute an interest rate hike, due to strong wage growth, a tighter labor market and the possibility of a rise in inflation. Rising bond yields also diminished stocks' appeal.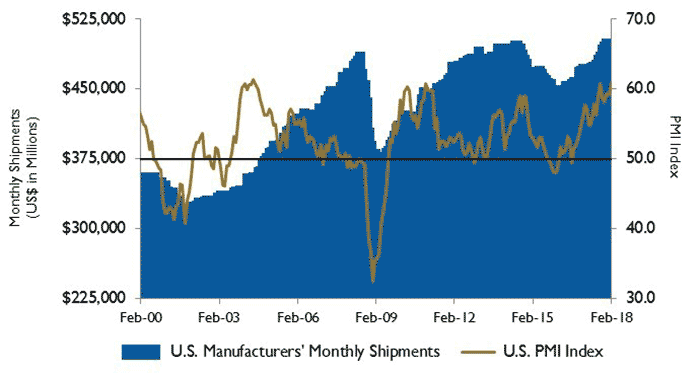 Image 3. U.S. PMI and manufacturing shipments. Source: Institute for Supply Management Manufacturing Report on Business and U.S. Census Bureau
Reference
1 The S&P Return figures are provided by Capital IQ.
These materials were prepared for informational purposes from sources that are believed to be reliable but which could change without notice. Jordan, Knauff & Company and Pumps & Systems shall not in any way be liable for claims relating to these materials and makes no warranties, express or implied, or representations as to their accuracy or completeness or for errors or omissions contained herein. This information is not intended to be construed as tax, legal or investment advice. These materials do not constitute an offer to buy or sell any financial security or participate in any investment offering or deployment of capital.
Issue