The Jordan, Knauff & Company (JKC) Valve Stock Index was up 18.1 percent over the last twelve months, while the broader S&P 500 Index was up 15.2 percent. The JKC Pump Stock Index increased 21.5 percent for the same time period.1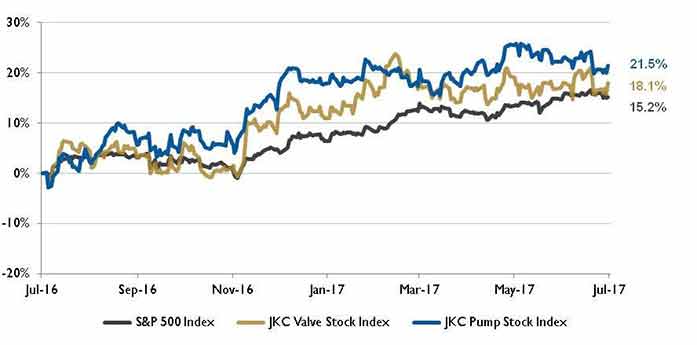 Figure 1. Stock indices from July 1, 2016 to June 30, 2017. Local currency converted to USD using historical spot rates. The JKC Pump and Valve Stock Indices include a select list of publicly traded companies involved in the pump and valve industries weighted by market capitalization. Source: Capital IQ and JKC research.
The Institute for Supply Management's Purchasing Managers' Index (PMI) increased strongly from 54.9 percent in May to 57.8 percent in June, its highest reading since August 2014. Comments from the survey generally reflect an expanding business environment with new orders, production, employment, backlog and export orders all growing during the month. New orders grew 4.0 percent, production increased 5.3 percent and export orders rose 2.0 percent. The employment reading reached a 15-month high rising 3.7 percent during the month.
U.S. refineries are currently running at record high levels with gross inputs of 17.6 million barrels per day for the week ending June 9. Weekly U.S. gross inputs to petroleum refineries (known as refinery runs) have exceeded 17 million barrels per day only 24 times since 1990 with all of those instances occurring since July 2015. Despite these record high inputs, refinery utilization reached only 95 percent for the week ending May 26, due to increases in refinery capacity in recent years. U.S. refinery capacity has increased by 659,000 barrels per calendar day since mid-August 2015. Refinery capacity represents the amount of input that a crude oil distillation unit can process in a 24-hour period under usual operating conditions.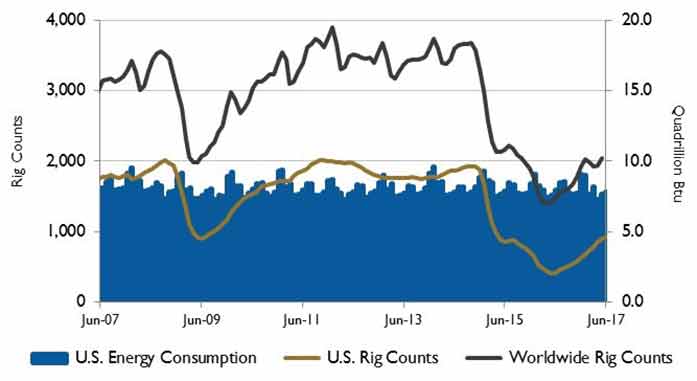 Figure 2. U.S. energy consumption and rig counts. Source: U.S. Energy Information Administration and Baker Hughes Inc.
Increasing from 2.4 million barrels per day in 2010 to 5.2 million barrels per day in 2016, U.S. crude oil and other petroleum product gross exports have more than doubled over the past six years.
The U.S. exported 1.1 million barrels per day of crude oil in February, the highest monthly level recorded. In December 2015, restrictions on U.S. exports were lifted and the country exported an average of 520,000 barrels of crude oil per day in 2016. Favorable price differentials, lower shipping costs and rising U.S. production also contributed to the rise in exports. Canada remains the largest destination for U.S. crude oil exports with the Netherlands, Curacao, China, Italy and the United Kingdom following. Canada's share of U.S. exports dropped from 92 percent in 2015 to 58 percent in 2016.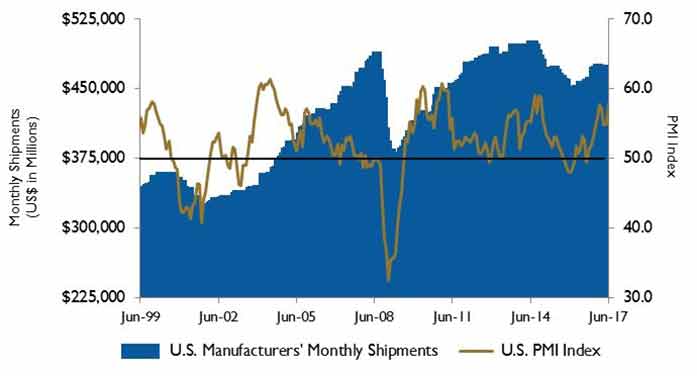 Figure 3. U.S. PMI and manufacturing shipments. Source: Institute for Supply Management Manufacturing Report on Business and U.S. Census Bureau
On Wall Street the Dow Jones Industrial Average rose 1.6 percent, the S&P 500 Index increased 0.5 percent and the NASDAQ Composite declined 0.9 percent for the month of June. Bank stocks rose as the Federal Reserve Bank increased its key interest rate by 25 basis points during the month. However, technology stocks, which have outperformed the overall market so far this year, had several setbacks related to concerns about overvaluation. For the first half of the year, solid corporate earnings, increased economic activity in many areas of the world and hopes of pro-growth policies, resulted in broad market gains. The Dow Jones Industrial Average grew 8.0 percent, the S&P 500 Index increased 8.2 percent and the NASDAQ Composite rose 14.1 percent over the first six months of the year.
Reference
1. The S&P Return figures are provided by Capital IQ.
These materials were prepared for informational purposes from sources that are believed to be reliable but which could change without notice. Jordan, Knauff & Company and Pumps & Systems shall not in any way be liable for claims relating to these materials and makes no warranties, express or implied, or representations as to their accuracy or completeness or for errors or omissions contained herein. This information is not intended to be construed as tax, legal or investment advice. These materials do not constitute an offer to buy or sell any financial security or participate in any investment offering or deployment of capital.
Issue