The Jordan, Knauff & Company (JKC) Valve Stock Index was up 10 percent over the last 12 months, while the broader S&P 500 Index was up 11.9 percent. The JKC Pump Stock Index decreased 11.6 percent for the same time period.1
The Institute for Supply Management's Purchasing Managers' Index (PMI) increased from 58.7 percent in May to 60.2 percent in June. The New Orders Index registered 63.5 percent in June, a slight dip from May but still very solid.
The New Orders Index has been above 60 percent for 14 straight months. The Backlog of Orders Index continued to expand, reaching 60 percent or above for the third consecutive month. Respondents are concerned about the impact and uncertainties surrounding tariffs and a possible trade war, as well as rising transportation costs.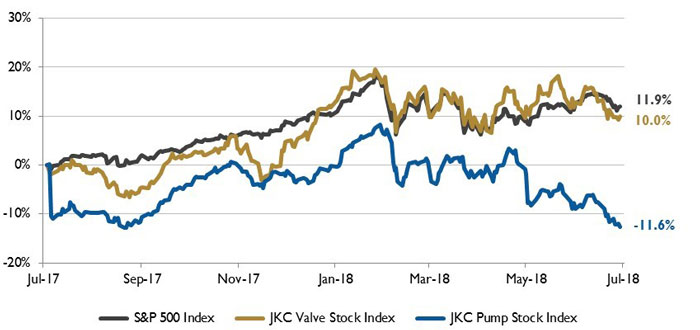 Image 1. Stock Indices from July 1, 2017 to June 30, 2018. Local currency converted to USD using historical spot rates. The JKC Pump and Valve Stock Indices include a select list of publicly traded companies involved in the pump and valve industries, weighted by market capitalization. Source: Capital IQ and JKC research.
The J.P. Morgan Global Manufacturing PMI fell to an 11-month low of 53.0 percent in June. Six nations covered by the survey reported deteriorations, while rates of expansion remained above the global average in the U.S. and the Euro zone. Growth was higher in Japan, but eased in China. Developed markets saw a modest increase in new export business, while emerging markets saw a decline for the third straight month.
Consumption of hydrocarbon gas liquids (HGL) totaled 928 million barrels in the U.S. in 2016, up 12 percent since 2010. HGLs include natural gas liquids (ethane, propane, normal butane, isobutene and natural gasoline) and refinery olefins (ethylene, propylene, normal butylene and isobutylene). The industrial sector is the largest consumer of HGLs with about 83 percent of total U.S. consumption in 2016. In the industrial sector, HGLs are used in the production of intermediate organic chemicals such as ethylene and propylene, which are used to make plastics and resins. Texas and Louisiana combined for about 75 percent of total HGL consumption. Between 2010 and 2016, the consumption of HGLs grew about 19 percent.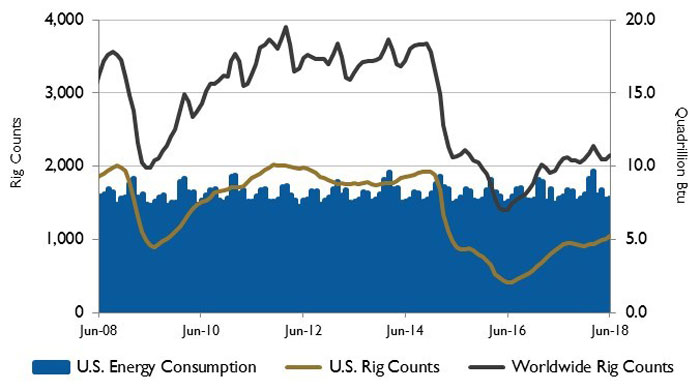 Image 2. U.S. energy consumption and rig counts. Source: U.S. Energy Information Administration and Baker Hughes Inc.
On Wall Street for June, the Dow Jones Industrial Average lost 0.6 percent, the S&P 500 Index increased by 0.5 percent, while the NASDAQ Composite grew 0.9 percent. The Federal Reserve Bank increased interest rates by 0.25 percent and talked about two more rate increases by the end of the year. Markets saw a large selloff when tariffs were threatened on $200 billion worth of Chinese goods.
The Dow Jones Industrial Average gained 0.7 percent, the S&P 500 Index increased 2.9 percent and the NASDAQ Composite grew 6.3 percent for the second quarter.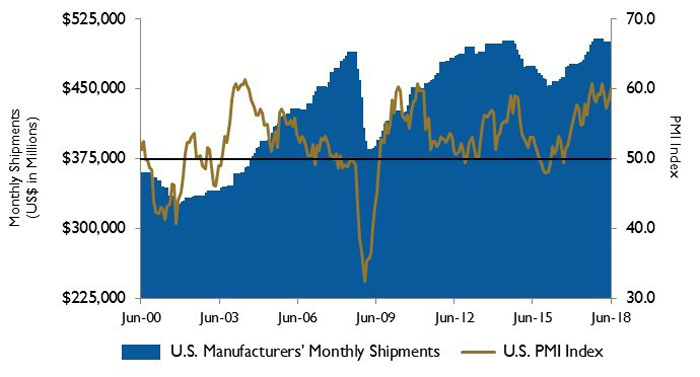 Image 3. U.S. PMI and manufacturing shipments. Source: Institute for Supply Management Manufacturing Report on Business and U.S. Census Bureau.
The U.S. created 213,000 new jobs in June. Education and health services added 54,000 jobs, professional and business services added 50,000 jobs, and manufacturing added 36,000.
The unemployment rate rose to 4.0 percent from 3.8 percent in May, as about 600,000 people entered the labor force.
Reference
1. The S&P Return figures are provided by Capital IQ.
These materials were prepared for informational purposes from sources that are believed to be reliable but which could change without notice. Jordan, Knauff & Company and Pumps & Systems shall not in any way be liable for claims relating to these materials and makes no warranties, express or implied, or representations as to their accuracy or completeness or for errors or omissions contained herein. This information is not intended to be construed as tax, legal or investment advice. These materials do not constitute an offer to buy or sell any financial security or participate in any investment offering or deployment of capital.
Issue