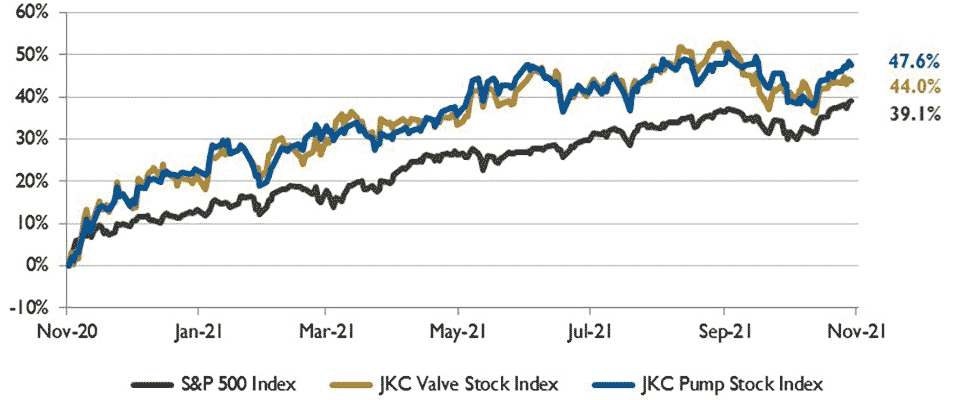 Companies and suppliers continue to deal with hurdles to meet increasing demand despite increasing prices.
The Jordan, Knauff & Company (JKC) Valve Stock Index was up 44% over the last 12 months, and the broader S&P 500 Index was up 39.1%. The JKC pump stock index rose 47.6% for the same period.1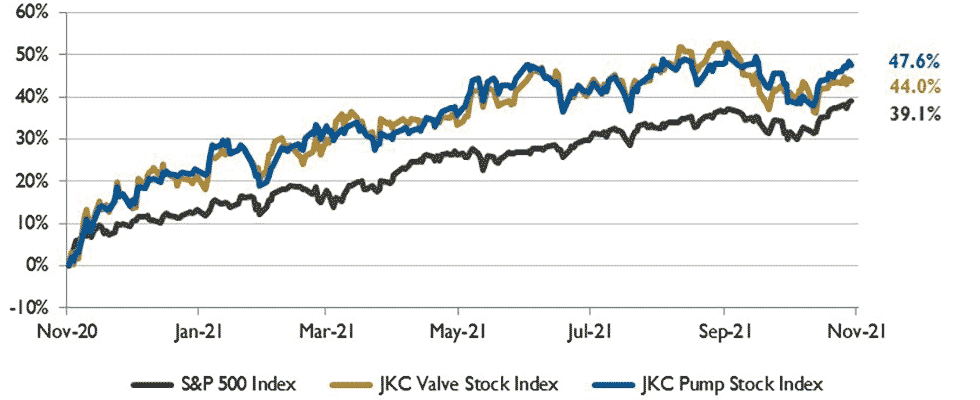 The Institute for Supply Management's Purchasing Managers Index (PMI) fell to 60.8% in October, a 0.3 percentage point decrease from September. This figure indicates expansion in the overall economy for the 17th month in a row after a contraction in April 2020.
The new orders index fell to 59.8%, down 6.9 percentage points compared to September. The production index decreased 0.1 percentage points to 59.3%, and the prices index was up 4.5 percentage points to 85.7%, indicating continued supplier pricing power and scarcity of supply chain goods.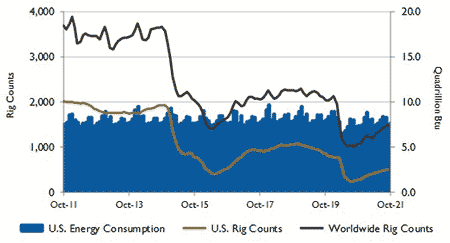 The backlog orders index for October fell to 63.6%, 1.2 percentage points lower than September, indicating that production kept up with strong new order levels. However, backlogs remain at historically high levels.
The employee index, at 52%, was 1.8 percentage points higher and hiring difficulties show no sign of waning. The supplier deliveries index rose to 75.6% compared to 73.4% in September, while the inventories index rose to 57%—1.4 percentage points higher—due to work-in-process inventory that has been held longer because of shortages and more finished goods inventory held due to customer issues downstream.
Companies and suppliers continue to deal with hurdles to meet increasing demand despite increasing prices. All segments of manufacturing have been impacted by record-long raw materials lead times, continued shortages of critical materials, rising commodities prices and difficulties in transporting products. Congestion at ports in China and the United States remains a major problem. 
Staffing levels on the factory floor remain an obstacle and direct-labor turnover plus retirements continue to be a negative trend. Disruptions from COVID-19, especially in Southeast Asia, continue to impact many industry sectors. Absent workers, shutdowns due in part to shortages, difficulties in filling open positions and supply chain problems continue to limit manufacturing growth.  
The six big manufacturing industries—food, beverage and tobacco; computer and electronics; chemicals; fabricated metals; petroleum and coal; and transportation equipment showed moderate to strong growth in October. Two industries that reported a decrease in October are wood and nonmetallic mineral products.
On Wall Street, all the major indices gained for October, as the Dow Jones Industrial Average rose 4.4%, the S&P 500 Index gained 6.7% and the NASDAQ Composite was up 6.9%. Inflation concerns continue to weigh on investors, while supply chain constraints, especially chip and labor shortages, put pressure on the economy.   
Issue