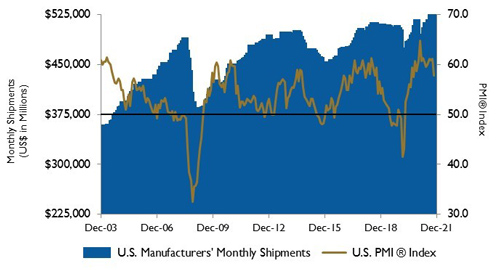 Ten industries reported growth in production during the month.
The Jordan, Knauff & Company (JKC) Valve Stock Index was up 15.1% over the last 12 months, and the broader S&P 500 index was up 24.7%. The JKC pump stock index rose 21.6% for the same period.1  
The Institute for Supply Management's Purchasing Managers Index (PMI) fell 2.4 points to 58.7% in December. The Prices Paid Index fell 14.2 points, the biggest monthly drop in the prices paid measure in over a decade. However, at 68.2% prices are still rising but no longer at the 82.4% level seen in November. 
New orders were at 60.4% in December and production at 59.2%; both are consistent with a strong demand environment. Thirteen of 18 manufacturing industries reported growth in new orders in December. The two industries reporting a decline in new orders were wood products and paper products. Ten industries reported growth in production during the month.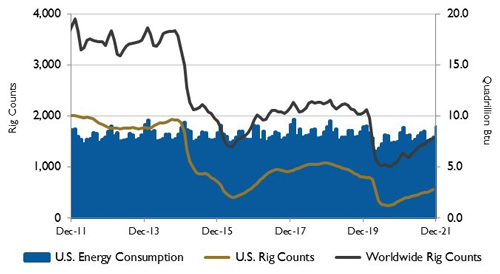 U.S. industrial production increased 0.5% in November. Total industrial production is 1.8% below its pre-pandemic peak in August 2018. Manufacturing output, which comprises roughly three-quarters of all industrial output, was up 0.7% as motor vehicle strength offset some weakness in machinery. Production of motor vehicles and parts rose 2.8%.
Employers added 199,000 jobs in December, falling from 249,000 in November and 648,000 in October. The unemployment rate fell to 3.9%. Average hourly wages increased 4.7% from a year earlier. This jobs report reflects hiring activity before the COVID-19 omicron variant spread rapidly in late December. Omicron is sending millions of sick workers into quarantine, exacerbating labor shortages.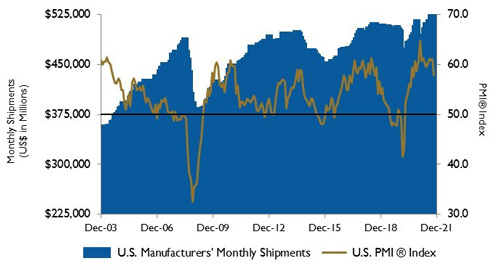 The U.S. oil and gas rig count, an early indicator of future output, has been rising for a record 16 months in a row, going from a low of 250 in August 2020 to 579 in December 2021. This is reflected in U.S. drilling activity, which continues to increase in modest increments. Energy companies are completing wells that were drilled in the past, known as DUC (drilled but uncompleted) wells, the number of which is declining fast. There were only 4,855 DUCs left in the seven largest U.S. shale basins in November, the lowest since June 2014.
On Wall Street, the Dow Jones Industrial Average, the S&P 500 Index and the NASDAQ Composite rose 5.4%, 4.4% and 0.7%, respectively, in December. For the full year of 2021, the three major stock indices rallied 18.7%, 26.9% and 21.4%, respectively. 
The supply chain disruption, shortage of labor and pent-up demand by Americans resulted in mounting inflationary pressure. Economic growth and corporate profit rose sharply in 2021. Availability of COVID-19 vaccines, government's effort for nationwide vaccination and continuation of fiscal and monetary stimulus resulted in an earlier than expected reopening of the U.S. economy. 
1 - The S&P Return figures are provided by Capital IQ.
Issue