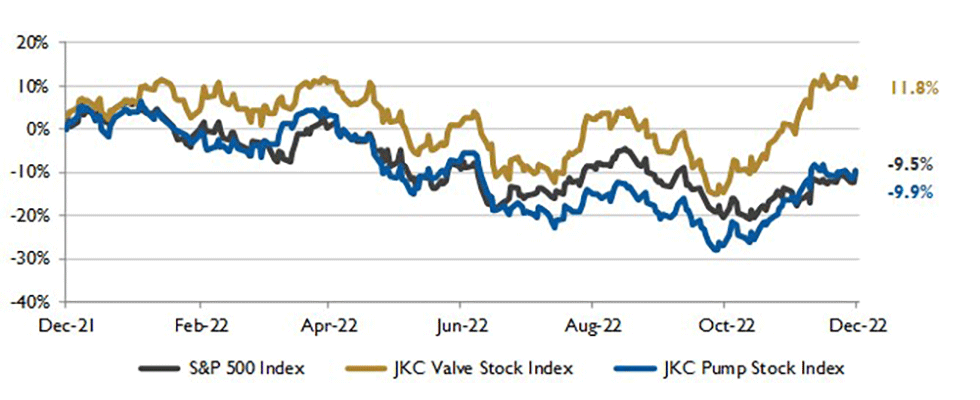 Any unplanned supply disruption has the potential to increase oil prices quickly and significantly.
The Jordan Knauff & Company (JKC) Valve Stock Index was up 11.8% over the last 12 months, and the broader S&P 500 index was down 9.5%. The JKC pump stock index fell 9.9% for the same time period.1
The Institute for Supply Management's Purchasing Managers Index (PMI) declined in November to 49.0%, the first contraction reading since the spring of 2020. Current production continued to expand, but was barely positive at 51.5%.
The New Orders Index has declined, registering 47.2%. None of the six largest manufacturing sectors reported increased new orders. The Inventory Index increased seven percentage points and suggests customers now have the necessary amount of stock on hand. The Imports Index registered 46.6%, its lowest level since May 2020.
The Labor Department reported that United States payrolls increased by 263,000 jobs in November. Over the past three months, payroll growth has been in the range of 263,000 to 284,000 jobs. Construction and manufacturing payrolls were up 20,000 and 14,000, respectively.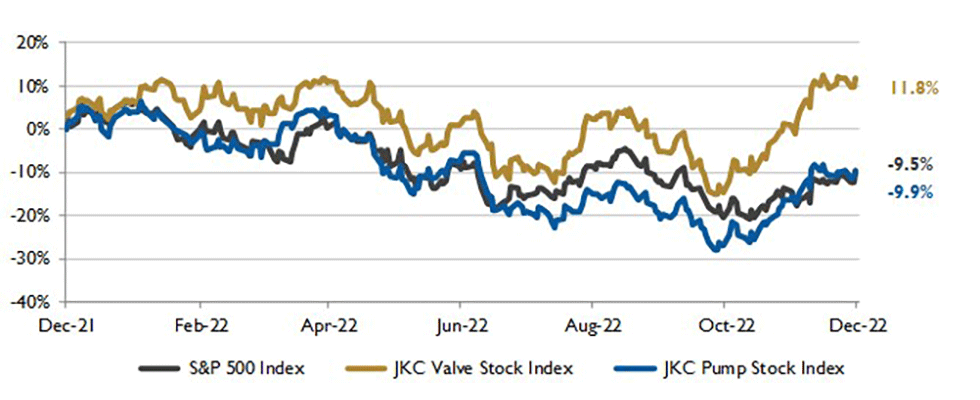 Employment in the information industry was up 19,000, while payrolls in professional and technical services rose 28,000. Leisure and hospitality employment added 88,000 jobs. Payrolls also increased in government, healthcare and financial activities.
Workers' average hourly earnings rose 0.6% in November, while September and October's figures were each revised higher. Over the past three months, average hourly earnings have risen at a 5.8% annualized pace. For typical workers, inflation has outpaced wages over the past year.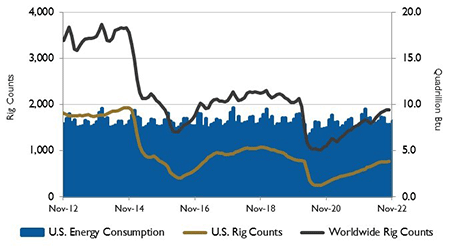 There is uncertainty about the impact that further sanctions on Russia would have on global oil prices. The European Union banned seaborne imports of crude oil from Russia on Dec. 5, and the ban on petroleum product imports starts on Feb. 5. Given relatively low global petroleum inventories and the time needed to replenish them, any unplanned supply disruption has the potential to increase oil prices quickly and significantly.
The U.S. Energy Information Administration expects falling global inventories of oil early in 2023 will push Brent crude oil prices back above $90 per barrel by the second quarter of 2023.
U.S. retail gas prices are expected to average $3.50 per gallon in 2023. Gas prices finished November at their lowest price since February 2022, as high refinery usage and falling demand contributed to rising gasoline inventories, which resulted in price decreases in November.
On Wall Street the Dow Jones Industrial Average rose 5.3%, the S&P 500 Index gained 4.6% and the Nasdaq Composite rose 3.3% in November.
Slowing inflation has increased confidence in the markets. However, Federal Reserve Chairman Jerome Powell indicated that monetary policy will remain restrictive until the inflation rate declines considerably.
Reference
1 - The S&P Return figures are provided by Capital IQ.
Issue