The Jordan, Knauff & Company (JKC) Valve Stock Index was up 11.6 percent over the last 12 months, while the broader S&P 500 Index was up 11.3 percent. The JKC Pump Stock Index decreased 8.1 percent for the same time period.1
The Institute for Supply Management's Purchasing Managers' Index (PMI) increased from 57.3 percent in April to 58.7 percent in May. The New Orders Index registered 63.7 percent, an increase of 2.5 percentage points from the April reading. The Production Index registered 61.5 percent, a 4.3 percentage point increase. Demand remains strong, with the New Orders Index at 60 or above for the 13th straight month, and the Customers' Inventories Index remaining at very low levels.
The U.S. created 223,000 jobs in May. Most industries added jobs and worker pay increased at a somewhat faster pace. Retailers added 31,000 new jobs, health care added 29,000, construction added 25,000, and manufacturing increased by 18,000. The unemployment rate fell to an 18-year low of 3.8 percent.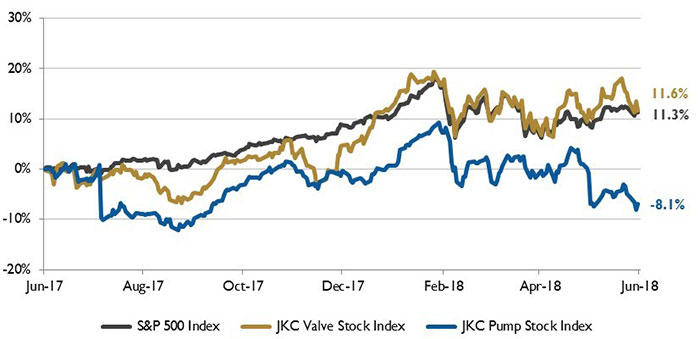 Image 1. Stock Indices from June 1, 2017 to May 31, 2018. Local currency converted to USD using historical spot rates. The JKC Pump and Valve Stock Indices include a select list of publicly traded companies involved in the pump and valve industries, weighted by market capitalization. Source: Capital IQ and JKC research.
Based on the combined value of energy exports and imports, Canada is the largest energy trading partner with the United States. Canada is the top source of U.S. energy imports and the second-largest destination for U.S. energy exports, behind Mexico. In 2017 the value of all U.S. energy imports from Canada totaled $73 billion, or 24 percent of the value of all U.S. imports from Canada. Energy accounted for $18 billion, or 6 percent of the value of all U.S. exports to Canada last year.
Reaching a record high of almost 60 quadrillion BTUs in 2017, the U.S. remained the world's top producer of petroleum and natural gas hydrocarbons. U.S. petroleum and natural gas production has increased by almost 60 percent since 2008. The U.S. has been the top producer of natural gas since 2009 and petroleum hydrocarbons since 2013.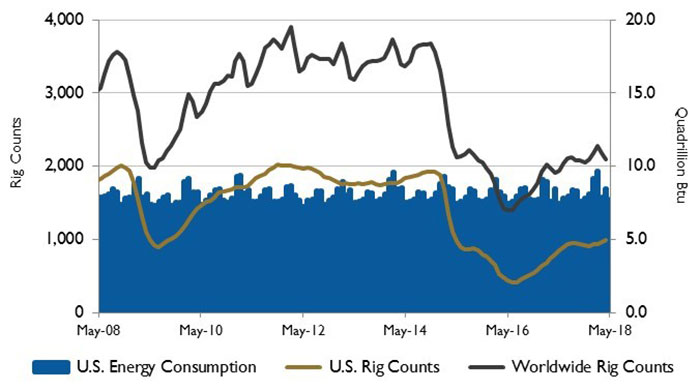 Image 2. U.S. energy consumption and rig counts. Source: U.S. Energy Information Administration and Baker Hughes Inc.
As a result of the November 2016 Organization of Petroleum Exporting Countries (OPEC) and Russian agreement to reduce crude oil production, global petroleum inventories declined through 2017 and the first quarter of 2018, ending an extended period of oversupply in the market. Both U.S. and Organization for Economic Cooperation and Development (OECD) member countries' total liquid fuel inventories have returned to their five-year averages after above average levels since the end of 2014.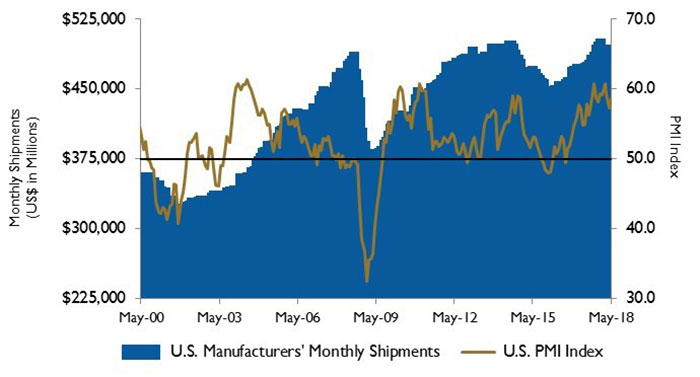 Image 3. U.S. PMI and manufacturing shipments. Source: Institute for Supply Management Manufacturing Report on Business and U.S. Census Bureau
On Wall Street for May, the Dow Jones Industrial Average gained 1.1 percent, the S&P 500 Index increased by 2.2 percent, while the NASDAQ Composite grew 5.3 percent. First quarter corporate earnings for S&P 500 members were up 24.3 percent compared to May 2017, the largest quarterly earnings growth in seven years. The market saw volatility due to U.S. trade conflicts with China, Canada, Mexico and the European Union.
Reference
1. The S&P Return figures are provided by Capital IQ.
These materials were prepared for informational purposes from sources that are believed to be reliable but which could change without notice. Jordan, Knauff & Company and Pumps & Systems shall not in any way be liable for claims relating to these materials and makes no warranties, express or implied, or representations as to their accuracy or completeness or for errors or omissions contained herein. This information is not intended to be construed as tax, legal or investment advice. These materials do not constitute an offer to buy or sell any financial security or participate in any investment offering or deployment of capital.
Issue