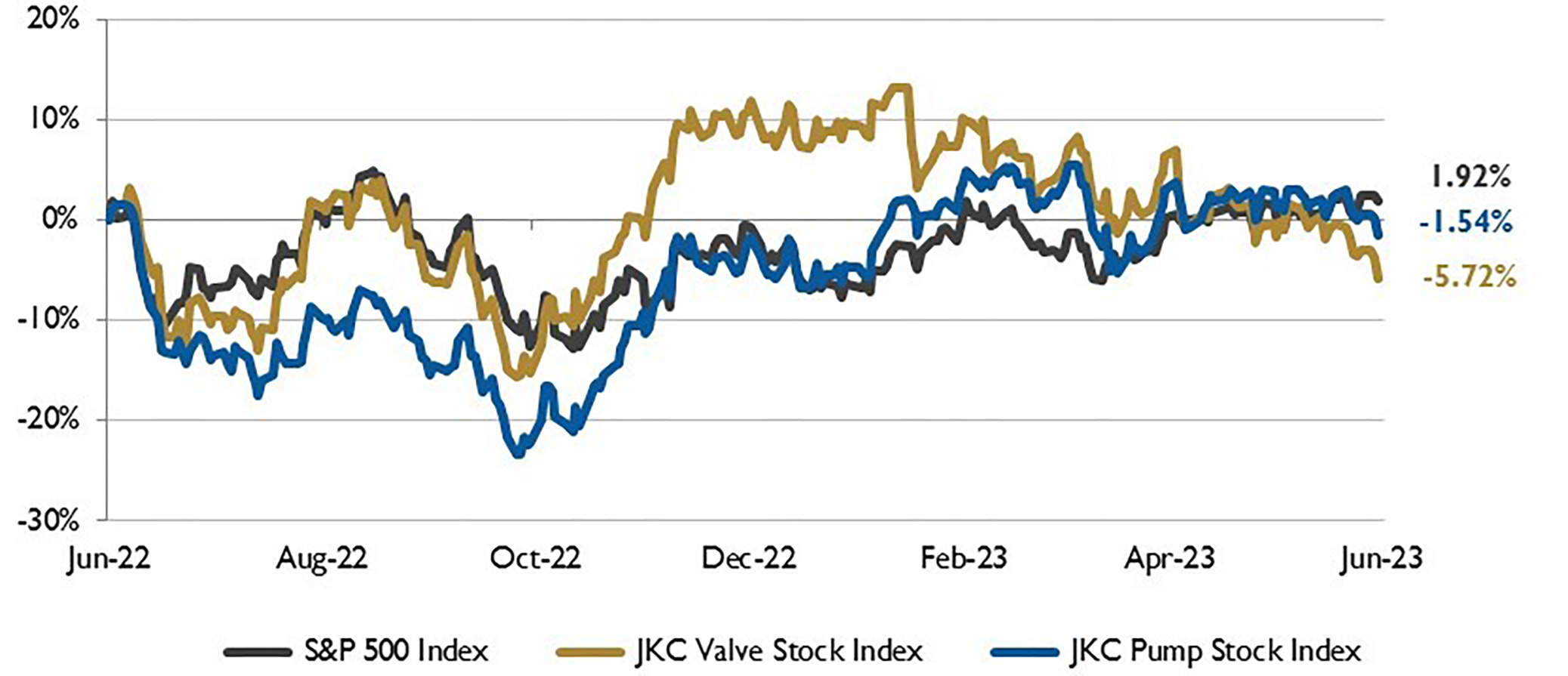 The Jordan Knauff & Company (JKC) Valve Stock Index was down 5.7% over the last 12 months, and the broader S&P 500 index was up 1.9%.
The Jordan Knauff & Company (JKC) Valve Stock Index was down 5.7% over the last 12 months, and the broader S&P 500 index was up 1.9%. The JKC pump stock index lost 1.5% for the same time period.1
The Institute for Supply Management's Purchasing Managers Index (PMI) registered 46.9% in May, 0.2 percentage points lower than the 47.1% recorded in April. The New Orders Index remained in contraction territory at 42.6%, 3.1 percentage points lower than April. The Production Index reading of 51.1% was a 2.2 percentage point increase compared to April. The Employment Index indicated another month of expansion, registering 51.4%, up 1.2 percentage points from April's reading of 50.2%.
Economic activity in the manufacturing sector contracted in May for the seventh consecutive month following a 28-month period of growth. Of the six biggest manufacturing industries, only one—transportation equipment—registered growth in May. The four manufacturing industries out of 18 surveyed that reported growth in May were: nonmetallic mineral products; furniture and related products; transportation equipment; and fabricated metal products.
Total nonfarm payroll employment increased by 339,000 in May, in line with the average monthly gain of 341,000 over the prior 12 months. May job gains occurred in professional and business services, government, health care, construction, transportation and warehousing and social assistance. Professional and business services added 64,000 jobs. Government employment increased by 56,000 and health care added 52,000 jobs. Employment in leisure and hospitality continued to trend up with 48,000 added jobs. Employment in this industry remains below its February 2020 level by 2.1%.
Between April 12, 2023, and May 4, 2023, the price of Brent crude oil fell $16 per barrel (b) to $73/b; West Texas Intermediate crude oil price fell $15/b to $69/b. These declines were caused by a combination of supply and demand market factors. On the supply side, oil supplies from Russia remained higher than expected, increasing global oil supply and putting downward pressure on prices. However, in April, OPEC+ members agreed to cut oil production through 2023. On the demand side, a decrease in China's manufacturing Purchasing Managers' Index added to market concerns about China's economic growth and a possible U.S. recession. The price of Brent crude oil is expected to increase from $74/b in May 2023 to $79/b in September before declining slightly to average $78/b in the last three months of 2023.
On Wall Street for the month of May the Dow Jones Industrial Average lost 3.5%, the S&P 500 Index rose 0.2% and the Nasdaq Composite gained 5.8%.
Issue