The Jordan, Knauff & Company (JKC) Valve Stock Index was up 14.9 percent over the last 12 months, while the broader S&P 500 Index was up 23.8 percent. The JKC Pump Stock Index increased 9.2 percent for the same time period.1
The Institute for Supply Management's Purchasing Managers' Index (PMI) fell slightly in January, dropping to 59.1 percent from 59.3 percent in December. The Production Index remained above 60 percent for the eighth consecutive month at 64.5 percent. New Export Orders rose to 59.8 percent, the highest reading in almost seven years. The Prices Index rose 4.4 percent over the month, rising to 72.7 percent, a reading not seen since 2011.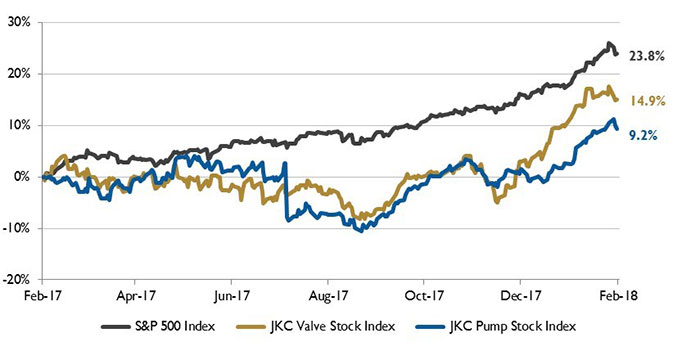 Figure 1. Stock Indices from February 1, 2017 to January 31, 2018. Local currency converted to USD using historical spot rates. The JKC Pump and Valve Stock Indices include a select list of publicly traded companies involved in the pump and valve industries, weighted by market capitalization. Source: Capital IQ and JKC research.
The U.S. created 200,000 new jobs in January, while unemployment remained at a 17-year low of 4.1 percent. Construction companies added 36,000 jobs, restaurants hired 31,000 new workers, health care firms increased jobs by 21,000, while manufacturing increased by 15,000 workers. Over the last three months, the U.S. has gained an average of 192,000 new jobs. Average hourly wages increased 0.3 percent, pushing the yearly increase to 2.9 percent.
The Census Bureau reported that U.S. total private residential construction spending rose 0.5 percent in December to a seasonally adjusted annual rate of $526.1 billion, the highest level since March 2007. Total private residential construction spending rose 6.2 percent last year versus 12.5 percent in 2016.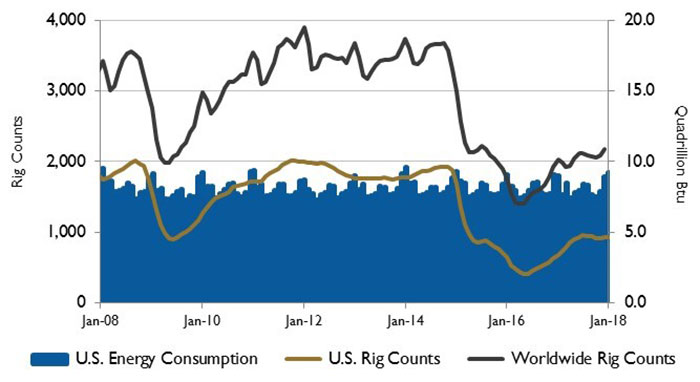 Figure 2. U.S. energy consumption and rig counts. Source: U.S. Energy Information Administration and Baker Hughes Inc.
Reaching a $64 billion annual pace in December, the increase in multifamily construction spending rebounded strongly at 2.6 percent after a drop of 0.5 percent in November. Single-family construction spending inched up 0.4 percent, after surging 2 percent in November.
For the first time since 1970, monthly U.S. crude oil production surpassed 10 million barrels per day, reaching 10.038 million barrels per day last November. It is also the second highest U.S. monthly oil production value reported, just below the 10.044 million barrels per day in November 1970.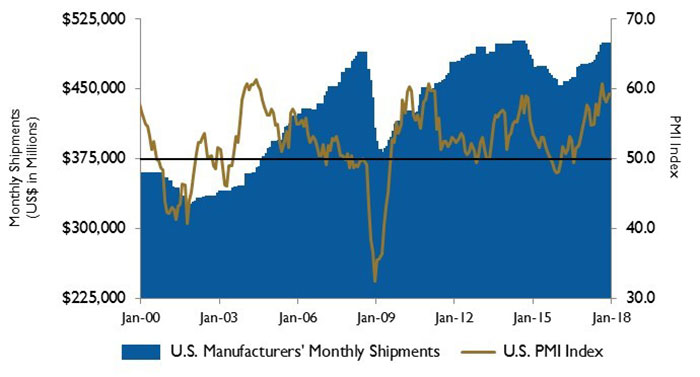 Figure 3. U.S. PMI and manufacturing shipments. Source: Institute for Supply Management Manufacturing. Report on Business and U.S. Census Bureau.
November 2017 production reached a record high in Texas at 3.89 million barrels per day, followed by North Dakota at 1.18 million barrels per day. The U.S. Energy Information Administration estimates that about half of the November 2017 crude oil production came from tight formations which reached 5.09 million barrels per day. This passes the previous high of 4.7 million barrels per day from these formations in March 2015.
On Wall Street for the month of January the Dow Jones Industrial Average rose 5.8 percent, the S&P 500 Index increased 5.6 percent and the NASDAQ Composite grew 7.4 percent. The markets' strong performance was the result of an upbeat fourth quarter earnings season, the passage of the Tax Cuts and Jobs Act of 2017 that cut corporate tax rates, and the Federal Reserve Bank's encouraging outlook for the economy.
1 The S&P Return figures are provided by Capital IQ.
Issue