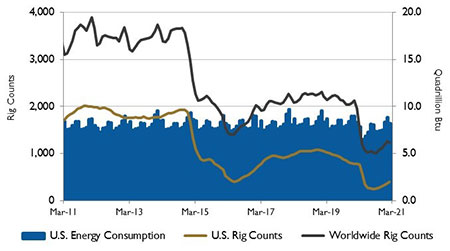 The employment index was up 5 points from last month.
Information provided by Jordan Knauff & Company and compiled by Pumps & Systems staff.
The Jordan, Knauff & Company (JKC) Valve Stock Index was up 85.8% over the last 12 months, and the broader S&P 500 index was up 60.8%. The JKC pump stock index rose 88.7% for the same time period.1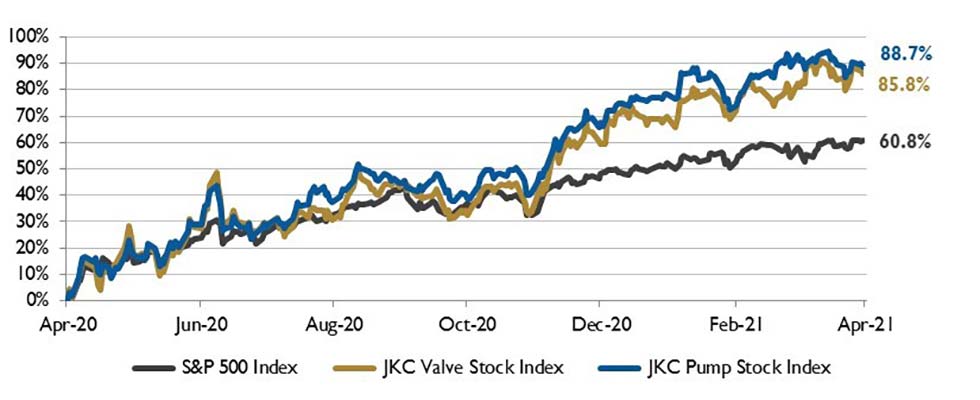 The Institute for Supply Management's manufacturing index (PMI) had a record month. In March, it hit a 37-year high at 64.7%, the highest reading since 1983. The ISM supplier deliveries index rose to 76.6%, but supply chain issues continue to cause problems, including the Suez Canal blockage that may continue to impact numbers into April. 
There is hope that an increase in vaccinations along with more parents being able to send kids back to school will ease labor shortages. The employment index was up 5 points from last month.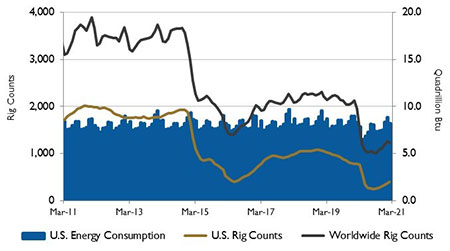 U.S. employment rose by 916,000 and unemployment fell to 6% in March. While the unemployment rate was down from the April 2020 high, it was still higher than February 2020 levels. Gains were seen across the board—leisure and hospitality (+280,000), food services and drinking places (+176,000), accommodation (+40,000) and arts, entertainment and recreation (+64,000).
Construction employment was on the rise (+110,000) in March after a dip in the previous month. Manufacturing employment rose in durable and nondurable goods for a total rise of 53,000. This sector is still down by 515,000 from pre-pandemic numbers.
The U.S. Energy Information Administration (EIA) reports a decline in U.S. energy consumption in 2020, falling a record 7% from 2019. The largest recorded annual decrease before 2020 occurred during the 2008 recession. As expected, most of the decrease in 2020 has been attributed to the COVID-19 pandemic response.
EIA also reported a decline in U.S. energy consumption across the four major sectors—transportation (down 15%), commercial (down 7%), industrial (down 5%) and residential (down 1%).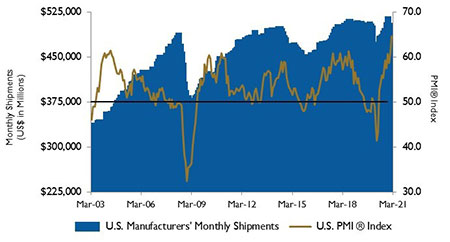 On Wall Street, the Dow Jones Industrial Average was up 6.6% month over month, the S&P 500 Index rose 4.3% and the NASDAQ Composite was up 0.4%. The three major indexes all saw increases for the fourth consecutive quarter. 
The U.S. economy is experiencing a faster economic rebound than some countries, but experts predict that other countries behind in recovery will catch up. However, the difference in rebound times is expected to result in a higher level of imports than exports. Economists predict that this will slow GDP growth.
The Biden administration's proposed $2.3 trillion infrastructure spending plan comes on the heels of the latest coronavirus relief package. Despite the projected growth in infrastructural activities such as developing roads, safe water supplies and green technology, some investors are wary of the impact this may have on corporate taxes, as well as the chance for a rise in inflation.   
Reference
1. The S&P Return figures are provided by Capital IQ.
These materials were prepared for informational purposes from sources that are believed to be reliable but which could change without notice. Jordan, Knauff & Company and Pumps & Systems shall not in any way be lia- ble for claims relating to these materials and makes no warranties, express or implied, or representations as to their accuracy or completeness or for errors or omissions contained herein. This information is not intended to be construed as tax, legal or investment advice. These materials do not constitute an offer to buy or sell any financial security or participate in any investment offering or deployment of capital.
Issue