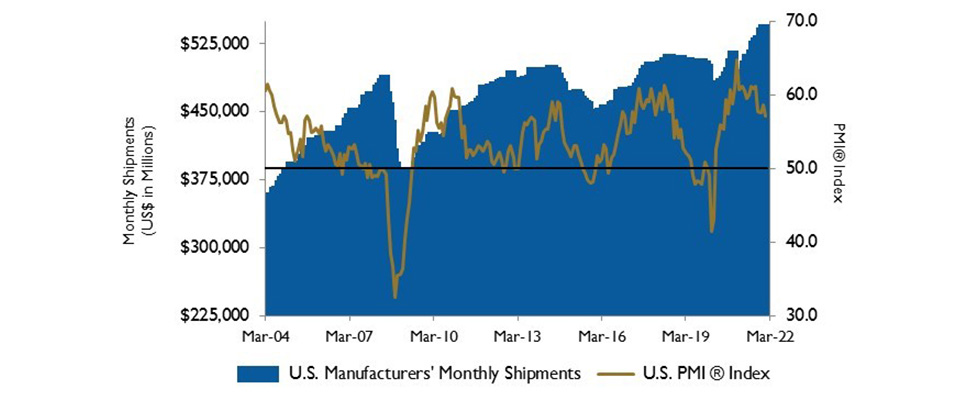 The Jordan, Knauff & Company (JKC) Valve Stock Index was up 7.3% over the last 12 months, and the broader S&P 500 index was up 12.7%.
The Jordan, Knauff & Company (JKC) Valve Stock Index was up 7.3% over the last 12 months, and the broader S&P 500 index was up 12.7%. The JKC pump stock index rose 8.5% for the same period.1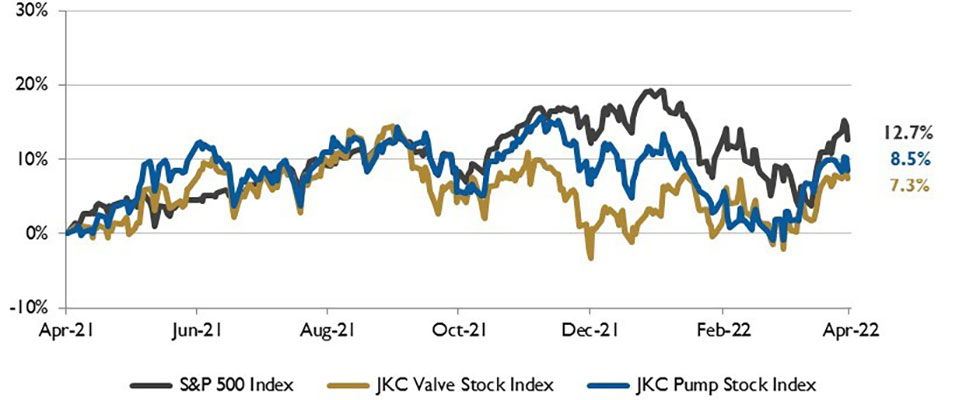 The Institute for Supply Management's Purchasing Managers Index (PMI) fell 1.5 percentage points to 57.1% in March, the lowest reading since September 2020 of 55.4%. New orders fell by 7.9 percentage points to 53.8%, while new export orders fell by 3.9 percentage points to 53.2%. The backlog of orders index fell to 60% from February's 65%.
The production index decreased 4 percentage points to 54.5%, while the employment index rose 3.4 percentage points to 56.3%. Survey respondents reported lower rates of quits and early retirements compared to previous months and improving internal and supplier labor positions. The prices index registered 87.1%, up 11.5 percentage points from February. Fifteen of 18 manufacturing industries reported growth, with five of the six largest industries showing moderate to strong growth.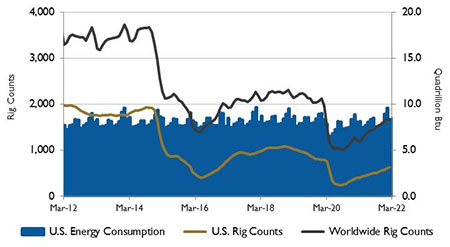 The Labor Department reported employers added 431,000 jobs in March, the 11th month of job gains above 400,000. Job gains were seen in restaurants, manufacturers and retailers. In addition, more than 300,000 women joined the labor force. There are still fewer women in the labor force than before the pandemic while male levels have fully recovered. 
The unemployment rate fell to 3.6% from 3.8% a month earlier. Average hourly earnings grew 5.6% compared with last year. However, on average, annual inflation of nearly 8% is erasing gains by workers. The economy has about 1.6 million fewer jobs than in February 2020. Jobs in leisure and hospitality remain below prepandemic levels while retail has fully recovered.
In response to Russia's invasion of Ukraine, the U.S. Department of Energy committed to releasing 30 million barrels of crude oil from the U.S. Strategic Petroleum Reserve (SPR) to help ensure an adequate supply of petroleum.
Other International Energy Agency member countries collectively agreed to release an additional 30 million barrels of petroleum from their emergency reserves, bringing the total release to 60 million barrels. SPR stocks have been declining in recent years.
At the end of February, the SPR held 580 million barrels of crude oil. This release commitment is the first emergency drawdown since 2011.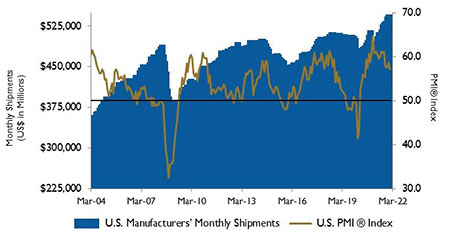 On Wall Street, the Dow Jones Industrial Average, the S&P 500 Index and the NASDAQ Composite gained 2.3%, 3.6% and 3.4%, respectively in March.
Negotiations between Russia and Ukraine, slowing commodity prices and expectations of an interest rate increase by The Federal Reserve Bank helped stocks rally. For the quarter, the Dow, the S&P 500 and the NASDAQ fell 4.6%, 4.9% and 9.1%, respectively. The market was concerned about a possible recession and weak economic data.  
Reference
1 - The S&P Return figures are provided by Capital IQ.
Issue