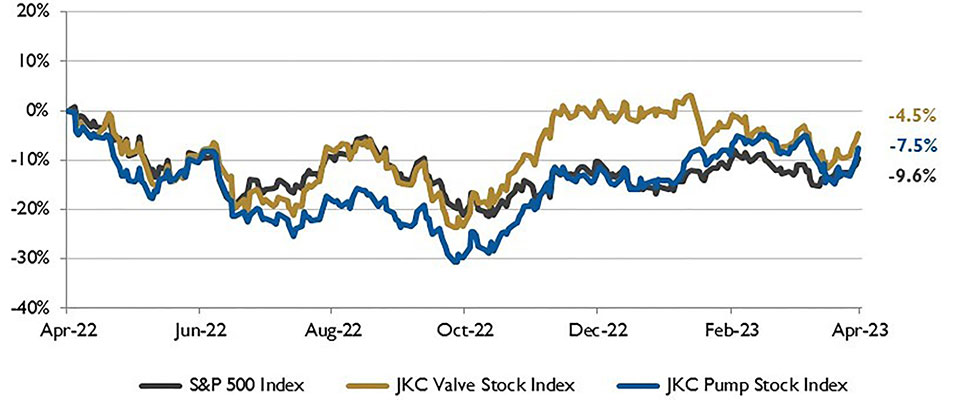 The employment index fell for the third straight month to 46.9%, its lowest reading since 2020.
The Jordan Knauff & Company (JKC) Valve Stock Index was down 4.5% over the last 12 months, and the broader S&P 500 index was down 9.6%. The JKC pump stock index fell 7.5% for the same time period.1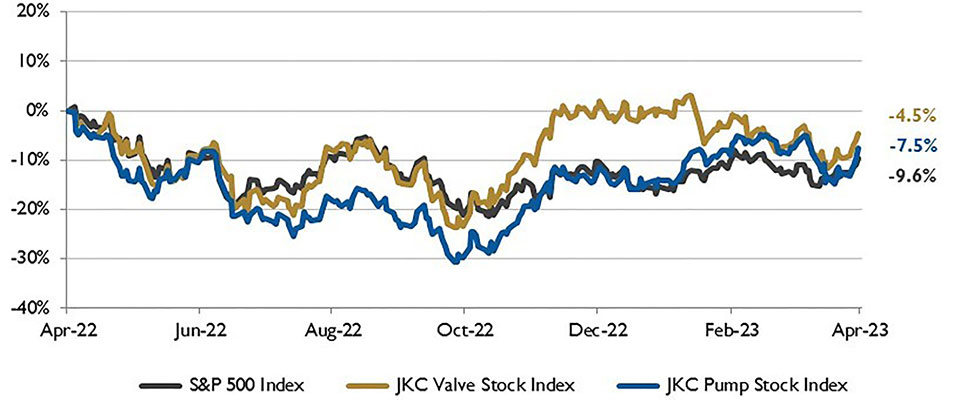 The Institute for Supply Management's Purchasing Managers Index (PMI) fell to its lowest point since 2020 at 46.3% in March. Every sub-component was below the breakeven 50% for the first time since 2009. The prices paid index moved into contraction, while supplier deliveries also fell to 44.8%, the lowest reading since 2009, signaling faster deliveries. The employment index fell for the third straight month to 46.9%, its lowest reading since 2020. However, of the 18 industries surveyed, only six reported a decline in hiring.
The new orders index measured 44.3%, and the production index was 47.8%.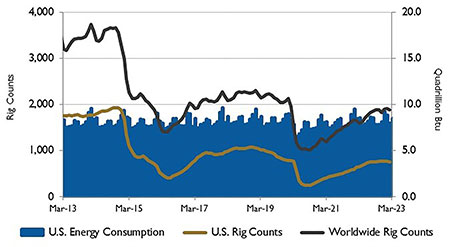 New orders for durable goods declined 1% in February, after a 5% drop a month earlier. While most weakness can be traced to aircraft and defense orders, demand for new capital expenditures is losing momentum. Even after discounting some of the transportation related volatility, the modest 0.2% rise in core capital goods orders (which are non-defense and exclude aircraft) comes after January's 0.8% gain was revised to just 0.3%. Therecent run-rate for core orders is a 0.3% annualized rate over the past three months.
The price of Brent crude oil jumped to $84.93 a barrel after Saudi Arabia and other members of the OPEC+ group said they would reduce oil production. The production cut pushed crude prices 6.3% higher, the biggest one-day percentage gain since March 2022, when Russia invaded Ukraine. OPEC producers say they will cut daily output by more than 1.1 million barrels beginning in May.
Cartel members haven't always followed through on promised production cuts in the past. However, oil prices still stand lower than they did a month ago and are well below the pandemic closing high of more than $125 a barrel posted in March 2022.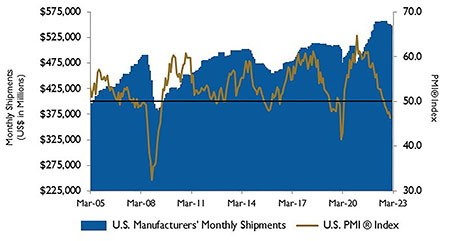 In 2022, U.S. crude oil exports averaged 3.6 million barrels per day, a record high. U.S. crude oil exports in 2022 were 22% higher than in 2021. Increased U.S. crude oil production, releases from the U.S. Strategic Petroleum Reserve and more global demand for crude oil from countries other than Russia, all drove the growth in U.S. crude oil exports.
Decreased demand for U.S. crude oil exports to India and China was more than offset by increased demand from other destinations, particularly Europe. Despite declines in exports to India and China, Asia and Oceania remained the regional destination, receiving the most U.S. crude oil exports in 2022 at 43%.
On Wall Street for the month of March, the Dow Jones Industrial Average gained 1.9%, the S&P 500 Index rose 3.5% and the Nasdaq Composite was up 6.7%.
Reference
1 - The S&P Return figures are provided by Capital IQ.
Issue