The Jordan, Knauff & Company (JKC) Valve Stock Index was up 0.9 percent during the last 12 months, much lower than the broader S&P 500 Index, which was up 16.3 percent. The JKC Pump Stock Index was up 7.3 percent for the same time period.1
Although the Institute for Supply Management's Purchasing Managers' Index (PMI) decreased 2.4 percent in September to a reading of 56.6 percent, the survey shows continued expansion in the U.S. manufacturing sector and indicates continued overall economic growth. The Production Index was slightly stronger than August at 64.6 percent. New orders slowed to 60 percent from 66.7 percent, but the index has remained in expansion mode for 16 straight months. New orders increased in 12 of 14 industries with growth in chemicals, transportation equipment, paper and fabricated metals.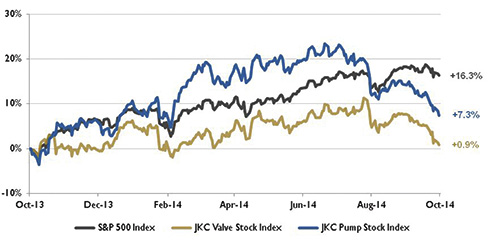 Figure 1. Stock indices from Oct. 1, 2013, to Sept. 30, 2014
The Bureau of Labor Statistics reported that the nation's unemployment rate fell below 6 percent for the first time since 2008. Employers added 248,000 jobs in September, and the unemployment rate declined to 5.9 percent. Job growth was strong in professional and business services, especially in employment services and consulting. The health care and retail sectors also grew, while construction added 16,000 jobs. Last September, the unemployment rate stood at 7.2 percent. Since then, employers have added 2.6 million jobs.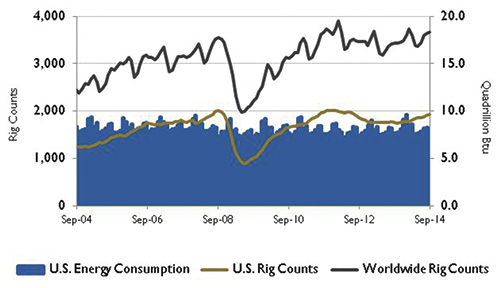 Figure 2. U.S. energy consumption and rig counts
The U.S. Energy Information Administration (EIA) reported that U.S. liquid fuel consumption grew by 2.5 percent last year, the largest increase since 2004. While the use of all major liquid fuels rose (except for residual fuel oil), hydrocarbon gas liquids had the largest gain, increasing by 8.5 percent. This year, the EIA expects total U.S. liquid fuel consumption to fall by 0.2 percent. Globally, liquid fuel consumption grew by 1.5 percent in 2013, averaging 90.4 million barrels per day. Global consumption is expected to increase by 1 million barrels per day in 2014 and 1.2 million barrels per day in 2015. China is the leading contributor to this growth, with consumption expected to increase by 0.37 million barrels per day in both 2014 and 2015.
Figure 3. U.S. PMI and manufacturing shipments
Compared with last winter, the EIA forecasts that average household costs for natural gas, heating oil, electricity and propane will decrease this winter heating season. Last year's heating season was 11 percent colder than the previous 10‐year national average.
On Wall Street, the Dow Jones Industrial Average declined 0.3 percent. The S&P 500 Index lost 1.6 percent, and the NASDAQ Composite fell 1.9 percent for the month of September. Sluggish growth in the eurozone, China's weaker economic data and geopolitical tensions dampened investor sentiment. However, all three indices showed small gains for the third quarter of the year because of encouraging housing sector data in August and positive factory orders. The S&P 500 and the NASDAQ both recorded gains for the seventh quarter in a row.
Reference
1. The S&P Return figures are provided by Capital IQ.
These materials were prepared for informational purposes from sources that are believed to be reliable but which could change without notice. Jordan, Knauff & Company and Pumps & Systems shall not in any way be liable for claims relating to these materials and makes no warranties, express or implied, or representations as to their accuracy or completeness or for errors or omissions contained herein. This information is not intended to be construed as tax, legal or investment advice. These materials do not constitute an offer to buy or sell any financial security or participate in any investment offering or deployment of capital.
Issue