The Jordan, Knauff & Company (JKC) Valve Stock Index was up 19.0 percent over the last 12 months, while the broader S&P 500 Index was up 15.2 percent. The JKC Pump Stock Index fell 0.8 percent for the same time period.1
The Institute for Supply Management's Purchasing Managers' Index (PMI) slowed from 61.3 percent in August to 59.8 percent in September. The new orders index and backlog of orders index both fell during the month and are now below their six month averages. The prices paid index fell 5.2 percentage points to 66.9 percent, the first time it has been below 70 percent this year. Survey respondents are again concerned about tariff-related activity, with a chemical products manufacturer stating that tariffs are starting to take a bite out of profitability.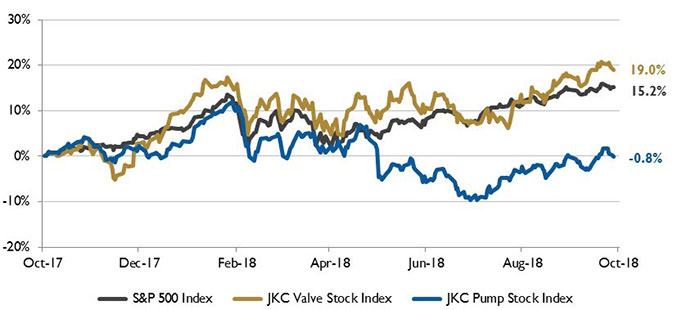 Image 1. Stock indices from October 1, 2017 to September 30, 2018. Local currency converted to USD using historical spot rates. The JKC Pump and Valve Stock Indices include a select list of publicly traded companies involved in the pump and valve industries, weighted by market capitalization. Source: Capital IQ and JKC research.
The U.S. economy added 134,000 jobs in September. Hurricane Florence likely impacted this number as about 300,000 workers were unable to work. Job gains were seen in manufacturing, construction and mining. Retail and leisure and hospitality lost jobs. The unemployment rate fell to 3.7 percent. Payroll growth was revised upward by 87,000 jobs for July and August.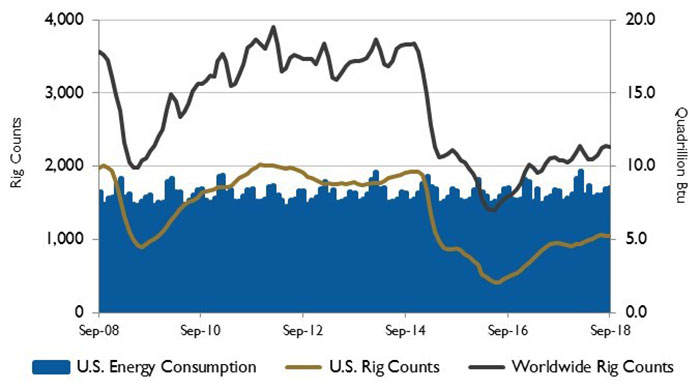 Image 2. U.S. energy consumption and rig counts. Source: U.S. Energy Information Administration and Baker Hughes Inc.
The United States became a net natural gas exporter on an annual basis last year for the first time in almost 60 years. From January through June of this year, net natural gas exports from the U.S. more than doubled the average daily net exports during all of 2017. U.S. exports of LNG rose 58 percent through the first half of 2018 compared with the same period in 2017. Exports of natural gas by pipeline to Mexico grew by 4 percent in the first half of the year, while exports by pipeline to Canada declined by 14 percent. Net natural gas exports are expected to rise through 2018 as additional LNG export capacity comes online and as natural gas infrastructure in Mexico is put into service.
U.S. crude oil exports increased by almost 80 percent from the first half of 2017 to the first half of 2018 and set a new monthly record of 2.2 million barrels per day in June. Crude oil has now surpassed hydrocarbon gas liquids to become the largest U.S. petroleum export. China, South Korea and India were the largest markets. Europe was the second-largest market for U.S. crude oil exports.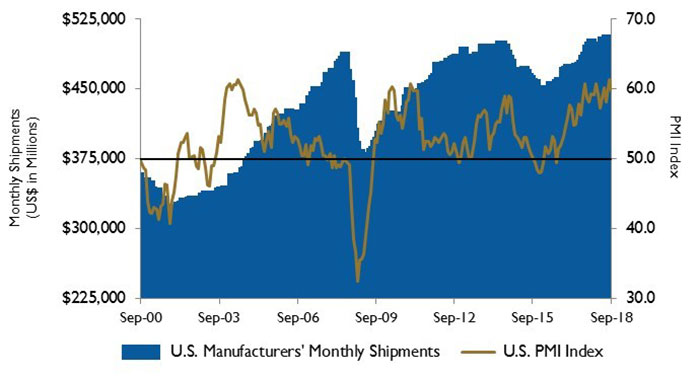 Image 3. U.S. PMI and manufacturing shipments.
On Wall Street for September, the Dow Jones Industrial Average gained 1.9 percent and the S&P 500 Index increased by 0.4 percent, while the NASDAQ Composite fell 0.8 percent. Strong economic data including consumer confidence, industrial production, consumer spending and durable goods orders significantly boosted the market. While investors were concerned by the lingering trade conflict between the U.S. and China, the Trump Administration imposed $200 billion of new tariffs on China and threatened to impose another $267 billion if China retaliates. China responded with $60 billion in retaliatory tariffs.
Reference
1. The S&P Return figures are provided by Capital IQ.
These materials were prepared for informational purposes from sources that are believed to be reliable but which could change without notice. Jordan, Knauff & Company and Pumps & Systems shall not in any way be liable for claims relating to these materials and makes no warranties, express or implied, or representations as to their accuracy or completeness or for errors or omissions contained herein. This information is not intended to be construed as tax, legal or investment advice. These materials do not constitute an offer to buy or sell any financial security or participate in any investment offering or deployment of capital.
Issue