The Jordan, Knauff & Company (JKC) Valve Stock Index was up 25.7 percent over the last 12 months, while the broader S&P 500 Index was up 17.1 percent. The JKC Pump Stock Index increased 6.6 percent.1
The Institute for Supply Management's Purchasing Managers' Index (PMI) increased from 58.1 percent in July to 61.3 percent in August, its highest reading in 14 years. The New Orders Index increased 4.9 percentage points to reach 65.1 percent. The New Orders Index has been at 60 percent or above for 16 straight months. The Production Index increased 4.8 percentage points to reach 63.3 percent. The Employment Index registered 58.5 percent, an increase of 2.0 percentage points from the July reading.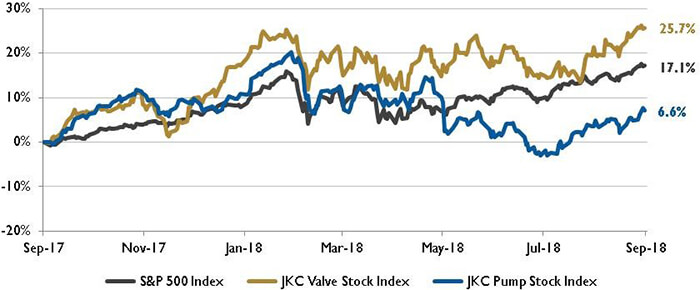 Image 1. Stock indices from Sept. 1, 2017 to Aug. 31, 2018. Local currency converted to USD using historical spot rates. The JKC Pump and Valve Stock Indices include a select list of publicly traded companies involved in the pump and valve industries, weighted by market capitalization. Source: Capital IQ and JKC research.
The Prices Index was 72.1 percent, a 1.1 percentage point decrease from July, indicating higher raw materials prices for the 30th consecutive month.
After a modest increase in July, the Consumer Confidence Index jumped 5.5 points in August to 133.4, with gains in both present and future expectations. Optimism reflects the tightening labor market, as the share of consumers stating jobs as plentiful was unchanged, and those who see jobs as hard to get fell 2.1 points, pushing the labor differential up to its highest level since 2001. Consumers expect their incomes to rise over the next six months.
Driven by production in the Appalachian Basin, the Permian Basin and the Haynesville shale area, gross natural gas production in the U.S. has increased more than 10 percent in recent months compared with the same months in 2017 and has generally been increasing for more than a decade. These three regions collectively now account for almost 50 percent of total production, growing from less than 15 percent of total natural gas production in 2007.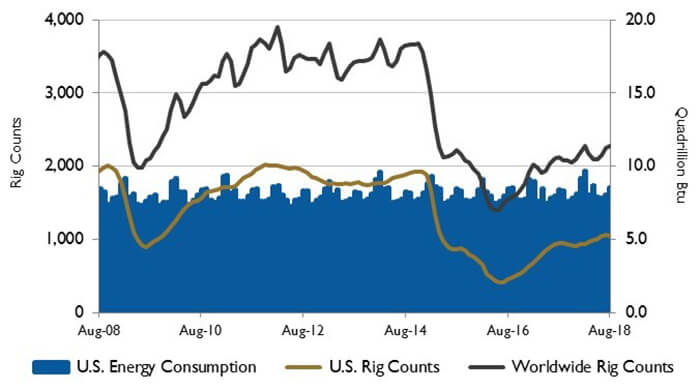 Image 2. U.S. energy consumption and rig counts. Source: U.S. Energy Information Administration and Baker Hughes Inc.
The Gulf of Mexico has accounted for an increasingly smaller portion of national production, which is a significant change from a decade ago. The Gulf's share in 2007 was 12 percent and has fallen to just 3 percent in recent months.
Following the expansions of cross-border pipeline capacity, U.S. natural gas pipeline exports to Mexico have been increasing, averaging 4.2 billion cubic feet per day in 2017 and increasing to 4.4 billion cubic feet per day through the first five months of 2018. An additional four of six major pipelines in Mexico's infrastructure expansion plans are scheduled to begin operations and will transport U.S. natural gas farther into Mexico's central and southern regions. These pipelines will provide an additional outlet for Permian Basin production in western Texas.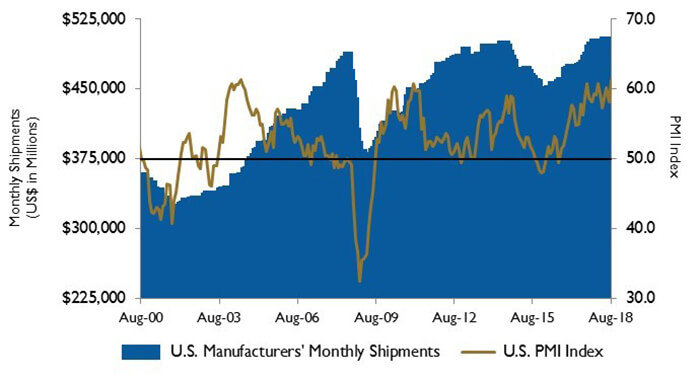 Image 3. U.S. PMI and manufacturing shipments. Source: Institute for Supply Management Manufacturing Report on Business and U.S. Census Bureau.
On Wall Street for the month of August, the Dow Jones Industrial Average gained 2.2 percent and the S&P 500 Index increased by 3.0 percent, while the NASDAQ Composite grew 5.7 percent, its highest monthly gain since January.
Reference
1. The S&P Return figures are provided by Capital IQ.
These materials were prepared for informational purposes from sources that are believed to be reliable but which could change without notice. Jordan, Knauff & Company and Pumps & Systems shall not in any way be liable for claims relating to these materials and makes no warranties, express or implied, or representations as to their accuracy or completeness or for errors or omissions contained herein. This information is not intended to be construed as tax, legal or investment advice. These materials do not constitute an offer to buy or sell any financial security or participate in any investment offering or deployment of capital.
Issue