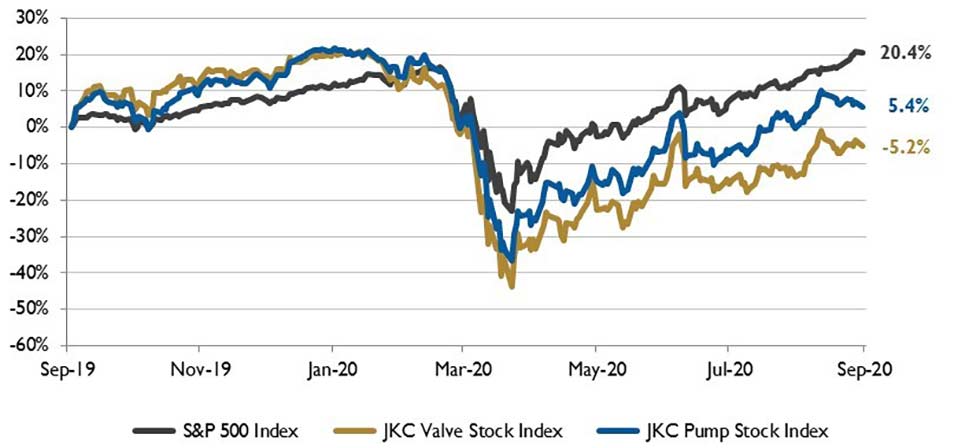 The Jordan Knauff & Company (JKC) Valve Stock Index was down 5.2 percent over the last 12 months, while the broader S&P 500 Index was up 20.4 percent. The JKC Pump Stock Index rose 5.4 percent for the same time period.1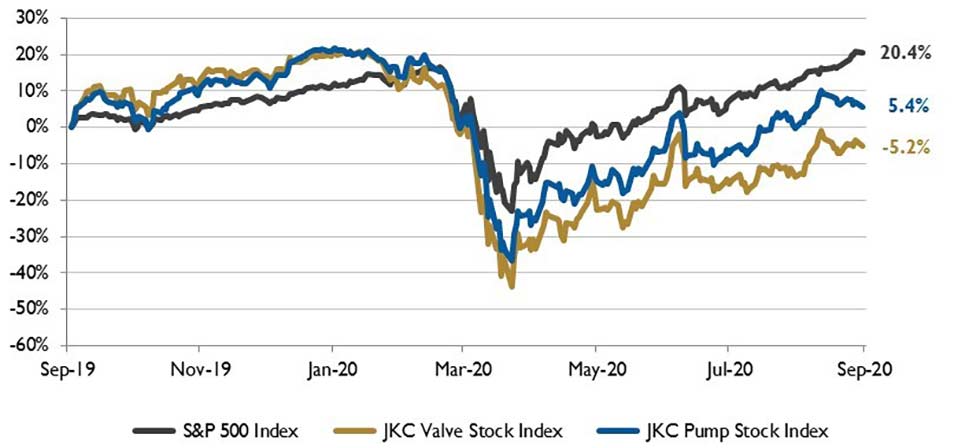 IMAGE 1: Stock Indices from September 1, 2019 to August 30, 2020. Local currency converted to USD using historical spot rates. The JKC Pump and Valve Stock Indices include a select list of publicly traded companies involved in the pump & valve industries, weighted by market capitalization. Source: Capital IQ and JKC research.
The Institute for Supply Management's Purchasing Managers' Index (PMI) jumped to 56 percent in August, marking the highest reading in the index since late 2018. The current production index climbed to 63.3 percent, while new orders rose to a 17-year high of 67.6 percent. The employment index, at 46.4 percent, is consistent with manufacturers continuing to lay off workers. The need to pare back employment shows that overall demand remains weak. Areas like durable goods spending have recovered, especially related to housing. A survey respondent from the wood products industry said, "Homebuilder business continues to be robust…and will only be held back by supply issues across the entire industry." Yet manufacturers tied to services hit hard by the pandemic continue to struggle.
Employers added 1.4 million jobs in August, the U.S. Bureau of Labor Statistics reported. Job growth at that level marks a slowdown from earlier this summer. Employers added a revised 1.7 million jobs in July and 4.8 million jobs in June. The unemployment rate fell to 8.4 percent from 10.2 percent in July. It is below 10 percent (which was its Great Recession peak) for the first time since March.
In 2019, U.S. production of natural gas increased to almost 34 trillion cubic feet (Tcf) and consumption increased to 31 Tcf—both record levels. More than two-thirds of the natural gas consumed in the U.S. in 2019 was used by the electric power and industrial sectors. The electric power sector has been the biggest end user of natural gas in four out of the last five years. Natural gas has been the predominant source of electricity generation in the U.S. since surpassing coal in 2016.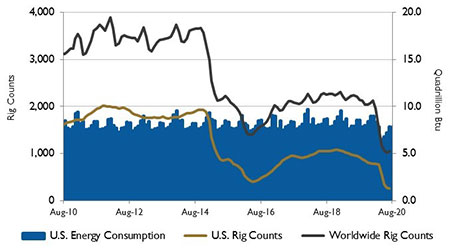 IMAGE 2: U.S. energy consumption and rig counts. Source: U.S. Energy Information Administration and Baker Hughes Inc.
Between January and early July 2020, approximately 5 billion cubic feet per day (Bcf/d) of new pipeline capacity entered service in the U.S., according to the U.S. Energy Information Administration. Several of these projects could increase deliverability to growing natural gas demand markets in North America. An estimated 8.7 Bcf/d of pipeline projects have been canceled in 2020.
On Wall Street, the markets rallied for the fifth consecutive month in August. The Dow Jones Industrial Average, the S&P 500 Index and the NASDAQ Composite surged 7.6 percent, 7.0 percent and 9.6 percent, respectively. This was the best August for the Dow since 1984 and for the S&P 500 since 1986. Solid economic data, better-than-expected second quarter gross domestic product and corporate earnings, the Federal Reserve's newly adopted ultra-accommodative average inflation targeting policy, and expectations for a fresh round of fiscal stimulus boosted investors' confidence.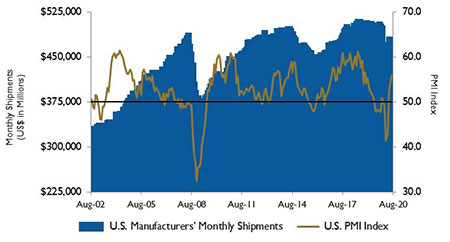 IMAGE 3: U.S. PMI and manufacturing shipments. Source: Institute for Supply Management Manufacturing Report on Business and U.S. Census Bureaue
Reference
1. The S&P Return figures are provided by Capital IQ
These materials were prepared for informational purposes from sources that are believed to be reliable but which could change without notice. Jordan, Knauff & Company and Pumps & Systems shall not in any way be liable for claims relating to these materials and makes no warranties, express or implied, or representations as to their accuracy or completeness or for errors or omissions contained herein. This information is not intended to be construed as tax, legal or investment advice. These materials do not constitute an offer to buy or sell any financial security or participate in any investment offering or deployment of capital.
Issue