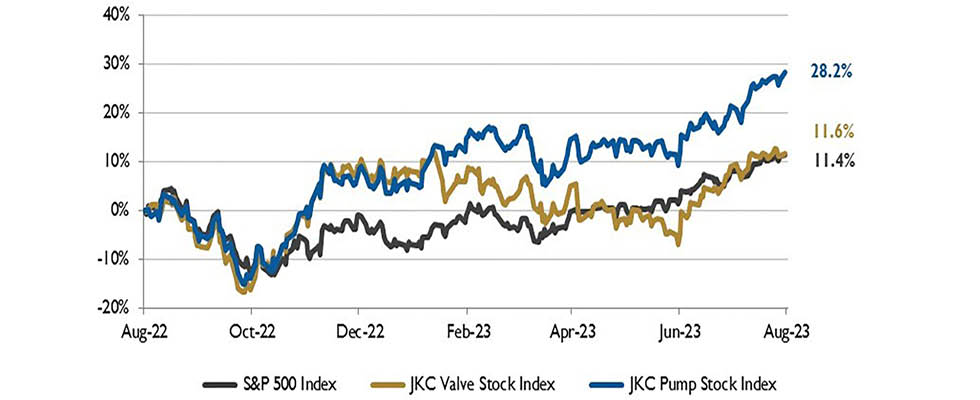 Total nonfarm payroll employment rose by 187,000 in July, and the unemployment rate fell to 3.5%.
The Jordan Knauff & Company (JKC) Valve Stock Index was up 11.6% over the last 12 months, while the broader S&P 500 index was up 11.4%. The JKC pump stock index gained 28.2% for the same time period.1
The Institute for Supply Management's Purchasing Managers Index (PMI) increased 0.4% to 46.4% in July, the ninth consecutive month of contraction. The low point was last month when it registered 46.0%. Based on this measure, a recession in the United States economy remains likely, but not inevitable.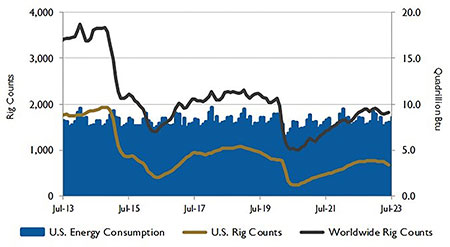 Manufacturing has proven to be more vulnerable to higher interest rates than other parts of the economy, such as the labor market and consumer spending. The new orders index rose to a nine-month high as production also improved. However, the employment index fell to a three-year low.
The U.S. Bureau of Labor Statistics reported total nonfarm payroll employment rose by 187,000 in July, and the unemployment rate fell to 3.5%. Job gains occurred in health care (63,000), social assistance (24,000), financial activities (19,000) and wholesale trade (18,000). Construction employment continued to trend up, adding 19,000 jobs, in line with the average monthly gain of 17,000 in the prior 12 months. There was little change in other major industries, including oil and gas extraction, manufacturing, retail trade, transportation and warehousing and government. In July, average hourly earnings for all employees rose by 0.4%. Over the past 12 months, average hourly earnings have increased by 4.4%.
The average monthly spot natural gas price at the U.S. benchmark Henry Hub fell 34% to $2.18/million British thermal units (MMBtu) between January and June. The Henry Hub price averaged $3.30/MMBtu in January on an inflation-adjusted basis and then dropped below $2.50/MMBtu starting in February. Record production, relatively mild temperatures and higher-than-average inventories reduced natural gas prices.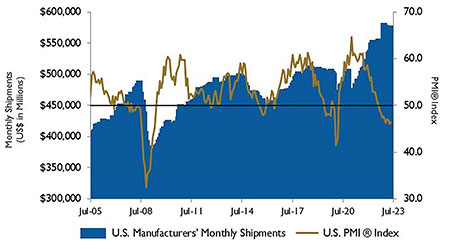 The U.S. Energy Information Administration forecasts the Brent crude oil price will increase to the mid-$80 per barrel range by the end of 2024, up from the June 2023 average of $75 per barrel.
On Wall Street for the month of July, the Dow Jones Industrial Average gained 3.4%, the S&P 500 Index rose 3.1% and the Nasdaq Composite gained 4.1%. Both the S&P 500 and the Nasdaq recorded their fifth straight monthly gains.
Investor sentiment remains upbeat as recession talks have eased and economic data continues to show strength in the labor market with cooling inflation. The Federal Reserve Bank raised interest rates by 0.25% and did not promise an end to rate hikes anytime soon.
Reference
The S&P Return figures are provided by Capital IQ.
Issue