Find out the challenges and solutions when parallel pumps are being evaluated
With more focus on building energy efficiency, building owners will rely on consulting engineers to specify efficient pumping solutions. For variable flow systems, this poses some challenges when parallel pumps are being evaluated.
This webinar will answer questions like:
How many pumps should be specified into the system?
How should additional pumps be sequenced (staged)?
Learning objectives:
Understand what a control curve is
Learn about the misconception in high static head pump applications
Know how to select pumps so that they will operate where they are most efficient
Understand pump-sequencing methods
Click here to watch a video playback of this webinar.
Click here to download the presentation slides of this webinar.
SPEAKER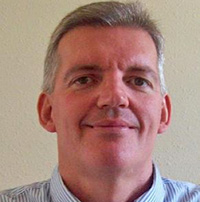 Reece Robinson
Senior Technical Training Specialist
Grundfos Pumps Corporation
Reece Robinson has a bachelor of science degree in mechanical engineering from California State University Fresno. He has more than 16 years experience providing variable speed pumping solutions and energy analysis for commercial, municipal and industrial applications.