End users in need of replacement parts should understand the capabilities and offerings of different suppliers to obtain optimal system components.
The aftermarket business continues to be in a state of flux. For many years, pump users and original equipment manufacturers (OEMs) have referred to non-OEM parts as pirate or replicator parts.
Recently, several companies have evolved into a new category of solution providers. Parts supplied by these companies go beyond simple parts replacement.
A solution provider focuses on the total cost of ownership to provide quality parts using state-of-the-art manufacturing. These companies engineer upgrades that improve runtime and use dedicated or job-shop manufacturing processes to provide quick deliveries.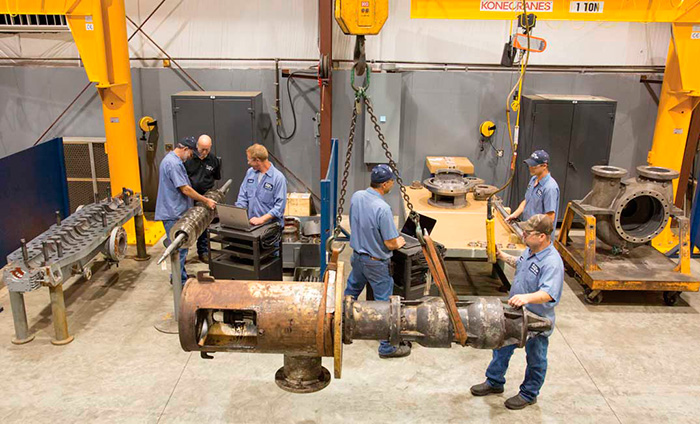 Image 1. Pump repair is available for all API designations. (Images and graphics courtesy of Standard Alloys Inc.)
These unique solutions can resolve aftermarket supply chain problems and improve a plant's operational bottom line.
Pirates & Replicators
While many users would prefer to purchase from the OEM, they often look for alternate sources for their parts because some OEMs may lack the flexibility to meet delivery requirements or because the OEM has closed. For this reason, pirate and replicator companies have existed for decades.
The process of finding and selecting an alternate source has become more complicated with the advent of new portable coordinate measurement machines (PCMM). Just because a parts supplier uses these devices does not mean it will be able to provide an optimal part; a quality parts supplier does more than purchase equipment.
PCMM machines are highly accurate devices that take thousands of measurement points or scan complete surfaces to measure a part's physical characteristics. The supplier must have the technical ability to analyze the data collected. Even if the part being copied is a new part, it is likely to have some manufacturing deviations that can hinder the performance of the part being supplied. The OEM can clearly evaluate and even categorize these deviations for disposition and use, but a pirate cannot. Subsequent deviations can occur that prevent the pump from meeting the original operating conditions, and this problem could worsen if the pirate is working with a worn sample. The part will simply be a brand-new, worn-out part.
Replicators take the process one step further: They reverse engineer the part. This means they evaluate the data collected using the PCMM based on their understanding of pump design. They rationalize the data and have the technical expertise to identify manufacturing deviations, in-service part wear and manufacturing flaws. From there, they reverse engineer a product that meets the original fit, form and function. Assuming the replicator has the in-house expertise to rationalize the data as described, the parts supplied will work and often be adequate to restore the original operating performance.
Solution Providers
Albert Einstein has been quoted as saying, "The definition of insanity is doing the same thing over and over and expecting different results." Based on the discussion above, a pirate may produce an unfavorable result, which can jeopardize the pump's operation. A replicator can produce the desired results but typically does not optimize performance of the part. In other words, if a user had poor design performance and reliability before the part is replaced and the supplier or replicator simply provides the same part again and again, the user cannot expect the pump's performance and reliability to become acceptable.
Solution providers do not simply repair or replace parts; they offer value-added engineering from hydraulic and mechanical design, metallurgical expertise and manufacturing know-how. They partner with the end user to look at the total pump system and offer solutions with tangible reliability improvements and measureable cost savings.
Solution providers have become even more critical in today's global energy-conscious environment. Plant operations and maintenance personnel are pressed to minimize their plants' carbon footprints while increasing profitability. This is difficult to do when many pumps in service today are operating off their design point because they were not properly sized during the design phase or because the operating conditions have changed since startup.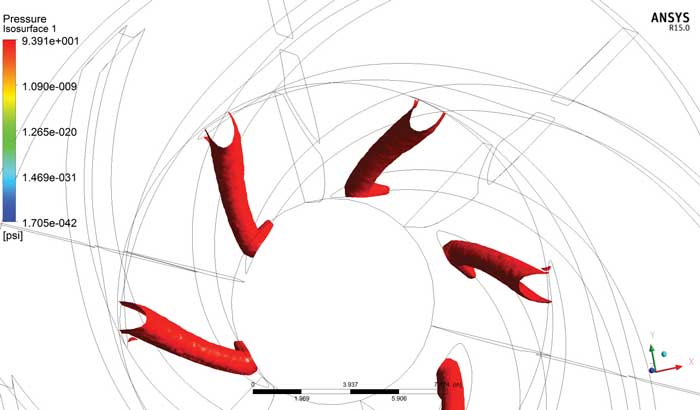 Figure 1. Original design showing cavitation (top) and solution provider design showing no cavitation (bottom)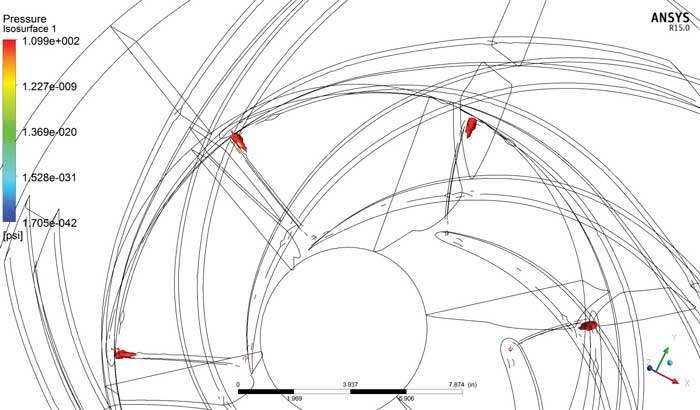 Figure 1. Original design showing cavitation (top) and solution provider design showing no cavitation (bottom)
Centrifugal pumps have a wide operating range that helps plants through unit upsets or short durations of non-standard operation. However, each pump has a specific design point referred to as the best efficiency point (BEP). OEMs will identify the preferred operating region and allowable operating region on the performance curve. This is all done to help end users understand where they should apply and operate the centrifugal pump.
At the end of the day, the pump is going to operate where the system curve intersects the pump curve, and this point may be far from the theoretical design point listed on the pump data sheet and performance test curve.
These off-design operations will lead to maintenance headaches with a high rate of bearing failures or—even worse—mechanical seal failures.
Pumps that have been oversized from initial startup and plants that are being forced to double-pump to meet new system head curves have many pumps running far to the left of the BEP. Less common but still an issue are pumps that operate far to the right of the BEP.
A solution provider can develop a long-term solution when these pumps are down for maintenance and the end user is asking "repair or replace?" These solutions can go far beyond a simple hydraulic re-rate where a donor hydraulic is applied to an existing design. Sometimes the best solution is a complete drop-in replacement pump. A solution provider can deliver these products quickly with dedicated or job-shop manufacturing capability.
Solution providers offering drop-in replacement pumps give the user the most cost-effective way to eliminate operations and maintenance headaches. These pumps are engineered with the proper hydraulic fit where the BEP and the standard operating point are a sound match.
This means that even as the plant goes through normal load swings, the pump operates within the preferred operating region, offering peak efficiency, low vibration and optimum reliability. The materials of construction are upgraded to meet particular needs, and mechanical upgrades are employed to ensure that the seal chamber, rotor stability and casing designs are within the latest American Petroleum Institute (API) requirements.
While these design elements are important, the real value is that the drop-in replacement pumps meet all of the current pump's existing connection points. This means that the drive, piping and foundation do not have to be reworked or replaced. This, in turn, saves huge capital project dollars.
Image 2. Typical pump impeller being machined
The Difference
The need to secure an engineered replacement part or a complete drop-in replacement pump will be even more important as U.S. industrial infrastructure continues to age.
A real solution provider must have integrated engineering and manufacturing resources to be able to generate these high-value offers. They must have specialized design and manufacturing knowledge and must be able to apply this know-how to help the user look beyond a direct replacement part.
Pirates and replicators often can offer a direct replacement with a more attractive delivery time and lower price than the OEM. But for end users who need full-service optimized parts, a solution provider may be the best choice.
If your reliability is already acceptable for a specific piece of equipment, the OEM or potentially a quality replicator might be the best fit for a direct replacement. A solution provider, however, can help take the reliability of critical pumps to a new level.
By understanding the complete pump system as well as the design and manufacturing processes, end users can adequately evaluate available solutions that will further their continuous improvement programs and take their reliability to levels that were previously not achievable.
Issue