In the 110 years since its invention by French engineer Andre Petit, the eccentric disc pump has been used in a wide variety of fluid-handling applications.
Driven by what Petit termed the "eccentric movement principle," the eccentric disc pump design features a disc placed inside a pump cylinder with an eccentric bearing on the pump shaft driving the disc.
This setup creates four distinct pumping chambers that increase and decrease in volume as the disc rotates, producing suction and discharge pressures as the chambers move in pairs 180 degrees apart. This method of operation ensures that the fluid passes through the pump at a constant and regular flow rate.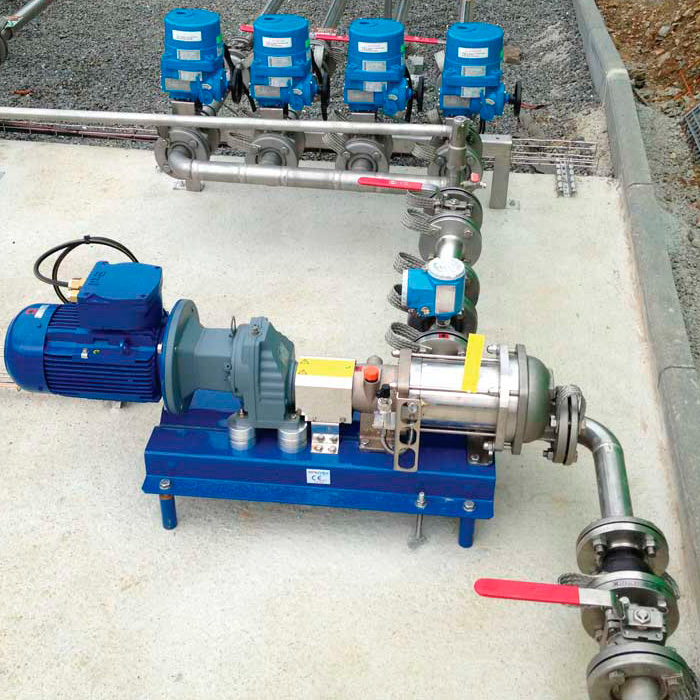 Image 1. Eccentric disc pumps can reliably transfer commodities as diverse as ethanol, pharmaceuticals, isocyanates and paints. (Courtesy of Mouvex)
The design also means that eccentric disc pumps do not require mechanical or dynamic seals. As the shaft rotates, a hermetically sealed metal bellows or rubber boot in which the bearings are contained flexes in an eccentric circle. This mechanism is similar to that of a peristaltic pump, but without the need for hoses. This method of operation prevents leaks and enables the fluid to flow through both the pump's inner and outer chambers without any pulsation or product slip.
The eccentric disc pump's seal-free design and volumetrically consistent operation are ideal for distributors of raw feedstocks and the manufacturers of end products in the chemical industry. Both the raw materials used and the finished products created in chemical manufacturing can be expensive, so the loss of high-value commodities through product leaks or spills can be detrimental to the operation's bottom line.
Safety risks also increase when dangerous or hazardous chemicals are not properly contained. Many chemicals and their raw components have unique handling characteristics that must be observed, so operators must employ a pump technology that can successfully check all of the operational boxes.
Handling high-value and specialty chemicals is a daily fact of life for chemical manufacturers. Their operations, however, only achieve the highest level of cost-effectiveness and safety when they incorporate pumping technology that can properly contain uniquely expensive or hazardous feedstocks and finished products.
After experimenting with other types of technology, many global manufacturers in a wide range of industries that rely on or produce chemicals have discovered that the eccentric disc pump is an ideal choice when searching for sealless, low-shear and volumetrically consistent operation with optimized product recovery in liquid-transfer applications.
Outlined on below are a handful of real-world examples of companies that use or produce specialty chemicals and have benefited from the use of eccentric disc pumps in their fluid-handling operations.
To read other Efficiency Matters articles,
go here
.
4 Real-World Examples of Eccentric Disc Pumps in Chemical-Handling Applications
Below are four examples of companies that use or produce specialty chemicals and have benefited from the use of eccentric disc pumps in their fluid-handling operations.

Table 1. Example 1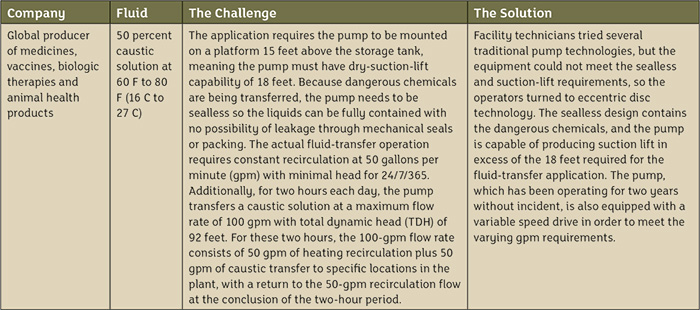 Table 2. Example 2

Table 3. Example 3

Table 4. Example 4
Issue