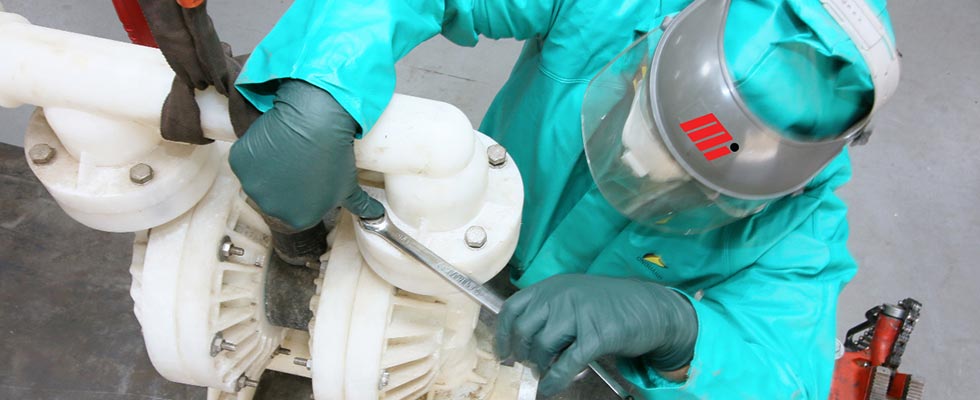 Following these safety precautions may help prevent serious injury—or even death.
Have you ever forgotten or ignored the simplest parts of basic pump safety and almost caused an accident or injury? Sometimes, users get so caught up with the task at hand that they do not give it a second thought.
I remember a time I was working on a submersible pump. It was an abnormally busy day; I was so focused on the task at hand that I made a poor decision to ignore that these pumps in the motor housing were pressurized. Without thinking, I unscrewed the drain plug to drain the oil from the motor. The next thing I knew, I was completely covered in oil.
Now, stop and think: If that had been a corrosive substance, I would have had some serious injuries and all because I ignored basic safety. I thank my lucky stars that it was only oil that day because it could have been so much worse. It is never a good choice to ignore basic pump safety. It is always good to have a crash course every now and then to keep us on our toes. Here are some basics to keep reminding users.
1. Removal of Guards
This could be both easy and dangerous if basic safety protocols are ignored.
Always make sure to use proper lockout/tag-out methods to ensure the motor has been correctly shut down and has no power going to it.
Locate any bolts that hold the guard in place. Most guards are split in the middle, allowing them to lift only one side to expose the pump or motor shaft and coupling for easy maintenance.
Ensure the availability of proper tools and personal protection equipment (PPE), such as gloves, safety glasses and hard hats if necessary.
Do not wear loose-fitting shirts or other types of clothing around any rotating equipment. Make sure long hair is pulled back and secured away from the face.
During guard removal, always be aware of the surroundings. One wrong step could result in serious injuries.
2. Shutting Down the Flow (Lockout/Tag-Out)
It is important to know and understand the workplace's lockout/tag-out procedures.
First, locate the shutoff valves. There are different types depending on what is being pumped; some of the most common ones are gate, butterfly, globe, needle and check. Once located, turn the valve off to stop the flow and lock out the valve so it cannot be turned back on. Only one authorized person should have the key to a specific lock, so no one else can unlock it. In fact, each person who performs maintenance should have their own lock to place on the equipment. In cases of handling harsh chemical pumps, always make sure a clean-in-place (CIP) is done. With this procedure, the interior of contact surfaces, pipes, vessels and equipment are cleaned without having to disassemble. Once the shutoff valves have been turned off, the CIP has been completed, the line is fully shut down and all pressure is relieved, the system is ready for the necessary maintenance.
3. Safety Data Sheets (SDS)
SDS should always be accessible to every employee and organized in alphabetical order. It is critical to understand how to locate the information needed in order to handle chemicals safely.
Sections 1 through 3 of the SDS provide the name, hazard identification and composition information needed to better identify the chemical.
Sections 4 through 7 provide measures for first aid, firefighting, accidental release measures and handling/storage.
Sections 8 through 11 provide information on exposure controls/personal protective equipment (PPE), physical/chemical properties, stability/reactivity and toxicology.
Sections 12 through 15 provide ecological, disposal, transportation and regulatory information.
Section 16 details date of preparation, last revision and anything else unrelated to the other 15 sections.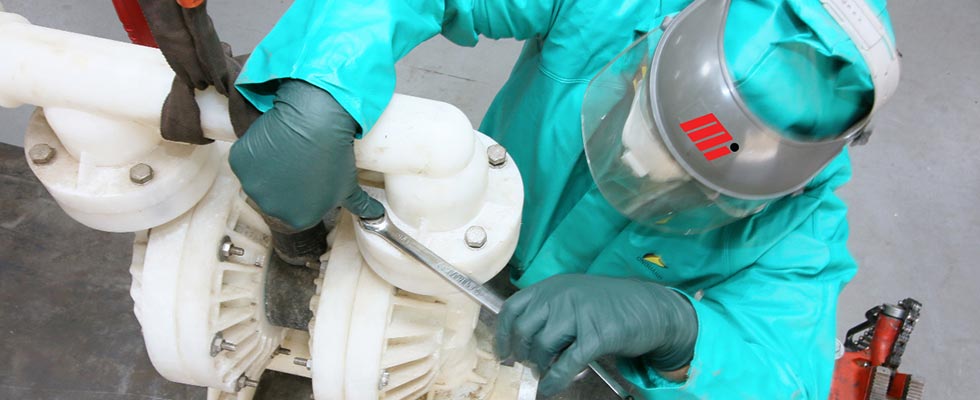 IMAGES 1 & 2: To keep safe while disassembling an air-operated double-diaphragm (AODD) pump that is pumping hydrochloric acid, the technician needs and is shown wearing the following PPE: full coveralls, N95 respirator mask, face shield, 7MM chemical-proof gloves and safety glasses. (Images courtesy of Motion)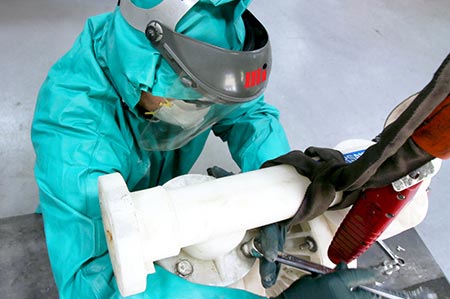 4. Pressurized Systems (Lubrication)
Lubrication can be tricky to stay safe around; most autolube systems operate at
a minimum of 1,500 pounds per square inch (psi) to a max of 4,000 psi. A high-pressure injection injury at 1,500 psi entering the skin can cause all kinds of medical issues including, but not limited
to, amputation. These types of injuries require immediate medical attention—sometimes surgery.
While lubricants are nontoxic, some may contain a trace mineral or ingredient that can cause a reaction or injury if mishandled. It is always good practice to implement a monthly safety training course on handling lubrication systems and the lubricants themselves.
Always read the SDS provided for each type of lubricant the user will have potential contact with.
Keep the appropriate PPE nearby, such as gloves, goggles, face shields or other safety gear.
Used lubricants that are awaiting disposal are just as important to store properly as new oil, if not more so.
When used oil and oil additives are
added to a disposal container, the mixture and its contaminants create different chemical properties than new oils. Store used oil in a separate area from new oil and follow local health, safety and environment rules for combining different types of discarded oil.
5. Use of PPE
An important, yet basic part of safety is wearing PPE. PPE can be as simple as earplugs to a full chemical suit. Basic everyday forms of PPE are gloves, safety glasses, earplugs and steel/composite-toed boots or shoes.
When handling harsh chemicals such as hydrochloric acid, use a chemical suit combined with corrosion-resistant boots and gloves. Always securely fit eye goggles and/or a face shield over safety glasses to keep eyes and face protected at all times.
It is important to choose the proper footwear. For example, a welder will want to use a leather boot with a metatarsal guard. For working on uneven terrain for long periods of time, use a boot with a thicker heel as it is better for feet protection and stability. Make sure safety glasses fit properly and are not loose. Wearers of prescription glasses must make sure they have the correct side shields (or place goggles over glasses) to keep debris out of the eyes.
Safety can be simple yet it can be easily ignored if users get in a hurry. There is no reason to rush to the detriment of being safe. Take the time to make sure the proper PPE is on hand and read the SDS sheets. The mere five minutes that it takes to do a safety check can prevent most injuries—and even death.
IMAGES 1 & 2: To keep safe while disassembling an air-operated double-diaphragm (AODD) pump that is pumping hydrochloric acid, the technician needs and is shown wearing the following PPE: full coveralls, N95 respirator mask, face shield, 7MM chemical-proof gloves and safety glasses. (Images courtesy of Motion)
Issue