VFDs, IIoT, positive displacement pumps and more are covered on these episodes of the podcast.
Give a listen to these five podcast episodes from Pumps & Systems Managing Editor Drew Champlin. These podcasts are growing in popularity, and you want to make sure you don't miss out!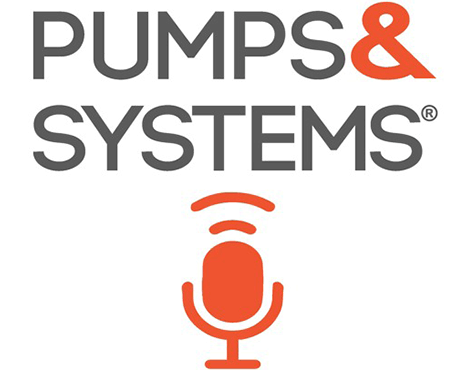 Listen to all podcast episodes on SoundCloud, Apple (iTunes) or Stitcher. All episodes are also available at pumpsandsystems.com/podcasts.
Positive Displacement Pump Basics with Rodney Howard of Werner Electric
Rodney Howard of Werner Electric on the basics of positive displacement pumps and how they are used in blending applications.
Topics include:
What is a positive displacement (PD) pump?
Why use PD pumps in food and beverage applications?
What's the best way to use PD pumps in a metering application?
What other components should be included in the system?
What common mistakes do you see setting up or operating these systems?
IoT for Pumping Systems with Nicole George of Eaton
Nicole George, product manager of pumping variable frequency drives (VFD) from Eaton talks about IoT and Industrial Internet of Things (IIoT) for pumping systems.George explains how IoT relates to the pumping system and what it means to be intelligent.
VFD Options to Meet IEEE 519 Standards with Chuck Fernandez of Siemens
Chuck Fernandez, Siemens product manager for low voltage enclosed drives, on variable frequency drive (VFD) options to meet IEEE 519 standards. What is the best drive technology to ensure compliance with IEEE Std. 519 in municipal pumping projects? There's no simple answer. Each situation and application is different. Fernandez explains the differences and benefits of five different technologies including active front end (AFE) and 18 pulse. It is aimed at the end user and EPC engineers who are seeking to apply VFDs in these critical applications.
The Future of Predictive Maintenance with Augury CEO Saar Yoskovitz
Augury co-founder and CEO Saar Yoskovitz on the current state and future of predictive maintenance. Topics include predictive maintenance using Internet of Things (IoT) and artificial intelligence (AI). Companies were slow to adapt to IoT, and Yoskovitz gives insight on how he feels adjustment to IoT and AI will unfold over the next few years.
Harmonics Mitigation Tips Relating to VFDs with Steve Zakula of Danfoss
Steve Zakula, a senior product marketing manager, discusses the harmonics mitigation process as it relates to variable frequency drives (VFDs). He covers why harmonics are considered negative and why you should be concerned with them.