Outside lubrication experts help improve protocols and minimize downtime.
Few industries can tolerate the unscheduled downtime of critical equipment. In refinery operations, it can have particularly serious implications. For an operation that runs 24 hours per day year-round, the losses—in both production and profitability—can be staggering.
Rotating equipment—pumps, motors, compressors and pillow block bearings—represents a key refinery component that, without proper planning, can become a refinery's Achilles heel. This article presents six tips that help prevent unscheduled downtime because of rotating equipment failure.
1. Invest in the Right Equipment
Flexibility is the key. What may have been the right equipment in the past may not be the right equipment today. Many facilities were originally designed to handle a certain fluid and have pumps and peripheral systems designed to accommodate that fluid.
Today, different feedstocks in a wide array of viscosities offer price and profitability advantages. A refinery must accommodate the diversity.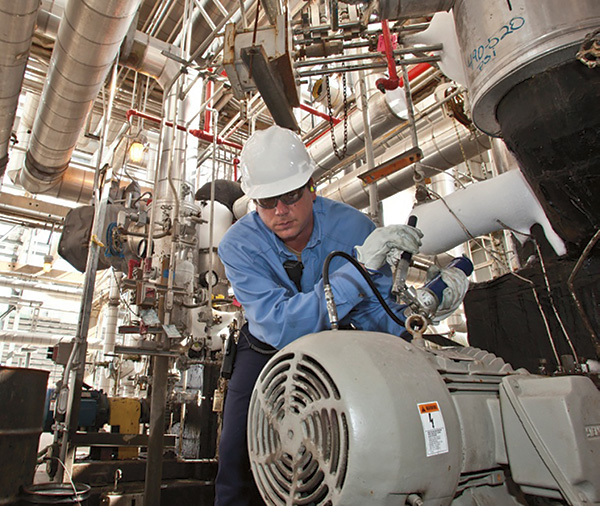 Rotating equipment—pumps, motors, compressors and pillow block bearings—represents a key refinery component that, without proper planning, can become a refinery's Achilles heel. (Article images courtesy of Colfax Fluid Handling.)
Retrofitting the right pumps and related equipment into existing operations improves efficiency. Larger, two-screw pumps can work better than a battery of smaller, specialized pumps in some applications. Two-screw pumps are rotary, self-priming positive displacement pumps, typically double-ended or double-suction to achieve higher flow rates.
The screw pump design better handles fluids with more solids content and a product viscosity range from 0.5 to more than 1 million centistokes. In refineries, screw pumps provide flexibility and quick payback to owners.
2. Decontaminate Lubricants
Every piece of rotating equipment in a refinery needs lubrication. At some point, flushing, varnish removal, reservoir maintenance and fluid replacement will be required. Particle contamination is the biggest threat to rotating equipment lubrication and a leading cause of bearing failure.
A refinery's maintenance staff is responsible for its lubrication program, but these specialists also have other duties. A lubrication program can divert time and money from operations. Successful refineries often partner with a firm specializing in lubrication maintenance. External lubrication experts have experience that allows them to anticipate issues before they occur.

3. Be Honest with Outside Experts
Any partnership with an external maintenance firm should be based on candor and trust—like that of a patient and doctor. A lubrication expert can only help a refinery if the facility's maintenance personnel willingly shares information on current and past equipment operations.
The most common cause of failure during the lubrication of rotating equipment and bearings is particle contamination.
Has a single pump or motor been a problem in the recent past, or does it create a recurring issue? Do certain systems respond differently during temperature changes? Honest communication is critical from the beginning for an effective maintenance program.
A well-equipped lubrication partner will know what to ask during the audit—the first step toward a partnership. Refinery maintenance staff members should brace for some tough questions. The more raw data the maintenance experts have available, the faster the audit can be completed. Afterward, the refinery will be one step closer to its maintenance goal: clean, contaminant-free lubricants delivered in the right amount, at the right time, for every piece of rotating equipment.
A lubrication maintenance program built on trust goes beyond the basics. The program overlooks nothing in the lubrication process, even considering intangibles such as a facility's employee safety program. Refineries reap the benefits: new lubricants; new delivery methods; and longer, more sustainable lubricant life.
4. Think Outside the Box
Facility maintenance managers often understand their lubricant needs. However, an expert may recommend new lubricants that can help optimize rotating equipment operation.
Changing to oil mist lubrication is an example. Oil mist is not new. The lubrication method has been around for nearly half a century. Newer oil mist systems have replaced their older, more wasteful ancestors, delivering precise lubrication that extends bearing life compared with alternative lubrication methods.
Refinery owners and personnel should consider outside suggestions. At the same time, they should pay more attention to the ordering, storage, handling, disposal and recycling of the facility's lubricants.
Often overlooked, improper storage and handling can introduce contaminants to the lubrication system that may cause facility-wide problems.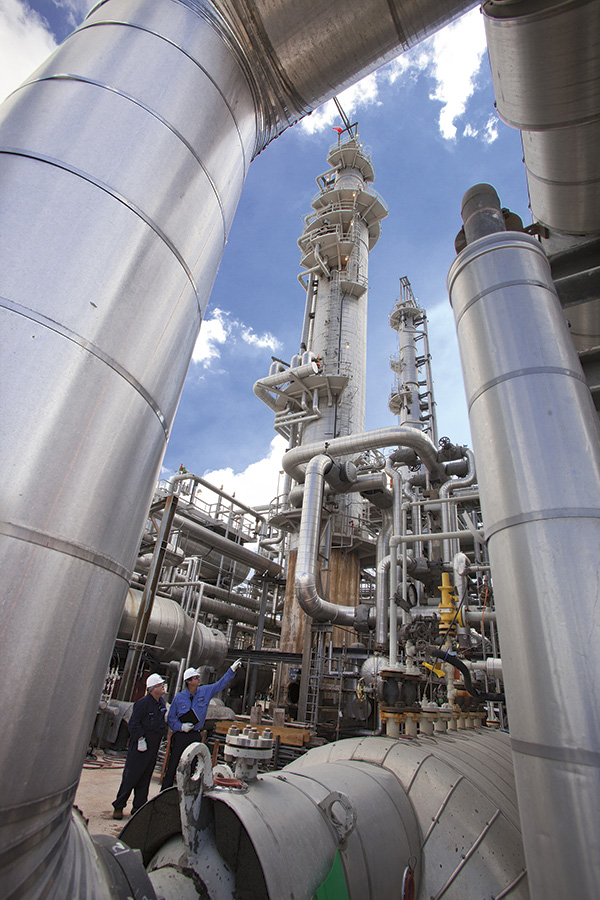 Regularly scheduled inspections are required to ensure that a pre-planned maintenance program satisfies the refinery's operation requirements.
5. Schedule Regular Inspections
After the maintenance partner develops a lubrication plan, the next step involves regularly scheduled inspections. The results determine how the maintenance program will be revised and updated. The plan becomes a living document that adapts as refinery conditions change and new equipment and operations are added.
Regular inspections also help refineries manage their sustainability programs, essential to any modern-day oil and gas processing operation.
Leakage oil reclamation services alone can offer bottom-line benefits that include identifying high lubricant use areas for reclamation and establishing purification methods through first- and second-stage filtration.
A properly documented, verified program is critical to complying with Environmental Protection Agency and safety standards.
6. Join the Global Community
A partnership with a rotating equipment and lubrication expert can pay off and help refinery personnel learn best practices from around the globe. What works for a refinery halfway around the world may be the remedy to a difficult problem plaguing other facilities. Relying on a partner to provide new ideas to optimize a facility's rotating equipment is a value-added service that can benefit the refinery in the future.
Issue