One unique design transmits torque across the disc pack assemblies purely by friction, helping to prevent issues associated with stress concentration, backlash and chatter.
API 610, 11th Edition, is one of many standards written and regulated by the American Petroleum Institute (API) to ensure maximum reliability in critical applications.
This regulation focuses on the minimum safety, reliability and maintainability requirements for centrifugal pumps used in petroleum, petrochemical and natural gas applications. API 610 pumps can be found in various locations including offshore oil rigs, onshore oil production facilities, oil refineries, petrochemical and natural gas processing plants, and power stations. In addition to regulating pumps, bearings, guards and mechanical seals, the standard includes key requirements for the flexible shaft coupling mounted between the pump and motor.
Image 1. Example of an API 610 disc pack coupling (Images courtesy of R+W Coupling Technology)
Coupling Requirements
Because safety and reliability of a pump system in the oil and gas industry are critical, detailed requirements of all components are needed. If end users do not carefully select and design these pumps, catastrophic failures may occur. API 610 pump packages should be designed for a minimum service life of 20 years and at least three years of uninterrupted service.
Downtime could potentially cost operators millions of dollars per day, so component selection is extremely important. From a maintenance standpoint, many requirements are in place that allow for a quick and simple overhaul of an entire system.
API Specifications
An API 610 coupling is an all-metal, flexible element spacer coupling designed in accordance with American Gear Manufacturers Association (AGMA) 9000 Class 9 standards for balance quality to reduce vibration. If operating in excess of 3,800 revolutions per minute (rpm), this equipment must be balanced in accordance with International Organization for Standardization (ISO) 40441.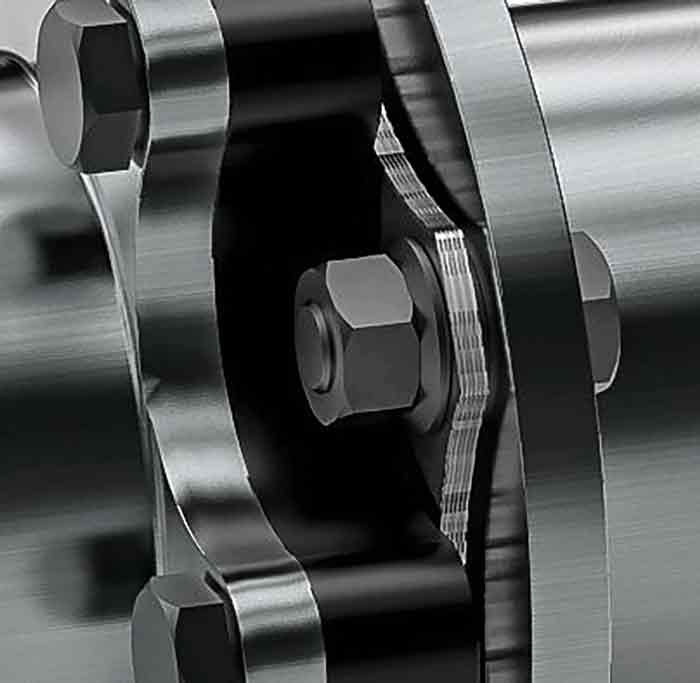 Image 2. Frictional drive design with high-grade, class 9 bolts and nuts eliminates shear load that can be placed on shoulder bolts in traditional designs.
In addition, the coupling must include corrosion-resistant flexible elements with steel hubs. A safety catch must be in place to retain the spacer if one of the flexible elements ruptures in the event of a catastrophic failure.
The nominal length of the center spacer (DBSE) should be greater than the seal cartridge length for all pumps other than overhung (OH) type and must allow for removal of the coupling seal, bearing(s) and rotor without disturbing the motor, coupling hubs or adjacent pump components.
In pump design, it is recommended to leave a minimum of 1 inch of shaft between the bearing housing and the coupling hub for alignment tools to be installed during the assembly process without dismantling the coupling.
Beyond these key characteristics, there are additional requirements that ensure the installation of a highly reliable and easy-to-use coupling, making the sizing and selection of the flexible coupling in an API pump package an important task.
Updated Technology
While coupling specifications have not changed much over the years, end users have a few options to improve the reliability of the couplings they use in these critical applications. One company has included various updated features in its disc pack couplings, for example, that are unique from other designs. They transmit torque across the disc pack assemblies purely by friction, helping to prevent issues associated with stress concentration, backlash and chatter, all of which can result from transmitting torque across the shanks of shoulder bolts and can lead to premature failure.
The friction drive design of this company's disc pack couplings serves to eliminate the bending load that can be placed on the shoulder bolts in some traditional designs. The bolts in this particular design are tightened through the hubs, spacers, guard rings and bushings to a torque level sufficient enough to generate the necessary clamping pressure across the faces of the disc packs to transmit all of the power by friction. The frictional connection of the disc packs further increases service life, while making the complete coupling assembly more torsionally stiff.
The safety catch to retain the spacer in the unlikely event of a disc pack rupture on this design consists of a guard ring assembly that captures the center member by piloting the coupling hub to the guard ring itself. In the event of a disc pack rupture, the guard rings serve to contain the tube and prevent it from being thrown from the assembly.
This design also helps to ensure that the center spacer assembly with captured disc packs can be easily removed for maintenance of items such as seals and rotors without disturbing the adjacent components. The scalloped hub and guard ring aims to eliminate unnecessary material from the coupling, resulting in a lower inertia design.
Issue