Visual management helps improve maintenance practices and remove human error from the lubrication process.
New standards are emerging in maintenance operations across the U.S. Under enterprise-wide pressure to increase productivity, maintenance managers are responding by finding new ways to maximize uptime, extend equipment life and eliminate human error.
Given the realities of modern manufacturing, the recent movement is only expected to grow. While some new solutions may be difficult to integrate into current practice, one is simple, economical and delivers maximum impact—color coding.

The Easy Path to Efficiency
Lubrication processes can be optimized with the addition of a new, visually intuitive, color-coded system. The system communicates essential information in a universally understood way, transcends language barriers and requires little training. It is a solution for all plants—especially those with seasonal staffing or complex lubrication requirements. One simple, easily integrated solution can help maintenance operators achieve best practice in their lubrication management operation.
Maintenance managers who use color coding are able to manage the lubrication process more accurately. They see simple, clear progress that makes a major impact on their processes.
Color coding is an important step in 5S and poka-yoke lean concepts, and a good solution for ensuring best practices and a straightforward lubrication management process. The visually driven identification (ID) system ensures that every lubricant goes in the right place, every time, which eliminates the major (and costly) issue of human error.

Eliminate Human Error, Boost the Bottom Line
Color-coded labeling systems are an effective way to eliminate operator error. Lube technicians quickly adapt to the color-coded labels, and system implementation has proven to be simple. Workers can achieve lubrication accuracy and efficiency with color-coding clarity, positively impacting the entire business with reduced error, diminished waste and increased productivity.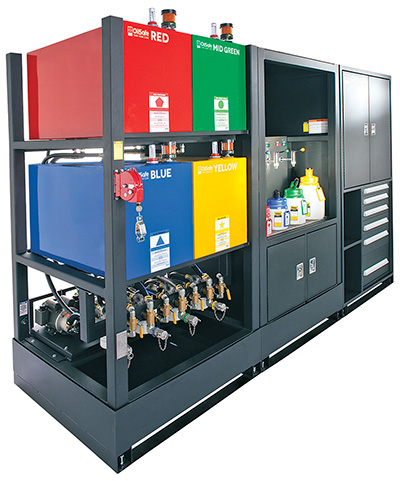 A lubrication storage system is a best practice for color-coded lubrication management.
How does color coding eliminate human error? The system removes the guesswork from the maintenance process. The decision is taken out of the hands of the plant operator, because the process of finding, applying and returning lubricants is clear. Custom labels are integrated throughout the system. Technicians can match the colored shapes on the lubricant labels to those on the fill-point tags—without the need to scrutinize the lubricant information. The risk of human error is virtually eliminated with color coding. The right product goes to the right place, in the right amount, at the right time.

Eliminate Cross-Contamination in 
Complex Environments
Anyone who has worked on a plant floor knows how complex—and contaminant-heavy—these environments can be. A systemized process that reduces cross-contamination benefits any lubrication process and the entire plant floor.
Color coding clearly communicates organizational information faster than any other method as an economical way to transform and standardize maintenance operations. In the process of storing and transferring, airborne particles, moisture and other environmental contaminants easily breed on fittings and transfer points. In addition, a handful of lubrication issues will often occur because cross-contamination—such as clotting, base oil separation, thermal breakdown, thinning, thickening and the formation of hard deposits. Cross-contamination occurs when lubricant types are mixed. Color coding promotes safer and more accurate fluid transfer, eliminating environmental contamination and cross-contamination with a cleaner lubrication process.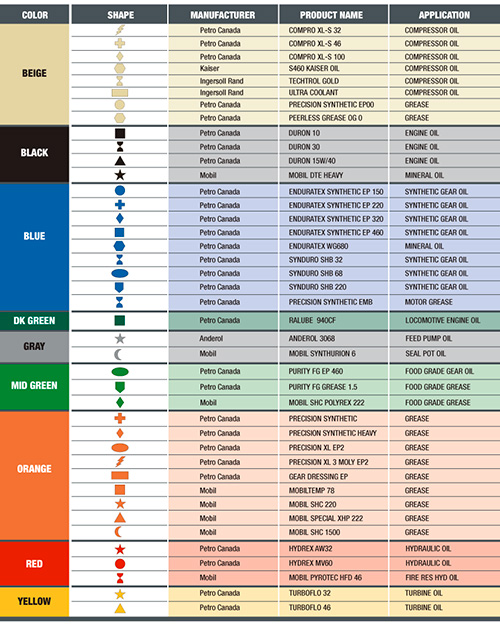 This sample lubrication ID chart represents 41 lubricants—each identified by a unique color and shape.
Best Practices
Minimizing costly mistakes attributed to human error, extending the life of equipment and maximizing uptime by adhering to concepts such as 5S, Lean and OSHA Right-to-Know compliance are the most significant benefits of applying a visual lubrication system for a maintenance operation.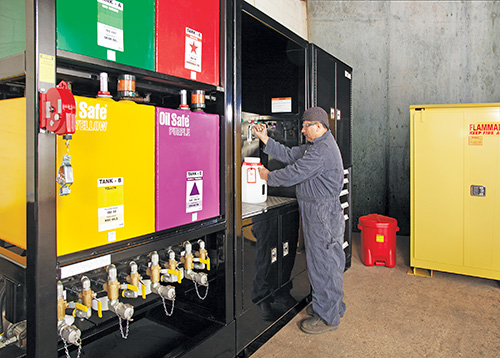 A lube technician dispenses lubrication into a color-coded transfer container with a corresponding identification label.
5S
Color coding introduces 5S practices into the workplace. With a visual lubrication system, the Sort, Set, Shine, Standardize and Sustain of the 5S method are easily attained while improving quality, productivity and safety. It creates an orderly environment with equipment and lubricants that are clearly identified, systematic and safe for workers. The system also improves workers' pride in their craft by giving them the right tools for their jobs, where and when they need them.

Lean
Lean, derived from the Toyota Production System, is a production practice that considers the expenditure of resources for any goal other than creating value for the end customer to be wasteful, and thereby something to be eliminated. Poka-yoke, or mistake-proofing, is any mechanism in a lean manufacturing process that helps an equipment operator avoid mistakes. Poka-yoke is an important lean tool for lube technicians to prevent mistakes, and color coding helps accomplish this. Color-coded labeling delivers higher productivity rates through improved equipment reliability and sensible storage solutions that make the job easier, faster, safer and cleaner.

OSHA Right-to-Know
Right-to-Know is an OSHA-regulated requirement focusing on the principle that workers have the right to know the fluids they may be exposed to in the workplace. Lubrication containers must be clearly labeled so that workers can identify what is in each container and be sure it is safe to handle. Since many companies may not have adequate labeling, the single solution of color coding offers an innovative, industrial-grade labeling solution for bulk storage to the point of application equipment. According to the OSHA website, companies can risk major OSHA fines for each violation. Right-to-Know compliance is essential to avoiding hefty penalties.

Color-Coded Systems Are Not Widespread
Visual lubrication systems create world-class lubricant storage, transfer and application processes that can be easily and effectively standardized across plant operations. However, not all color-coded systems are created equal. Some plants use homegrown systems that use colored paint or tape that may result in additional lubrication errors. Others use manufactured lubrication systems that only display small spots of color, which can be overlooked on a busy plant floor.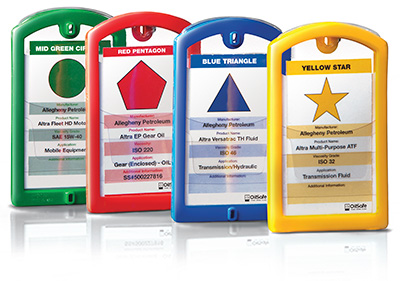 Identification labels are an important part of any visual lubrication system.
An ideal lubrication management system incorporates bright, bold coloration as an integral part of each component. The labels are unmistakable and can be easily integrated into any existing process. Look for multiple colors and shapes to make it easy to custom color-code simple and complex lubrication systems.
Each bulk storage tank, dispenser, transfer container, grease gun, label and fill-point tag should be customizable and designed for easy identification at a glance, even from a distance. Choose a system made from industrial-grade materials to ensure durability and guard against fading, allowing for years of accurate lubrication.

Standardized and Modernized Maintenance
Today's sophisticated machines are more sensitive to lubricant contamination, which makes the case for color coding stronger. Combined with narrow profit margins, many companies cannot afford the risk of downtime because of improper lubrication caused by error or contamination. Modernizing and standardizing maintenance operations improves overall plant performance and demonstrates value with an easily measured return on investment. As plant processes advance, lean, automated maintenance processes are even more important, making color-coded systems a solution that maintenance processes need.
The value far outweighs the initial investment in the system. Color coding improves safety and morale by reducing hazardous mix-ups and the stress associated with a messy lube room. Together, these benefits help businesses remain productive and operate better overall—all with a relatively small investment in a color-coded lubrication management system.