End users will consistently purchase these critical wear components.
The life of equipment, such as compressors or pumps, depends on the functionality of individual parts, including seals. As the useful life of a seal increases, so does the reliability and robustness of the pump. Premature seal failure is one of the reasons for growing maintenance costs and overall cost of ownership. Issues related to wear, heat resistance and corrosiveness are carefully evaluated before designing a seal. These physical factors, coupled with economic impact, influence the seals market in North America.
Strong Environmental Protection Agency (EPA) guidelines in industries such as refining and chemical processing are expected to have a positive impact on the demand for pumps. These critical industries are bound by regulations to ensure hazardous materials are not released, since this can be harmful to people and the environment. Seals prevent both harmful release of material and monetary loss. In industries such as pharmaceuticals and food and beverage, loss of products decreases the operational profitability.
Seals also block external agents that may contaminate products from entering the production process. These seals have higher resistance to corrosion to prevent infiltrating the flow with metal pieces. Such hygienic seals are widely used in sanitary pipelines of biotech, pharmaceutical, dairy, food and beverage, industrial and semi-conductor industries.
All plant operators aim to optimize processes by minimizing operating costs and downtime, and maximizing production. Hence, designing the mechanical seal to meet functional needs with sufficient research in operating requirements will drive demand for seals. The maintenance cost savings and the operational excellence that plant operators experience boost investment in mechanical seals, despite the high initial cost. The need to upgrade aging production facilities to increase efficiency and comply with changing regulations presents significant opportunities in the retrofit market for seal manufacturers in North America.
While these growth trends are positive for the seals market in North America, some factors restrain the growth of seal manufacturers. The seals market has grown to be price-competitive with the entry of low-cost products from Asian manufacturers. Although quality was a problem with these products, recent years have shown an enormous improvement. Another restraint to the seals market is the adoption of sealless pump technology, which eliminates the need to maintain
any mechanical seal in the production process.
Industries, such as pharmaceuticals, are adopting this technology to achieve zero leakage and maximize operational profitability.
Market Overview
According to Frost & Sullivan analysis, it is estimated that the North American seals market held revenue of about $1,300 million in 2014 and grew 4 percent over 2013. It is expected that the market will grow at a compound annual growth rate (CAGR) of 4.1 percent through the forecast period. Figure 1 gives the forecast analysis for rotary and mechanical seals from 2011-2019.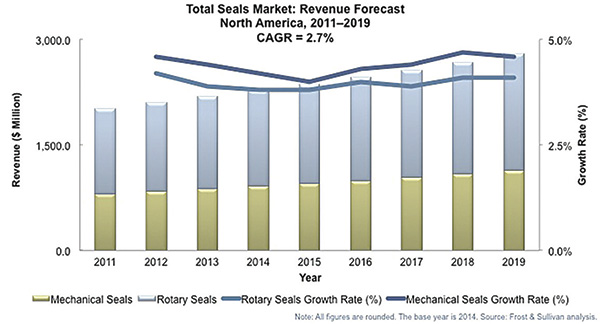 Figure 1. North American seals market revenue forecast and growth rate (Courtesy of Frost & Sullivan)
The rotary seals segment contributes about 60 percent to the total revenue of the market in North America. However, it is expected that mechanical seals will capture more market share by 2019 thanks to increased functionality. The demand from the automotive sector sustains the rotary seal market, which is expected to be stable during the forecast period.
Investments in the oil and gas industry, particularly in exploration and production of shale, will boost the demand for mechanical seals. The shale gas boom has led to the growth of related industries, such as the chemical industry. However, the current economic climate is expected to result in a stable seals market since most demand will be for the replacement requirements from existing facilities. A significant portion of the revenue for the seals market is from the oil and gas and chemical industries, which have harsh working conditions. End users are always looking for improved seals and unprecedented reliability for replacement. The water and wastewater and power generation industries face similar issues and require frequent replacement services for worn-out seals.
The improved mechanical seals are based on composition of different metals and diamond coatings, which increases the life of a seal by making it more resistant to wear with highly corrosive fluids or sometimes even dry running. Additional enhancements include special grooves on the surface that reduce friction during dry run. These grooves serve as a thin layer of lubrication, increasing energy efficiency. As these innovations continue to evolve, the performance of mechanical seals will improve with extended life, reduced operating cost and increased returns on investments.
Conclusion
Effective maintenance of rotating equipment also ensures a long seal life. Over the years, breakdown maintenance has been replaced by preventive and proactive maintenance. As a part of their marketing strategy, seal manufacturers or original equipment manufacturers partner with automation solution providers for real-time information on equipment condition. Capturing factors such as pressure and temperature helps users recognize discrepancies in the normal operation. This reduces unscheduled downtime and production loss.
To solve production issues, end users should adopt condition monitoring of seals based on surface temperature and vibrational analysis to schedule maintenance activities and take preventive measures. The use of seals in severe production conditions, which are not easily accessible, is improved from such technology and has become a significant part of the seals market.
Issue