Many options are available to meet industry and application requirements.
Hygienic pumps are used in many different applications and industries—such as dairy, food, beverage, pharmaceutical, biotech and cosmetics. Like other pump requirements, reliability is a major consideration to maximize productivity.
Hygienic Positive Displacement Pumps
Several different types of hygienic pumps are available. Low-slip design rotary positive displacement (PD) pumps provide longevity and low-slip performance. This hygienic PD pump uses a high-performing, non-galling rotor alloy, which allows an exceptionally close fit between the rotors and pump body. The close fit and the geometry of the rotor ensure low-slip operation, even at low viscosities, and maintain high volumetric efficiency.
The complete symmetry of these PD pumps provides bi-directional flow without performance loss. The pumps' large rotor fluid cavities and large anti-cavitation ports handle highly viscous fluids, slurries and large particles. These pumps are easy to disassemble and reassemble for clean out of place applications, minimizing downtime and maintenance costs.
Close-Coupled Centrifugal Pumps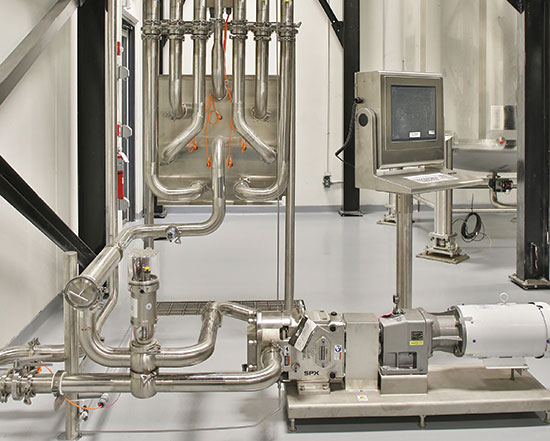 A close-coupled positive displacement pump
Close-coupled centrifugal pumps are another option for hygienic applications. One series of these pumps is available with flow rates up to 180 cubic meters per hour (m3/hr). They provide long life, and the seal experiences less wear through use of a wave spring, which provides more uniform loading on the seal face. Hydraulic balancing further reduces sealing surface pressures to extend the seal life. The units do not require tools for disassembly, so maintenance and inspection are easier and faster. This feature also minimizes production downtime and associated costs.
These close-coupled centrifugal pumps use commercially available seal choices, including a cartridge-type seal. Controlling the diameter of the impeller's integral hub, one common mechanical seal size will fit all pumps in the series, reducing inventory requirements. Precision construction eliminates problems caused by vibration—such as shortened bearing life, high net positive suction head (NPSH) requirements, seal maintenance costs and other adverse operating conditions.
These pumps also maintain hygienic performance with a unique impeller design, which ensures that clean in place (CIP) solutions reach all critical pump areas and 316L stainless steel wetted components. They are designed with maximum rigidity, making them ideal for many different liquids. They can handle varying flow conditions and can be installed in series without compromising the seal. The broad application, easy maintenance and long life of these pumps make them an ideal choice for many hygienic processes.
Ultra-Hygienic Centrifugal Pumps
Hygienic centrifugal pumps options also incorporate high efficiency impellers. These pumps have a patented spiral volute located on the pump back plate to ensure maximum efficiency and direct transfer of liquid from inlet to outlet. These pumps operate with low noise and vibration levels while a heavy walled pump casing handles high system pressures. They are designed for system pressures up to 25 bar and provide flow capacities up to 800 m3/hr (50 hertz). Many different models are available, allowing a close match to the application requirements to maximize pumping efficiency.
Specialist pumps for handling particularly challenging applications are also available. For example, some pumps provide efficient performance while withstanding pressures up to 60 bar. An inducer pump boosts the inlet pressure, reduces the risk of cavitation and is ideal for applications with low NSPH. Aseptic pumps have double seals with special aseptic fittings for sterile flushing. A self-priming pump is a good choice when air or foam may be present in the fluid or for CIP applications. It can be installed anywhere that a traditional liquid ring pump can be applied. All these pumps provide hygienic design, and their innovative designs maximize efficiency and offer exceptional reliability to keep processes running longer.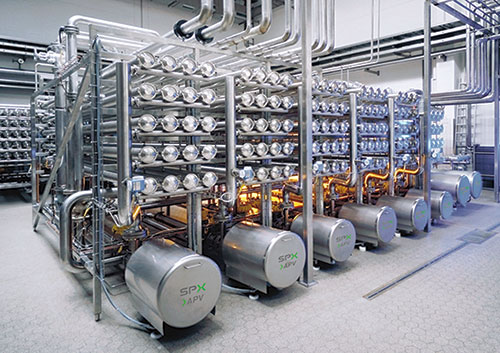 A sanitary centrifugal pump designed for cost savings and lower energy consumption
Other pump options can provide reliable, cost-effective performance for standard hygienic applications across industries—such as brewery, beverage, food and dairy. They are available with double mechanical shaft seals, are simple to maintain and provide sanitary assurance through European Hygienic Engineering & Design Group (EHEDG) approval.
Hygienic Rotary Lobe Pumps
Sanitary rotary lobe pumps can also be used successfully in hygienic applications.
Top-Wing Lobe Pumps
Top-wing design rotary lobe pumps provide low shearing power, allowing pumping of soft and hard substances without product degradation. These pumps have self-draining rotor case and shafts, stainless steel construction and smooth surfaces at all areas of product contact.
They also provide a choice of rotor options, including bi-wing or multi-lobe. Bi-wing rotors provide gentle, smooth performance, ideal for preventing damage to fluid with soft particles, such as fruits. Multi-lobe rotors provide the ideal solution for applications requiring low noise and high speed, low pulsation for low viscosity fluids or low NSPH while reducing friction and energy loss.
These pumps are designed for harsh environments. Available in stainless steel, they offer strength and have a water-resistant gear case with special seals and include an air breather on the oil chamber with back valve and labyrinth sealing. They can withstand rapid changes in temperature and harsh CIP/steam in place cycles.
Top Lobe Pumps
A top lobe design pump provides a hygienic pumping solution with fast and easy maintenance. The rotor design ensures gentle product handling with no risk of product entrapment, ensuring that hygiene standards are maintained. Fewer interruptions in production are experienced when these products are used because they have less dead spaces than other lobe pumps. Top lobe pumps are efficient in high- and low-viscosity applications. They provide gentle, efficient operation with low noise levels.
Front loading product seals are installed directly behind the seal cover on a top lobe pump, allowing quick access for service and maintenance. A shim-free assembly ensures good lubrication of bearings and gears and provides high-speed operation. The top lobe pump is another example of innovation and design that delivers reliable performance and reduced maintenance for maximum production efficiency and reduced cost of ownership.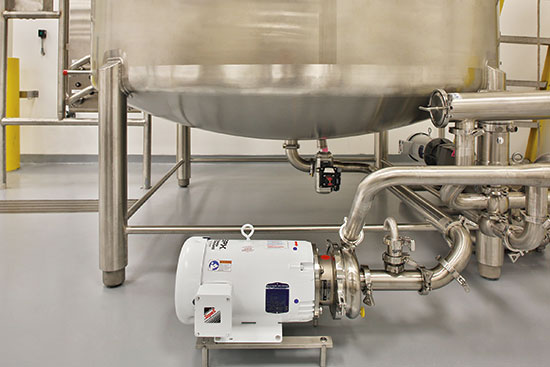 A sanitary centrifugal pump
The latest version of this top lobe pump is specifically designed for original equipment manufacturers. These pumps combine key features from multiple pump types to provide robust, consistent displacement with low shearing and gentle handling of product. Double mechanical seals also mean the pumps can run dry indefinitely.
The latest top lobe pump provides versatile mounting and a robust construction in a hygienic design and is suitable for high- and low-viscosity products. They have no internal rotor contact with a unique rotor attachment to the shafts using lug screws to provide a backlash-free connection that is easy to access and service.
Reliability, Safety & Ease of Maintenance
In industries such as dairy, food, beverage and pharmaceutical, many different hygienic pumps are available. These pumps provide maximum efficiencies and profitability to many processes while offering reliability, hygienic safety assurance and ease of maintenance.
Issue