North America, South America, the Caribbean, Africa and Australia innovate for water challenges.
Water scarcity is a global issue and must be addressed with as many approaches as there are regions on earth. Desalination in the Middle East would not be practical for isolated farmland in America. Singapore's urban recycling and reuse campaign would be less successful in the arid Australian outback.
Here are some local actions that are expected to bring more clean water where it is needed.
North America
United States in Need of Infrastructure Improvements
In the United States, where decaying infrastructure threatens urban areas and fossil aquifers lose irreplaceable resources daily, solutions are actively sought. In its 2017 Infrastructure Report Card, The American Society of Civil Engineers graded the U.S. drinking water system at a "D" and wastewater earned a "D+."
"Because America's drinking water infrastructure provides a critical service, significant new investment and increased efficiencies are needed as filtration plants, pipes and pumps age past their useful life," the report states. "Every day, nearly 6 billion gallons of treated drinking water are lost due to leaking pipes, with an estimated 240,000 water main breaks occurring each year."
The report cards point out:
According to the American Water Works Association, upgrading existing water systems to meet the drinking water needs of a growing population will require at least $1 trillion.
By 2032 it is expected that 56 million more people will connect to centralized treatment plants, rather than private septic systems—a 23 percent increase in demand.
The U.S. Environmental Protection Agency (EPA) estimates that at least 23,000 to 75,000 sanitary sewer overflows occur in the U.S. each year.
While most Washington, D.C., insiders say an infrastructure bill is unlikely in 2018, President Trump did send a framework for legislation to Congress. The proposal encourages comprehensive legislation that would impact water and wastewater systems, waterways, water resources, energy and rural infrastructure. It includes items on expanded water infrastructure financing and encourages privatization of the water sector. If passed, tax-exempt bonds would continue to apply to facilities including those that furnish clean water, sewage treatment and solid waste disposal, and would expand bond privileges to hydroelectrically power generating, flood control and stormwater facilities.
Caribbean
Life-Saving Pump Helps Haitians, Others in Developing Nations
At the base of the mountains of arid Northwest Haiti is a remote village called Moulin. Several years ago, the stream it relied on dried up. A rainwater cistern was installed at a school, but the water is often thick with algae and debris. Rain falls only every three to six months here. For communities like Moulin, a hand pump is often the best option.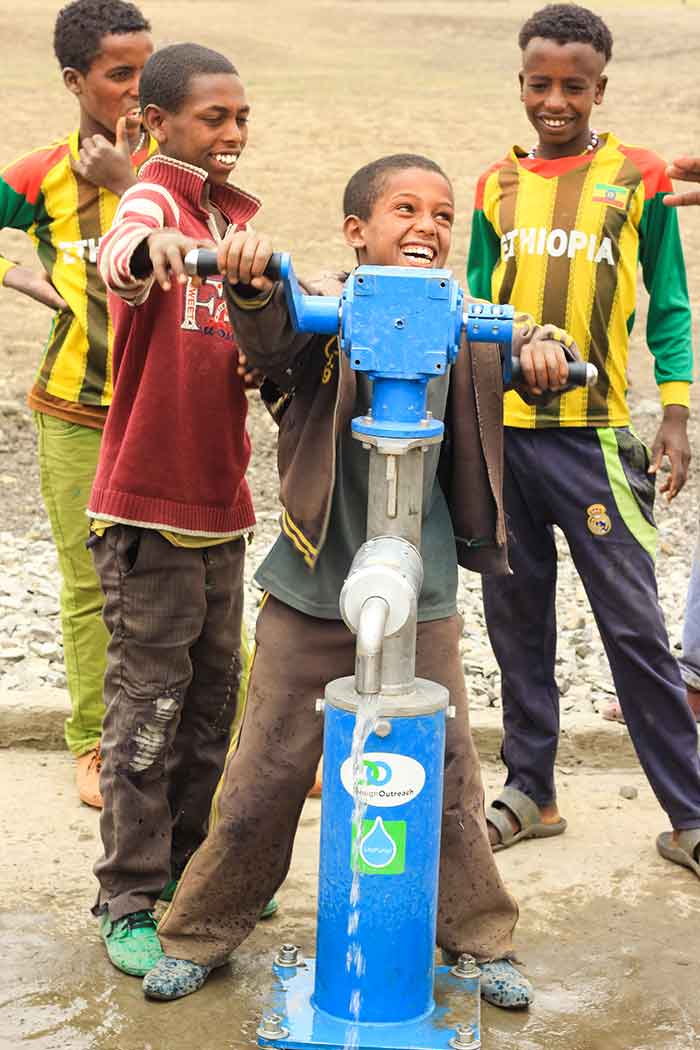 Image 1. A village in Gamra Got, Ethiopia, celebrates safe, reliable water after a LifePump was installed. (Image courtesy of Design Outreach)
"We drilled a well [in Moulin], and we're at 423 feet at this well—that's the deepest we've ever drilled—and we think we have a fair amount of water there," said Bruce Robinson, a missionary engineer to Haiti who implements infrastructure improvements in communities like Moulin. "The problem is the normal hand pumps are only good to about 150 feet. You can put them in at 250 feet [but] they're going to break all the time. There's really nothing to put in at 300 or 400 feet."
This summer, however, Moulin will receive new technology that will provide them with safe and reliable water. They will receive the first LifePump150, a progressive cavity hand pump specifically engineered to reach water at depths of 500 feet (150 meters).
"We're really excited that we're going to be able to put this LifePump in," Robinson said. "Nobody in the world has a hand pump that'll go to 400 feet."
LifePump150 is based on the original LifePump, a hand pump developed by engineering nonprofit Design Outreach (DO). DO's mission is to use engineering research and development to design tools and technologies that can help alleviate global poverty.
SEEPEX's then-president and now president emeritus, Mike Dillon, first partnered with DO co-founder Greg Bixler to design the LifePump and begin production of its key components, rotors and stators.
The original LifePump reaches depths of 325 feet (100 meters), twice the depth of typical hand pumps. Because of persistent drought and dropping water tables, many rural communities in sub-Saharan Africa and in Haiti do not have yearlong access to safe water. LifePump was engineered to reach deeper and last longer than standard hand pumps, giving these communities a source of safe water they can rely on.
"SEEPEX has developed a new, lightweight composite stator material that not only helps to reach the deeper water, but it also makes the hand crank easier to turn," said Mark Brooks, research and development engineer at SEEPEX. "The part is also now easier to transport. That's one thing we had to consider with this design because we knew traditional shipping methods like trucks weren't always possible, and villagers would be walking or biking the parts to their destinations."
The progressive cavity design—which uses a rotor and stator to create pressure that moves progressing pockets of water toward the surface without losing prime—is what allows LifePump to reach such great depths while remaining ergonomic and easy to operate by hand. LifePump150's even-wall stator distinguishes it from the original design.
Pages