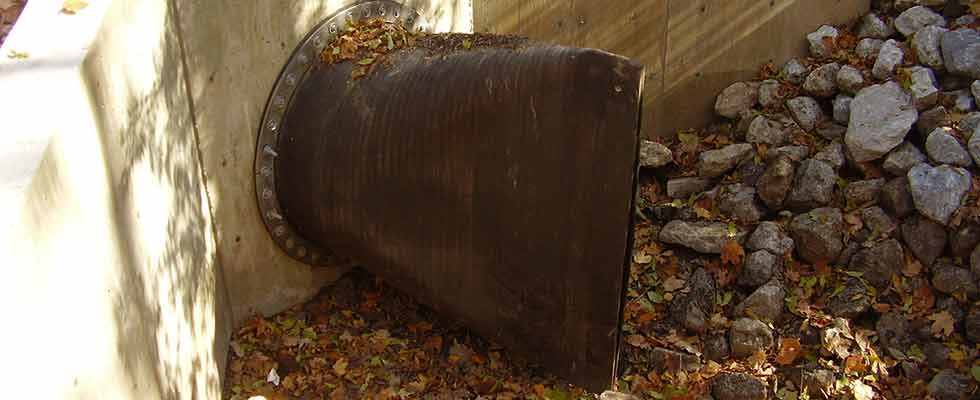 Valves and pumping technology that should be considered to manage stormwater runoff.
Since 1906, glaciers and global sea ice have been shrinking. Melting glaciers and sea ice have resulted in a global increase in precipitation. On average, rain and snowfall has increased across the globe. We are experiencing more frequent, violent storms, worsening droughts and 100-year weather events are on the rise.
I was a victim of an extreme weather event. I live in Ellicott City, Maryland, and on July 30, 2016, Ellicott City experienced significant flooding while I was having dinner. Old Ellicott City is a historic site with some of the buildings dating back to the late 1700s. The city grew in the late 1700s to a major milling and manufacturing site. It still has the train station that was started in 1830, which is the oldest surviving station in the United States. Today, it is a quaint old town filled with restaurants, shops and antique stores. It is a picturesque setting due to the historic nature of many of its buildings. The town is nestled between two small mountains, and its main street runs at a slant downhill to the Patapsco River and its tributary, Tiber River.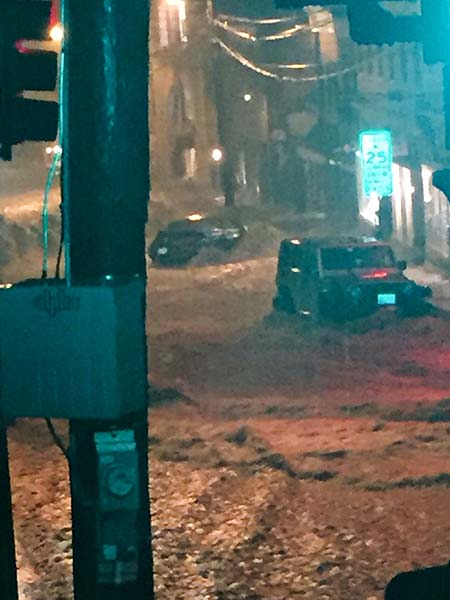 I took this picture from the second floor on the outside patio of restaurant where I had been eating. By 10:30 that night, the storm had died out and people began to find rides home due to having lost their cars in the flood. (Images courtesy of the author)
On one side of the street, the buildings are built right into bedrock, and some buildings even incorporate the natural rock structures as the back walls of the building. In one such building you can often see small trickles of water seeping down the rock inside the store.
The city is not new to floods, and it is almost a given that there may be an opportunity for flooding during any significant weather event. Since the early 1800s, there has been a flood in Ellicott City roughly every 30 years. Many of the floods have been caused by heavy rains caused by hurricanes. Floodwaters at the bottom of the city have reached more than 20 feet.
I was there on a warm, summer night after a relatively nice summer day. It started to sprinkle as I drove into town to head to a restaurant. While inside the restaurant, over the next two hours, about 4 inches of rain fell outdoors. Remember, I shared that the town is nestled between two mountains creating a natural V, and the steep slope of the main street can create fast running water down the street to the river. That night, the town saw about 6 inches of rain in four hours. I watched in awe from a safe spot in the restaurant on the best side of the street that was built right into the bedrock. I was safe and dry on the second floor of the restaurant. The lower floor of the restaurant had about 1 foot of water flooding the bar and dining room. This restaurant was only about halfway down the hill to the river.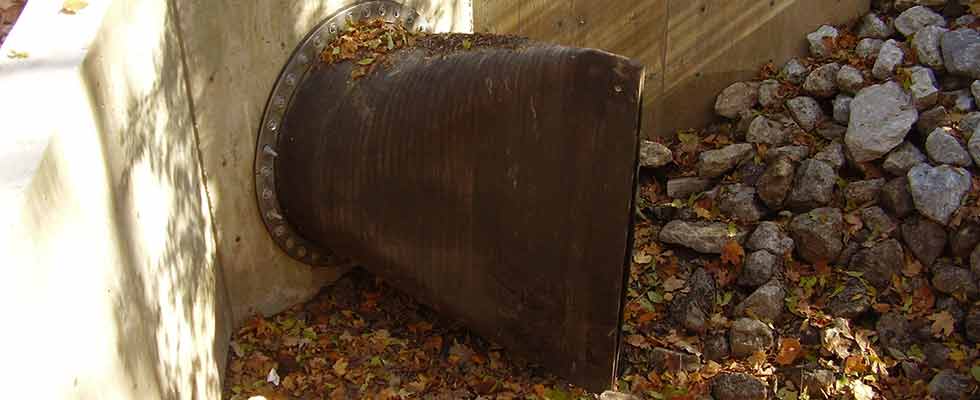 Many of the restaurants at the bottom of the hill, close to the river, faced first- and second-floor flooding. I watched as car after car was washed down the hill into the river—F150s, Jeep Wranglers, VW bugs, Cadillacs were all washed away—along with my Honda. That evening, some 300 cars and six buildings were consumed by the floodwaters and tragically, there were two deaths. A human chain was created by bystanders to save a young lady from a Volkswagen that got caught up in the floodwaters. One restaurant owner slipped and lost his grip from the chain and was washed 20 or 30 feet down the main street before he was able to grab hold of something and get back to dry land.
Severe weather events are on the rise, and stormwater and groundwater control are going to become more commonplace in communities around the world. Effective management of water is paramount to the safety, conservation and protection of property. The events in Ellicott City are not necessarily due to extreme weather events. This region has flooded consistently over the years. However, private and residential development in the two mountains around the town has made the situation worse. In previous years, the floodwaters have come from the river rising. Now, the flood is from fast water runoff from the surrounding hills caused by the excessive development and poor management of runoff water.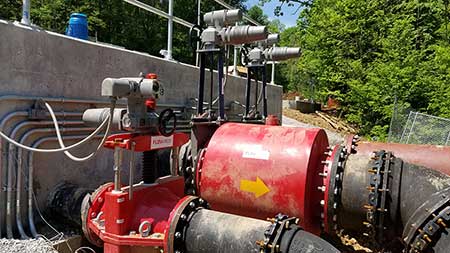 Best Backflow Prevention
A device that is extremely effective for backflow prevention is commonly referred to as a duckbill check valve. This device allows for as little as 1 inch of water column to escape from the valve and prevents backflow in the opposite direction. A duckbill does not rust or corrode so that it becomes inoperable, which can occur with a flapper-style check valve. There is little to no maintenance required on a duckbill check valve. Duckbill check valves can also protect the end of the pipeline or basin from animals, children, bugs and odor release and are generally tamper-proof.
Image 2 shows the installation of a 24-inch duckbill check valve that prevents backflow when the retention basin floods. The duckbill check valve releases flow at low head pressures—less than 30 feet of head pressure. When the basin floods, the lips of the duckbill seal with help from the pressure of the water in the basin.
The normal size range for duckbill check valves are 1 inch to 96 inches and can be made in various rubber materials. Duckbills can have a low release of water in the pipeline—as little as 1 inch of water column. They can withstand low backpressure protection such as head pressures and even high backpressure protection—up to 400 pounds per square inch gauge (psig).
Selection of the Best Isolation Valves
Automatic valves are used as flood control. Many types of valves may be considered. Knife gates and sluice gates are typical. They involve relatively simple construction with a gate that closes and opens vertically. These types of valves are subject to certain problems, though. They are simple, low cost and have low space requirements.
Debris, however, can cause the valves not to close completely, and even if there is no debris, these types of valves can leak quite a lot even when new.
A better valve for isolation and control is a high-quality pinch valve when sizes are 24 inches and smaller. Pinch valves use a rubber sleeve inside the valve. In the open position, the rubber sleeve is the same diameter as the mating piping. So, when the valve is open, it functions exactly like an extension of the piping system. The rubber sleeve is full port and offers no flow restriction. When the valve is closed, the valve closes 100 percent tight.
The great attribute of a pinch valve is that if it closes on debris, it still can close completely tight and not leak. There is a limit to how much debris it can close on for the pinch valve to seal tightly. For instance, if the debris is made up of small twigs, beer cans and other similar items, the pinch valve can shut off 100 percent tightly. If it tries to close on a brick or a 3-inch log, then that is probably asking too much of the valve. Pinch valves are longer, heavier and more costly than knife gates, but they can be more trouble-free than knife gate valves, ball valves, plug valves and butterfly valves. In Image 3, there is a pinch valve with an electric actuator, and the other red-colored tube device is an enclosed duckbill check valve. Also depicted in the picture are two knife gate isolation valves.
Plug valves and knife gate valves are heavily used in the water and wastewater industry. But many of these valves that claim to be full port are actually reduced port and have lower Cv (valve flow coefficient) and create more pressure drop than full port pinch valves.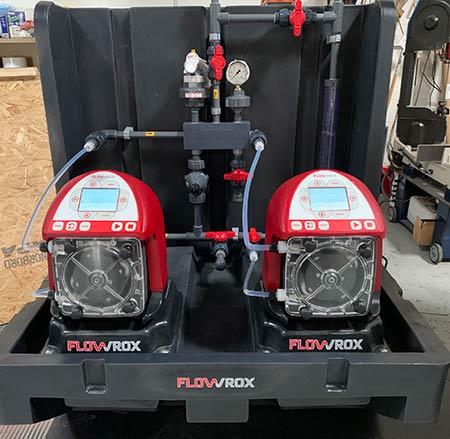 Preferred Pumping Solutions
When chemical additives are required for disinfection and treatment of water systems, peristaltic pumps have become a preferred pump for polymers and other chemicals due to their accurate metering, reliability and corrosion resistance against harsh chemicals such a ferric chloride, hydrochloric acid, sodium hypochlorite and sulfuric acids. Peristaltic pumps are becoming more advanced. Some peristaltic metering pump designs have 5000:1 turndown, have noncontact capacitance tube leak detection, have National Electrical Manufacturers Association (NEMA) 4X enclosure, operate remotely or locally and are industrial internet of things (IIoT)-enabled right out of the box.
The peristaltic pump in Image 4 is capable of delivering 46.5 gallons per hour, and the next size up can deliver 221.9 gallons per hour. These pumps have a 5000:1 turndown, 4-20 mA control or local control through the push button. They have NEMA 4X enclosures and are IIoT-enabled out of the box. Pump condition can be monitored 24/7 by any person with access to the user interface on the web.
The other trend for metering pumps is pre-packaged pump systems. An advantage of these is that they are plug and play. The pump is delivered on a spill containment skid with all auxiliaries—electrical, pressure relief, shut-off valves, pulsation dampening and piping—completed. The user needs to connect inlet and outlet piping and electrical supply, and then the system is operational.
For the user, this creates sole source responsibility by one company to discuss any problems or mishaps. The skid system or pre-packaged system has safety built in, which is not often found in contractor-mounted individual pumps. Having all the auxiliaries and safety equipment mounted on one system creates a safer environment for employees and a better environment for pump longevity.
Looking Ahead
Investment in the best equipment will improve meantime before failure and improve operator maintenance. Traditional products may not be the best options. Consulting firms and users should keep an open mind to newer, more advanced technologies that may have a higher initial price tag but would ultimately decrease plant costs for 10 years going forward.
Issue