Gardner Denver chief executive Vicente Reynal will lead new company.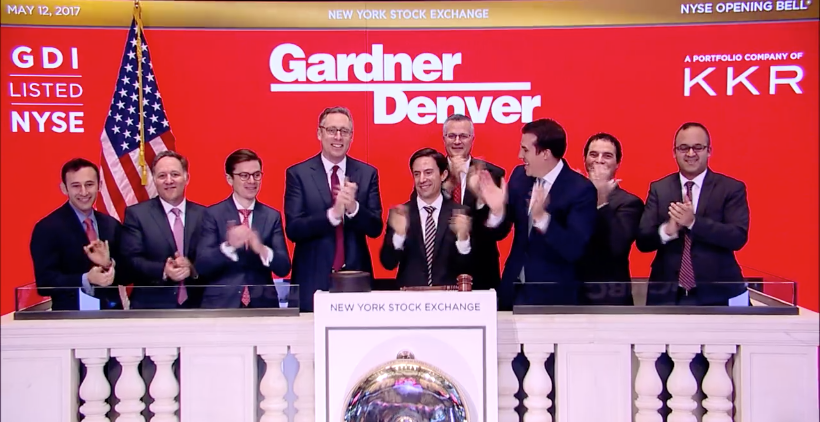 Image courtesy of the NYSE Livestream
Gardner Denver has merged with the industrial segment of Ingersoll Rand. Wall Street Journal first reported the looming transaction Sunday night and it was formally announced on Tuesday morning.
According to the announcement from Ingersoll Rand: "Ingersoll Rand will separate its Industrial segment (Ingersoll Rand Industrial) by way of a spin-off to Ingersoll Rand's shareholders and then combine it with Gardner Denver, creating a global leader in mission-critical flow creation and industrial technologies (IndustrialCo). The HVAC and transport refrigeration assets of the current Ingersoll Rand will become a pure play global leader in climate control solutions for buildings, homes and transportation (ClimateCo)."
Click here for a key fact sheet regarding the transaction.
ClimateCo will be composed entirely of Gardner Denver and Ingersoll Rand Industrial, including Ingersoll Rand's pending acquisition of Precision Flow Systems (PFS), which is expected to close by mid-2019.
Gardner Denver CEO, Vicente Reynal , and executives from both companies, will lead IndustrialCo. IndustrialCo is expected to be called Ingersoll Rand. Gardner Denver chairman Peter Stavros will lead the board of IndustrialCo.
Ingersoll Rand chairman and CEO Michael W. Lamach, along with the current Ingersoll Rand executive team, will lead ClimateCo, which is expected to be renamed according to the release.
ClimateCo will receive $1.9 billion in cash from Ingersoll Rand Industrial that will be funded by newly issued debt assumed by Gardner Denver in the merger.
Click here to read the complete press release from Ingersoll Rand.