South East Water combines grinder pumps and a remote control telemetry network to improve groundwater quality and the economy in Mornington Peninsula.
First of Two Parts
South of the Equator, many Australians observe Christmas, Boxing Day and New Year's Day by enjoying summer's coastal heat on Mornington Peninsula just south of Melbourne. For almost two months, the population there surges from 155,000 to a quarter-million as revelers seek respite at a large number of holiday homes.
According to South East Water, a utility in the state of Victoria, the steady population growth of the peninsula and the influx of residents during peak summer periods have led to increasing pressures on septic tanks from surges in use. Evidence shows that the aging, failing and poorly maintained systems have been contributing to the pollution of the region's groundwater and environment.
In November 2013, however, this 19th-century wastewater disposal system graduated to the status of "intelligent sewer" when South East Water began to lay the first pipe of an enormous project observers are calling a "game-changer."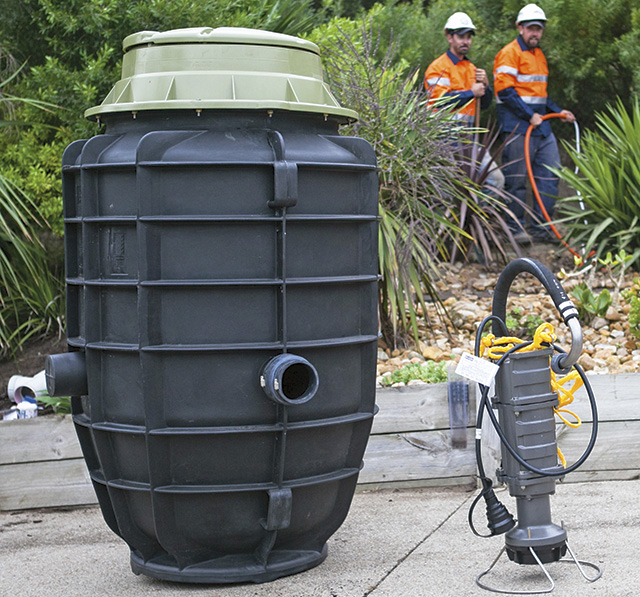 Image 1. The E/One grinder pump station consists of a pump and holding tank. Pump, motor controls and level-sensing are integrated into a compact unit, easily removable for service. (Courtesy of Environment One Corporation)
Already named a finalist in Australia's 2014 Premier's Sustainability Awards, the approximately $297.5 million pioneering approach to sewage management combines a low-pressure sewer system (LPS) with the iota OneBox, a proprietary remote-control telemetry network that monitors and governs in real time more than 16,000 grinder pumps in what will be one of the world's largest installations of its kind.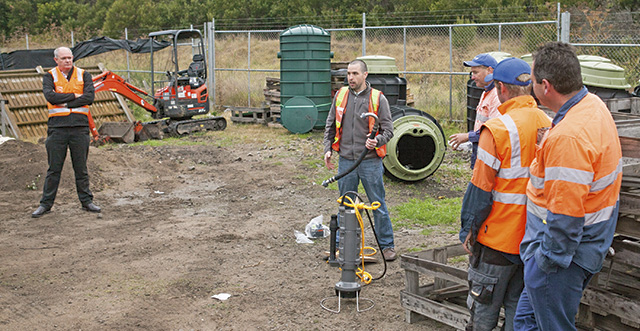 Image 2. E/One's Derek Lachut providing in-depth installation training on-site (Courtesy of Environment One Corporation)
According to the award program's citation, South East Water's innovative work represents "the integration of a novel approach to design, new technology and trenchless drilling (which) has allowed the corporation to apply a modern solution to address age-old issues."
As one analyst said, "We're not only talking about grinder pump technology and how that's solving an immense problem; we're also talking about new technology and how that's going to help people save money and help the environment as well."
The Future of LPS
Environment One Corporation (E/One) is under a multi-year contract to provide the grinder pumps for what E/One President Eric LaCoppola refers to as the biggest opportunity for a grinder pump driven low-pressure sewer system on the planet.
Two sewer pump stations will be connected by nine miles of transfer main pipeline and 143 miles of sewerage reticulation pipe to a single discharge point—the Boneo Water Recycling Plant.
The central component supervising everything is the OneBox, a command system developed by iota, South East Water's commercial arm. From both an individual and system-wide perspective, OneBox users remotely monitor and control a property's pump unit in real time using a desktop or smartphone to transform a standard LPS into an intelligent network.
With this flexible and radically different approach to designing an infrastructure system, operators are able to smooth daily peak flows within the system, simplifying the sewer infrastructure and creating greater operational control.
Until now, pressure sewers operated autonomously based on their given levels, a function of an individual property's wastewater generation. By incorporating OneBox into the network, South East Water will now be able "to even out and control the flows of the entire system," says Phil Thompson, CEO of iota.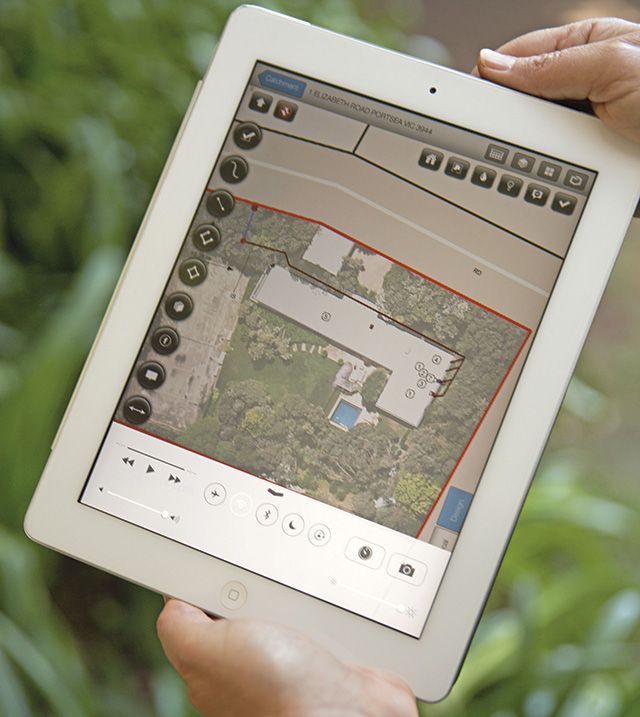 Image 3. Developed for utilities by South East Water Corporation, the iota OneBox provides trend analysis, report generation, peak flow demand determinations, flow smoothing and maximized efficiency of downstream infrastructure with command and control from remote PCs or from mobile devices. (Courtesy of South East Water)
"This enables maximum optimization of our network and treatment plant by reducing pressures caused by variations in flow," Thompson says. "In addition, iota was able to develop smart commands, which changed how the network was operated during times of high rainfall. This is important for Mornington Peninsula where the low-pressure sewer network connects to a gravity network. When a high rainfall event comes through and the catchment sewerage systems reach peak, the pumps can be slowed or shut down to allow any inflow and infiltration to pass through the gravity system. This increases capacity in the system by utilizing the on-site storage of the low-pressure sewer tank. South East Water needed a higher level of visibility over their infrastructure, and OneBox provides that."
Building a New Infrastructure
The Mornington Peninsula project could not have been conceived even a decade ago, much less 1995, when Australian officials began sounding alarms about contamination of surface waters by septic tank systems. Septic tanks are often associated with including leaching, odors and contamination of groundwater. Septic tanks are often more than 25 years old, and homeowners may not be actively maintaining the systems.
The area needed an upgrade to a low-pressure sewer system to maximize the value of the Mornington Peninsula. Home to both full-time residents and vacationers (by one estimate, unoccupied private homes constitute 30 to 40 percent of total dwellings), the peninsula also boasts 114 miles of coastline and a diverse economy dependent on tourism and agriculture. Grapes and olives thrive in the peninsula's maritime climate, and dozens of wineries produce world-class pinot noir and chardonnay.
South East Water—a company with approximately $2.91 billion in assets providing water, sewerage and recycled water services to more than 1.65 million people in the Melbourne region—got to work to preserve this region's beauty, economy and health. It helped develop a backlog program, which by 2006 had compiled a list of more than 20,000 high-risk lots in unsewered townships.
"When they started to look at other options and the scale of this project—16,000 properties—it certainly justified some creative, outside-the-box thinking to come up with some better solutions," says Derek Lachut, Environment One's Oceania regional manager.
The Birth of Intelligent Sewers
"South East Water is unique amongst its contemporaries with a high level of commitment to embracing in-house research and development," Thompson says. "We developed a prototype (of OneBox) and manufactured about 2,000 of those for our own internal use, and we trialed and refined them for three years."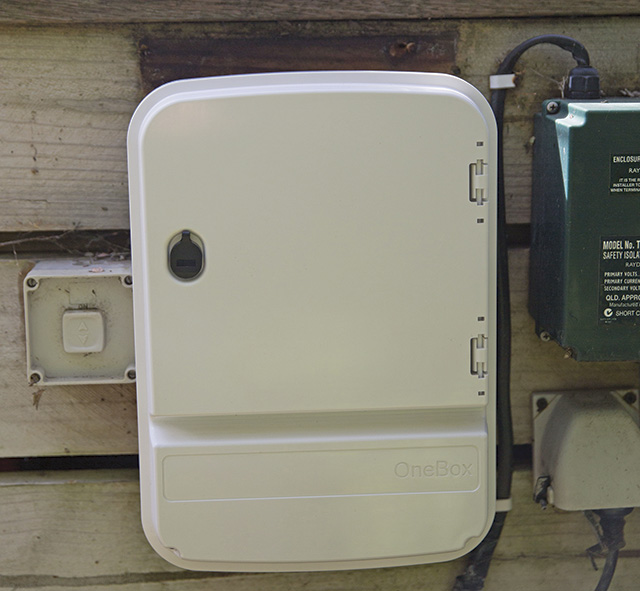 Image 4. The iota OneBox installed at each homesite provides remote control and monitoring of individual grinder pumps and can alert the utility before the customer becomes aware of any faults. (Courtesy of South East Water)
In 2012, the technology won a Global Honour Award at the International Water Association Project Innovation Awards in Korea.
"You can reason that the technology to do what's being done existed 10 years ago, but it certainly wasn't as prevalent, the market wasn't as accepting, and the accessibility of the control interfaces weren't as ubiquitous as now," Lachut says.
The OneBox will interface with each grinder pump, providing real-time data about individual or network tank storage capacities, power failures, blockages and faults.
In the past, utilities lacked communication outside of visual reports or customer contact regardless of the sewer technology used. They sized pipes for peak diurnal flows and based future designs on textbook standards and some knowledge of daily and annual flows.
In the Mornington region, calculating this information is critical, Lachut says, "because it's a holiday area where flows fluctuate based on the demand from holiday makers."
Smart Sewer Rewards
The OneBox network's ability to smooth flow and maximize efficiency of downstream infrastructure is the benefit cited most by iota.
"The benefit is not only at the individual property," Lachut says. "The benefit is what also occurs outside the property boundaries. By precisely controlling the flow, they're able to right-size those downstream infrastructure pumps and save a significant amount of money."
Image 5. Grinder pump startup inspection is a standard part of the protocol ensuring maximum homeowner satisfaction. (Courtesy of Environment One Corporation)
Eamon Casey, design manager, asset creation at South East Water, says this system provides the utility with "extra confidence."
"It means that the utility can have a visibility of how the low-pressure network is operating at any given time," Casey says.
"It provides additional confidence during a power outage event. Smarts within the controller identify pumps that are in the most compromised parts of the network and allow them to discharge into the network first. The rest of the system is gradually brought back on line over a period of time. This reduces the risk of sewage spills, which is critical in such an environmentally sensitive area."
Thompson says the ability to be proactive is also a significant benefit. OneBox can identify individual pump trends that could indicate a potential leak at a property, allowing the utility to quickly notify the customer before the next billing period.
"It also enables a proactive response to pump failures. Or, we can react. South East Water gets both SMS and emails alerts where there is a pump failure. We can come out, fix it, and the customer doesn't even know they had a problem. This reduces irate customer phone calls we have had to respond to. In the past, an alarm went off, and the homeowner had to get out of bed and call the water company and wait for them to come out," Thompson says.
Part 2 of this series (November 2015) will discuss the challenges South East Water faced when choosing a sewer system suited for the distinct region and the benefits of low-pressure sewer systems. Read it
here
.
Issue