Pumps and Systems staff spoke with John Kalka, CIO of CIRCOR Pumping Technologies, for a state of the industry update entering 2018.
What should end users know to be up to date on IoT/cyber security? If you did a SWOT analysis, how would you describe the industry's readiness to deal with this issue?
Widespread readiness will come down to the leadership and vision that bring both customers and manufacturers into a broader view of IoT's value and business criticality than what exists today.
Strengths – Everyone agrees information and real time feedback are valuable, that a more comprehensive and proactive network to support operations, analysis and decision-making will someday be a potent tool.
Weaknesses – Our products tend to be parts of larger systems and processes. Our customers are faced with a myriad of choices related to other IoT solutions and standards in their environments. This makes it difficult to explain the value proposition of any one specific IoT solution without also explaining how it integrates into current and future systems the customer may invest in. With no common standard, and current solutions providing a flood of data, not all of it actionable or meaningful, the challenges are still ahead of us.
Opportunities – In our products IoT can be applied in many different ways, such as condition monitoring to gain information directly from components. Using the technology in new products and services has huge potential for us and our customers to increase safety and system uptime. Equally valuable is using the technology to support the aftermarket and service side of our product. The best results will come from collaboration between end users and fluid handling experts to define requirements and get the data plant professionals require.
Threats – Customers are right to be concerned about the security of their data and the possible risk that IoT devices bring when connected to their internal networks. Having products installed all around the world makes this especially complicated. Many countries and regions are actively putting in new regulations to ensure protection of company data. IoT solutions will not only need to comply with these regulations today but also be flexible enough to meet the changing demands of tomorrow.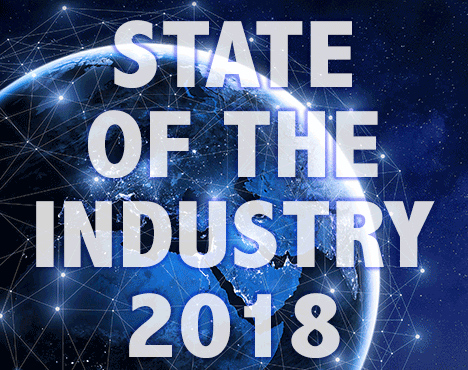 See more of our State of the Industry 2018 coverage.
Are changes in the workforce affecting your company? What are you doing to try to mitigate issues related to the skills gap? What are you doing to attract millennials and younger workers to the field/your company?
We are focusing on training to bridge the skills gap. Our products tend to solve the most challenging applications; even engineers with degrees from great institutions have little experience with the fundamentals of pumping, especially positive displacement pumps. As fluid pressures get higher and niche liquids and multi-phase flows become more prevalent in the market, the depth of knowledge required to effectively select and apply pumps and systems becomes more apparent.
Today, we employ several of the training and tracking techniques used on our manufacturing floor to the sales and engineering ranks to make sure we are filling our bench with knowledgeable pumping experts. Gone are the days where companies can afford learning by osmosis. Speed and technical superiority have never been more important to the future of our industry.
What should we expect from the oil and gas industry in 2018?
The oil and gas industry has accepted the new $50 price norm and has instituted cost-cutting measures to mitigate and budget at the current price level. But geopolitical issues in the Middle East, Asia, South America and Eastern Europe are volatile contributors to the price; with almost 100 countries producing now, the impacts of this instability can create regional opportunities that we should respond to quickly when they arise. That said, 2018 will be another year where efficiency is king and marginal production costs continue to be pushed down amid this unpredictability. Capital projects will remain highly competitive, requiring a laser focus on the total cost of ownership of infrastructure.
The upside of having leading and established oilfield brands in our portfolio is our team who has succeeded in years with oil prices below the current level. Whatever the oil price may be, we have seasoned professionals who know how to deliver what our customers want even when they're facing cost issues.
Issue