The latest fluid handling industry mergers & acquisitions report.
Here are the third quarter (Q3) highlights: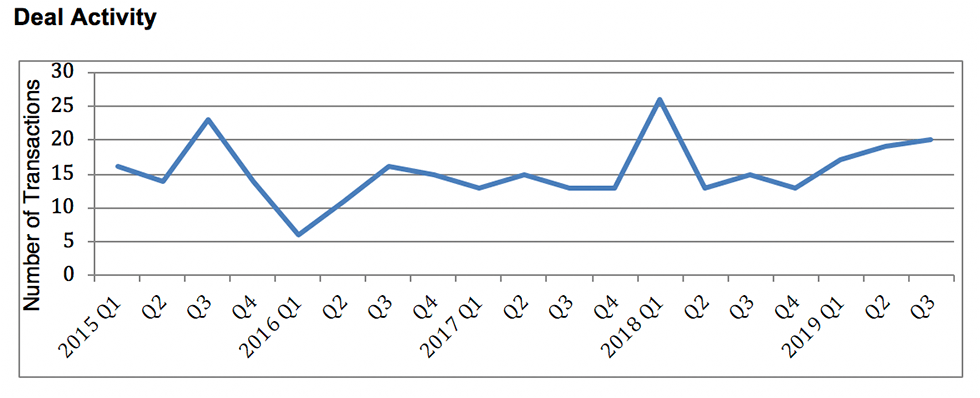 The deal activity in the industry has been strong with 56 announced transactions through the third quarter. This is the highest level of activity in the last four years and has been increasing sequentially since the fourth quarter (Q4) of 2018.
Key Factors
Strategic realignments, expanding geographic footprint and channel integration are among the key factors driving deal activity.
Valuations
The year-to-date 2019 valuations remain very deal specific but at a high level.
The disclosed transaction valuations remain strong with year-to-date Q3 median enterprise value/earnings before interest,taxes, depreciation and amortization (EV/EBITDA) multiple of 10.8 versus the full year 2018 multiple of 8.6. The median EV/revenue multiple year-to-date Q3 2019 is 1.33 versus 1.32 for the full year 2018.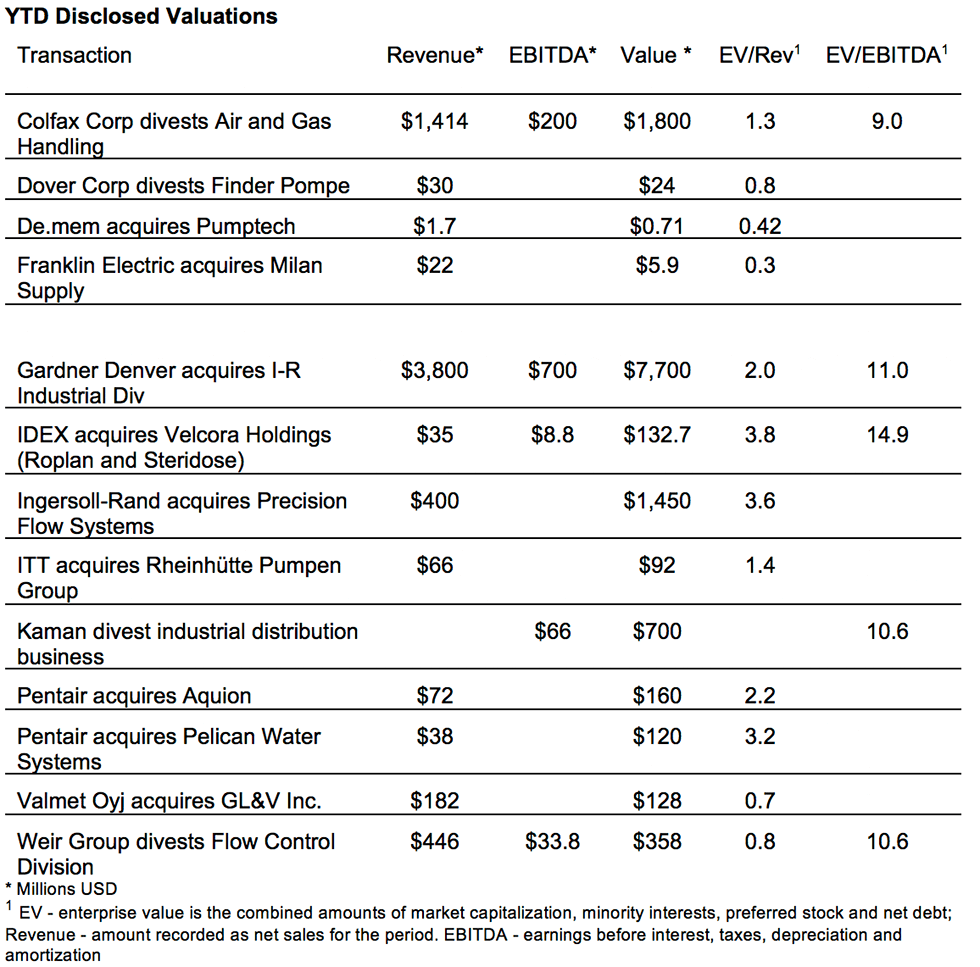 Demand remains strong for quality acquisitions with a continuation of favorable merger and acquisition conditions:
competition for deals
low cost of debt
positive long-term outlook
Notable Q3 Transactions
Kaman Corporation sold their industrial distribution business to Littlejohn & Co. for $700 million to take advantage of the current favorable market conditions and to focus on their aerospace business.
IDEX Corporation acquired Velcora Holdings AB. The business consists of mechanical seal manufacturer Roplan and hygienic mixer and valve manufacturer Steridose. The companies complement the IDEX sealing solutions as well as their health and science platforms.
AxFlow made two acquisitions in Q3 in addition to the four acquisitions they have already done in 2019. The acquisitions of the Induchem Group and Irish Pump & Valves continues AxFlow's expansion of their distribution footprint in Europe.
May River Capital continued the build-up of their advanced material processing (AMP) platform with the acquisition of Kason Corporation.
Private equity owned Ohio Transmission Corporation (OTC) made their second fluid handling acquisition of the year with the purchase of North Carolina-based Pumps, Parts and Service.
Sulzer Ltd. continues the expansion of their aftermarket service business with the acquisition of Scottish aero-derivative gas turbine service provider Alba Power.
TechnipFMC, which was formed in 2016 by the merger FMC Technologies, a provider of subsea systems, technologies and services to the oil and gas industry, with Technip, a provider of project management, engineering and construction services, will now split into two separate companies—an integrated technology and services provider focusing on subsea and surface technologies and a separate engineering and construction (E&C) firm.
Target Industries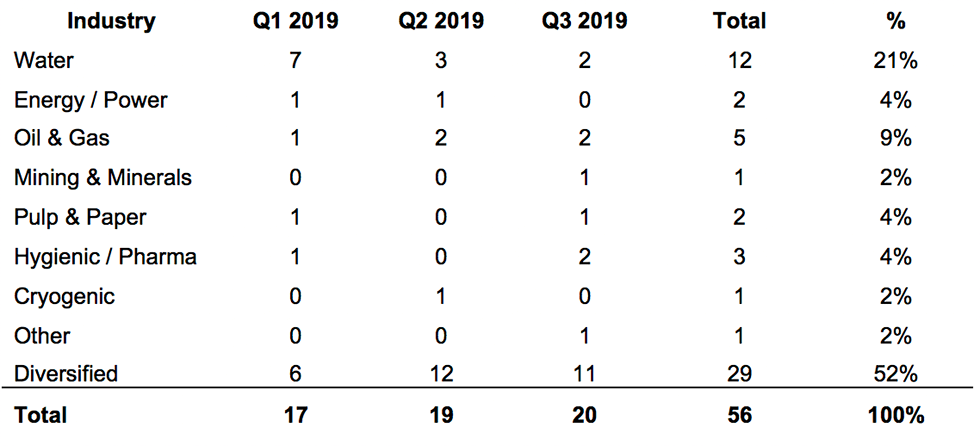 Year to date, water is the predominate industry served by target companies that have a specific industry focus. However, as the year has progressed, we have seen more diversity in the markets served by target companies.

Target Geographies
North America-based businesses have been the predominate targets in 2019, accounting for 60 percent of the transactions so far this year. However, in Q3 2019 European based targets accounted for the majority of the transactions—most of those transactions (67 percent) were inter-Europe transactions (buyer and seller were both European).