Since 'Dirty Jobs,' the TV host promotes importance of skilled labor and work ethic in a world that mostly values college degrees.
Mike Rowe had time for 10 minutes of questions from the audience at ABB's Customer World event in March, where the former "Dirty Jobs" TV star gave the keynote speech on the final day of the event in Houston.
The first person called upon was just two rows from the stage, a young gentleman who works as an electrician.
"There he is," the 57-year-old Rowe said. "Ball cap. Short-sleeve shirt. A man after my own heart."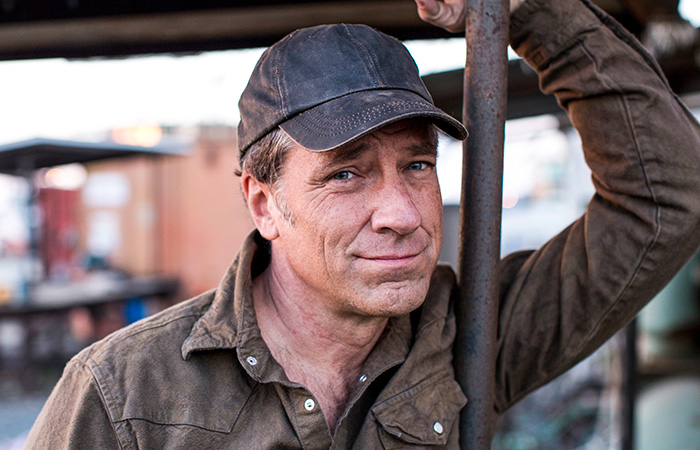 Mike Rowe's mikeroweWORKS gives scholarships to deserving trade school students. (Photo courtesy of ABB)
Rowe is a proponent of blue collar trade jobs, such as welding, electrical work, HVAC repair and more. His foundation, mikeroweWORKS, is a public relations campaign for skilled labor.
"We started promoting the benefits of a four-year degree at the expense of all other forms of education," Rowe said.
Rowe says that the skills gap between skilled, older workers and those new to the workforce is wider than it has ever been. High school graduates are choosing the traditional route of seeking out a bachelor's degree. Many pile up student loans. Rowe notes on his website, mikeroweworks.org, that more than 44 million borrowers owe more than $1.5 trillion in student debt, and there are more than 7 million jobs available, many of which do not require a college education.
"We simply have to change the way we define a good job in 2019," Rowe said. "We can control the definition of a good job. We get to set that table. Guidance counselors play a part in it. Parents play a part in it. Leaders play a part in it."
The pilot of "Dirty Jobs" debuted in 2003 on The Discovery Channel, and the show ran on a regular basis from 2005-12. Rowe hosted the show and performed "dirty" occupational jobs alongside employees. When the economy tanked in 2009—during the peak of Rowe's show—he was in a better position to speak. So, he highlighted the work he performed on his show in order to prove that there are good-paying jobs out there.
The recruiting challenge was a common complaint he heard from people in the blue collar industry. This is what got Rowe interested in helping solve the skills gap.
"'Dirty Jobs' was a big hit, and I was constantly out in the media talking about exploding toilets and misadventures and animal husbandry," Rowe said in an interview with Pumps & Systems after he delivered the ABB keynote address. "It was an opportunity for me to talk about 'Dirty Jobs' in a broader way, but also a genuine attempt to help the industries that allowed my show to prosper to do a better job in recruiting."
Recruiting is a challenge, Rowe said, because high school kids keep hearing about how they need to attend four-year universities.
"The pressure to borrow money is enormous," Rowe said. "The pressure to go to a four-year school is enormous. Peer pressure is enormous. Pressure from guidance counselors is enormous. Pressure from parents is enormous. If you're an 18-year-old kid trying to figure it out, you're going to be surrounded by people telling you to do this or else."
Rowe's organization has created the Work Ethic Scholarship Program for students enrolling in approved trade programs such as electrical technology, manufacturing, machinery, welding and more.
"We have to do a better job of showing kids real-world examples of people who prosper as a result of learning a trade," Rowe said. "We also have to remind them that so much of the knowledge that was only available in college once upon a time is now available on your iPhone.
"You can watch lectures for free from any great university in the world. From Yale, to Harvard to wherever. It's not the same as going, but one costs $200,000 and one is free."
Among Rowe's advice to young workers is to find things that look new, different or potentially unappealing to them and try it out anyway. Rowe stresses that gaining knowledge of a new skill can only be beneficial.
"Nobody ever got hurt by learning how to weld," Rowe said. "Nobody ever got hurt by learning basic plumbing. It doesn't mean you have to weld or be a plumber for the rest of your life, but until you try it or get a better sense of what the opportunity really entails, you'll never know because society will never tell you because that's not a narrative we push.
"I would simply say that the willingness to experiment and not get locked so firmly into a position and not to take on so much debt that you can't change your direction later—just go gently into the employment market and don't go underwater."
When it comes to companies looking for young talent, Rowe said for them not to underestimate younger minds. He added that their meter to spot lies is higher, and their expectations are different than 30 to 40 years ago. Companies should not oversell the opportunities they have.
"To make a persuasive case for opportunities in your industry, there's only one thing to do: introduce [them] to the country people who have prospered in your industry as a direct result of mastering a trade," Rowe said. "You have to tell their stories. The company's story isn't interesting. The individual story almost always is."
To contribute to Rowe's scholarship fund for deserving trade school students, visit mikeroweworks.org. The organization has awarded more than 1,000 scholarships supporting more than 15 trades.
Read the full Q&A with Mike Rowe here.
Issue