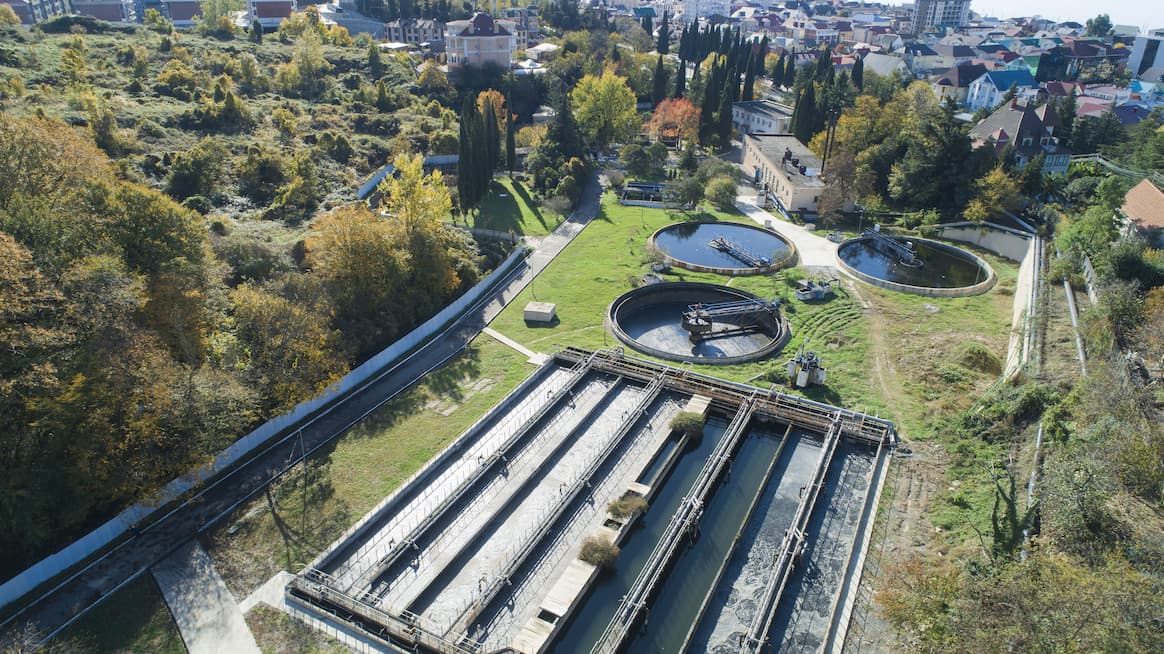 Updates are possible with new technology, ESPCs and more.
Municipalities have many responsibilities. Looking at the full scope of needs they are tasked with managing, it runs an almost never-ending gamut of schools, county buildings, police stations, firehouses, bridges, roads—the list goes on. And some of the most overlooked pieces of municipal infrastructure are water and wastewater plants. These plants and other pieces of infrastructure are often left neglected, with funding going to other municipal buildings.
Water and wastewater treatment facilities can often fall to the bottom of a priority list if they are still producing high-quality water, but when the plants are relying on outdated infrastructure, they can end up costing more in the long run. Battling challenges like deferred maintenance can be difficult, but when municipalities find the right partners to help direct investments for infrastructure upgrades, they not only reap the benefits of modernizing the plant's infrastructure but can also create cash flow positive investments.
Bringing Plants Into the 21st Century
Existing water and wastewater facilities often rely on technology that was implemented around 50 years ago that has never been upgraded. But the technologies available today can provide several benefits that increase operational efficiency and address user demands. These technologies can also optimize how water and wastewater plants produce clean water and generate revenue. 
New technologies like aeration technology, supervisory control and data acquisition (SCADA) and headworks upgrades, low-energy thickening and more are available for facilities to implement. Additionally, advanced metering infrastructure (AMI) readers can be used for improved data analysis and accuracy as well as faster leak detections.
By taking advantage of new technologies, plants can provide transparency in billing and also deploy personnel to work on higher-level tasks while automating more tedious tasks like in-person meter reading. And with more technology such as aerobic granular sludge, alternative disinfection and filters posed to transform the industry, facilities have a wide range of tools at their disposal.
These tools can be used across every community looking to achieve its goals of energy conservation, high-quality water outcomes, costs savings or plant optimization. When plants modernize their infrastructures, public works departments can access information that can point to inefficiencies in water treatment, leak detection and more transparent billing. Technology can also be used to better capture revenue for municipalities that produce valuable dollars for reinvestment. In order to take advantage of these new tools and get the most out of their investments, municipalities will want to find the right partner that has a range of expertise specific to treatment plants that can customize the upgrades that make the most sense.
Overcoming Funding Shortfalls
Underfunded plants that face economically charged challenges like deferred maintenance are at a greater risk of failing and, when they do, it can be catastrophic. Although the technology is there, finding the budget to accommodate the improvements is often more than half the battle. Plant improvements can often be met with resistance because they are traditionally funded by rate increases and users do not have insight into where the money is going. In addition, the total upfront cost may scare facility managers off or appear expensive to legislative bodies funding these projects at the municipal level.
However, the benefits of a proactive approach to modernizing facilities before they critically fail should not be undervalued. It can end up costing thousands more dollars to replace entire systems while also losing productivity and revenue during downtime caused by a failure. Additionally, working with partners that understand how to conserve energy and enable savings can also save costs in the long run. 
Entering one of these projects through a funding design like an energy savings performance contract (ESPC) gives municipalities access to partners that can ensure they are investing in the right technology. These projects are accompanied by a guaranteed savings program that captures the energy savings generated for reinvestment back into the facility. 
Finding the Right Partner
Partners that specialize in energy-efficient design can be helpful and cost effective when looking for ways to modernize water and wastewater plant infrastructures. Plant managers can benefit from not only access to technology solutions that can optimize operations, reduce manual error and improve user relationships but also the expertise in managing these solutions to provide cost value.
Capital recovery and reinvestment projects like ESPCs provide a reduction of risk with a stable budget while guaranteeing operational savings that offset the project costs and limit the rate impact on users. And when the project has fully been implemented, plants and the communities they serve will immediately begin to see the benefits.
Smart stewardship of existing municipal funding is critical. Finding the right opportunities to reinvest energy savings into the modernization project is at the crux of these partnerships. And when a treatment facility finds the right partner, it will start to see benefits like improved efficiency and optimization that provide improved safety and increased process reliability while lowering operating costs for treatment plant leaders. When the plants have current technology and infrastructure, it frees up capital and resources that allow municipalities to tackle other common goals of economic development, modernization and resiliency while also producing high-quality water outcomes that benefit the community at large.  
Issue