Pump sensors can improve system operation and detect dangerous faults.
A modest investment in sensors can improve the reliability and performance of expensive pumps and pumping systems. In some cases, spending a few hundred or a few thousand dollars on instrumentation can protect a $50,000 pump from serious damage, prevent process upsets, help protect personnel from injuries and stop the spillage of dangerous materials.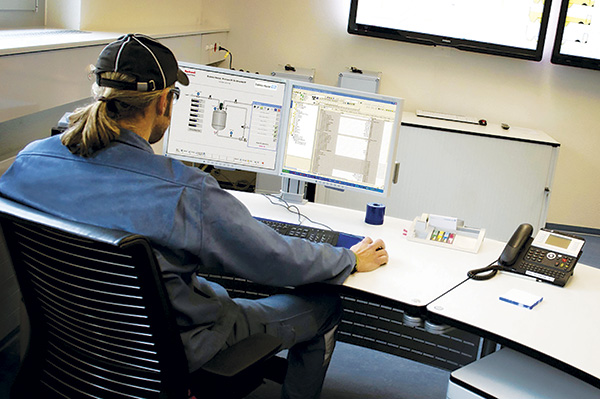 Image 1. With a laptop or a network station, a technician can access diagnostic data directly from flow, level, pressure, temperature and other transmitters connected to an EtherNet/IP fieldbus network. (Images and graphics courtesy of Endress+Hauser)
Pump protection starts with having the proper flow, temperature, pressure and level sensors to monitor key functions (see Figure 1). If the sensors are not included when the pump was installed, they can be added later.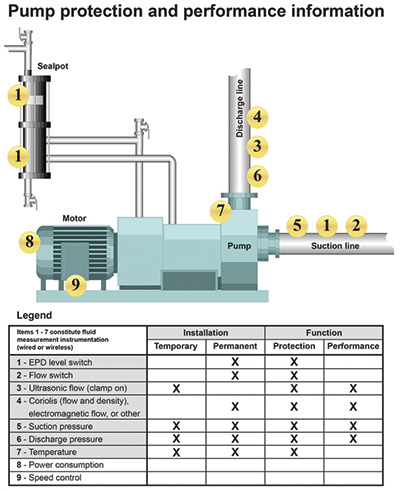 Figure 1. Sensors monitor pump performance by measuring suction and discharge pressure, temperature, seal-pot level and other variables.
Flowmeters can transmit process diagnostic information to a maintenance management or control system using a fieldbus digital data link such as EtherNet/Internet Protocol (IP). The maintenance department can access this information to identify and even predict certain problems. The controller can use the information to optimize pump operation and perform an orderly shutdown if necessary.
For example, process diagnostic data from a Coriolis flowmeter can indicate empty pipe detection (EPD), density shift, temperature shift and other information. This data can be used to find and diagnose problems and to recognize minor issues before they grow into substantial problems. The EPD diagnostic can trigger an alarm to the control system, which can shut the pump down to prevent dead head or dry running damage.
Flowmeter vendors provide this kind of information in real time. Depending on the fieldbus, flowmeters can also provide diagnostic data directly to technicians in the field (see Image 1). EtherNet/IP, for example, allows devices to be polled by a condition monitoring or automation system to determine if any diagnostic alerts need to be sent to maintenance personnel.
An industrial computer equipped with asset management, maintenance, condition monitoring or human-machine interface (HMI)/supervisory control and data acquisition (SCADA) software can access real-time data and diagnostic information directly from the devices. This data can then be used to improve decision making and to implement better real-time control.
Low-Cost Protection
A pump is "dead-headed" when it is operated at zero flow. If no fluid enters the impeller, friction leads to increased fluid temperature. The temperature can rise until fluid flashes into vapor, disrupting cooling flow to the pump's bearings and packing. If sustained, this can cause excessive wear, damage or an explosion.
A flow switch installed at the pump inlet can be set to generate an alarm when the flow rate into the active pump drops below a preset rate. A calorimetric flow switch can indicate a low/no flow condition, allowing personnel to shut down equipment before damage occurs.
As described in a recent American Institute of Chemical Engineers bulletin, pumps that are accidently blocked off can explode even if they are pumping water. Some pumps have instrumentation such as low flow, high temperature or high pressure interlocks installed to prevent running while blocked in. These safety systems should be properly maintained and tested.
A pump runs dry when insufficient fluid is delivered to the suction side. If a pump is allowed to run dry, it can cost thousands of dollars to recondition the pump or repair the damage.
An EPD switch can detect this condition and allow for corrective action (see Image 2). Electronic EPD switches are more reliable than float-sensor EPDs in some applications. For example, a skid builder had problems with floats sticking because material in the fluid coated the floats. The skid builder installed electronic EPD switches, and false trips completely stopped, with no pump failures related to switch malfunctions or burnt pump packing reported.
EPDs are also available built in to some flowmeters. Most pump systems need a flowmeter, so users can easily specify one with EPD.
A temperature sensor can sometimes identify overheating problems caused by low or no flow. One temperature sensor uses thin-film technology to react seven times faster than standard temperature sensors, giving additional time for corrective action.
Under Pressure
Centrifugal pumps have a specified performance window of operating curves. Those using variable frequency drives (VFD) moving frequently out of the best efficiency point (BEP) window or moving too far away from it may produce damaging stress. Installing the proper sensors helps identify problems before the pump is damaged and can allow planned actions to minimize impact on maintenance and operation resources.
For example, installing a pressure sensor on the pump's suction side to measure net positive suction head available (NPSHa) can help show whether a pump is running within the proper performance curves. Temperature or pump vibration monitoring sensors can indicate mechanical problems, and EPD or low/no flow sensors can indicate when pumps are having performance issues.
Highway Addressable Remote Transducer (HART) is a digital data standard that superimposes information on 4-20 milliamp (mA) wiring from instruments. A self-powered WirelessHART adaptor can be added to existing 4-20 mA analog instruments with HART. This adaptor transforms the HART signals to their wireless equivalent and transmits this information to a base station.
Using wired or wireless HART, pressure, temperature, flow and other instruments can provide pump condition information to maintenance management and control systems. Suction pressure, discharge pressure, temperature readings and other information can be transmitted using this method. Pressure differential across the pump can be determined from the difference between the measured suction and discharge pressures. A single multivariable pressure device that can measure suction pressure, discharge pressure and differential pressure without capillary tubing is now available (see Figure 2). HART- and wireless HART-based digital information can be transmitted from temporary or permanent installations.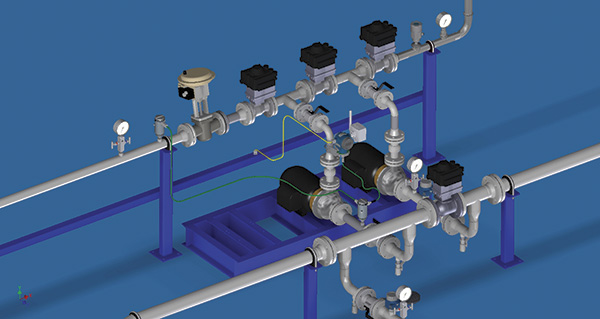 Figure 2. Temporary/fixed simultaneous measurements of pump suction, discharge and differential pressure (i.e., valve blocking, filter/strainer loss, density/viscosity, adequate NPSHa) with single loop wired/wireless transmitter
To avoid cavitation, the NPSHa must be greater than or equal to the net positive suction head required (NPSHr). Monitoring the suction head can help identify conditions that can damage the pump. Several factors can change the NPSHr, including increases in flow rate, fluid density or changes to the head pressure in a supply tank in front of the pump.
Level switches can be installed near the bottom of feed tanks to detect low NPSHa conditions on the suction side of a pump if the static level elevation is near or below the pump centerline (see Image 2). The output of a level switch gives an alarm or stops a pump if it is in danger of cavitation.
High-pressure or vacuum conditions may impact some applications. Ceramic pressure sensors that measure abrupt vacuum or pressure changes without being damaged can be used in these situations. Ceramic sensor pressure transmitters can tolerate a great deal of direct physical diaphragm abuse without affecting calibration.
Checking Seal Pots
Pumping systems that handle toxic, hazardous or corrosive fluids cannot tolerate leaks. In such cases, a pump may have a double or tandem seal using a compatible liquid injected into a seal chamber to serve as a barrier fluid.
If any hazardous product leaks across the inner or primary seal, it enters the seal chamber and mixes with the barrier fluid. Improper control and maintenance of the seal environment can result in total seal failure and unsafe leakage.
Supply tanks called seal pots serve as a reservoir of clean, pressurized barrier fluid for double or tandem seal assemblies. Fluid loss would result in catastrophic failure of the seal and dangerous conditions. For this reason, operators must know if the fluid level drops too low. Seal pots generally have either a high-level or low-level liquid switch, or both, depending on the application. Seal pot head pressure is monitored as well.
The low-level switch indicates barrier fluid loss. The high-level switch indicates hazardous product leakage across the primary seal and into the seal chamber, which adds fluid volume and raises the seal pot level. Switch outputs connected to the maintenance management of control systems allow for corrective action.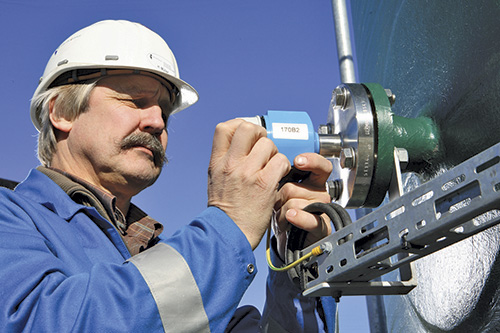 Image 2. Level switches can be installed near the bottom of a tank to prevent pumps from reaching NPSHa conditions that can result in cavitation.
A More Efficient System
Proper piping, valve and pump design can prevent conditions that cause damage or failure. For example, an automatic flow control device or a recirculation line between the discharge and source lines ensures enough flow though the pump to prevent overheating or damage.
Operation outside specification cannot always be ensured by piping design, so instrument-based monitoring should be considered. In the real world, precise pump sizing and piping design does not always occur. Automated monitoring and control help deal with these and other unexpected situations.
Pumps are vital, expensive systems that consume a great deal of energy and are expensive to rebuild or replace. Adding a few sensors to a system can help pumps run more efficiently and identify problems before they become serious.
Issue