As the oil and gas sector struggles to rebound from an unstable market, companies are doing what they can to adapt and adjust to a shifting landscape.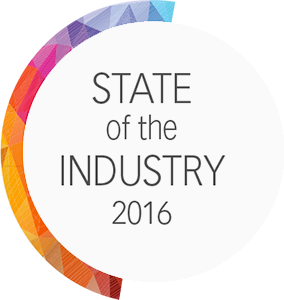 See more of our State of the Industry 2016 coverage.
Oil may not pass $60 a barrel in 2016.
"Some of the world's largest energy companies and investment banks are becoming more pessimistic about the ability of crude oil pricing to reach even $60 a barrel next year, reporting steep losses as they take hits on projects that no longer make financial sense. … Continued oversupply means that next year, Brent crude prices will average $58 a barrel and West Texas Intermediate, the U.S. oil benchmark, will average $54 a barrel, according to 13 investment banks polled by The Wall Street Journal. Many of the same banks were predicting $70 a barrel in 2016 just a few months ago."
"Oil Will Struggle to Break Past $60 a Barrel in 2016," The Wall Street Journal, October 2015
Major companies are cutting spending significantly.
"With oil having shed more than half of its value since June 2014, companies such as Royal Dutch Shell, ExxonMobil and Total have lowered spending by up to 20 percent, cutting thousands of jobs and reducing costs. Further reductions will be needed next year, which will hurt companies' long-term production growth, Moody's said in a report. … Moody's expects companies to sell $40-$60 billion of assets in 2015-2016 to improve cash flow after divesting $70 billion in 2013 and 2014."
"UPDATE1-Moody's lowers outlook for oil & gas sector," Reuters, September 2015
Innovation is increasing oil supply.
"Innovation in the oil industry, particularly the North American revolution in the hydraulic fracturing of tight oil reservoirs, has changed oil supply dramatically. With smaller, more flexible capital-light projects and shorter lead times, fracking has enabled greater adaptability to volatile market conditions. The outlook for shale oil and gas could be just as strong in many places in the world. Even if the shale boom proves tough to replicate (due to factors such as regional differences in geology, regulation and incentives to land owners), in many cases bringing new technologies to mature fields will help keep supply up and dampen the increase in oil prices."
"This Oil Bust Will Change The Energy Industry Forever," Forbes, August 2015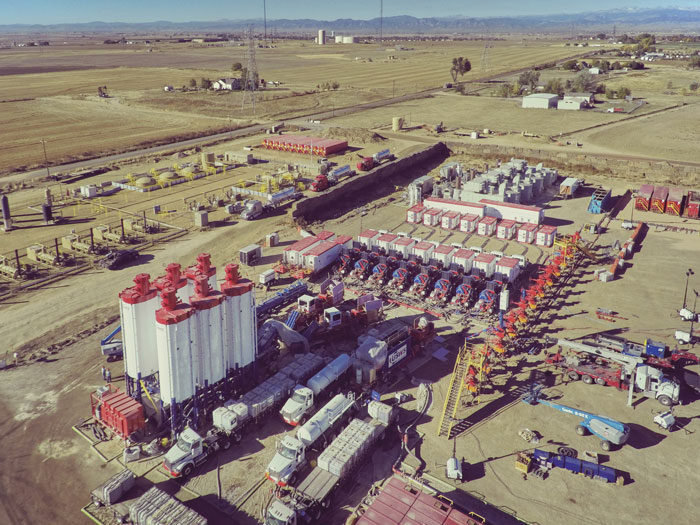 Image courtesy of U.S. Well Services
Russia hopes to keep output stable for the next 20 years.
"Russia plans to squeeze all the oil it can from Soviet-era discoveries to hold crude output stable for the next two decades as new finds are delayed by sanctions and slumping prices, according to the Energy Ministry. … Russia, which relies on oil and gas for almost half of its budget revenue, has repeatedly broken post-Soviet production records this year as drillers benefit from a weakening ruble.
Nevertheless future barrels may be at risk as exploration campaigns, mostly in undeveloped areas offshore, tail off following investment cuts."
"Russia Resolves to Make Most of Soviet Oil as New Finds Wane," Bloomberg Business, November 2015
European companies will also face spending cuts and debt.
"Although European oil companies have reduced break-even points significantly through cost efficiencies and spending cuts, they will, on average, require an oil price of around $78 a barrel in 2016 to cover spending and dividend payments, according to Jefferies estimates before the latest results. … The downturn has forced Europe\'92s majors to reduce 2015 spending programs by about 15 percent to near $107 billion, and the cuts are set to become even deeper next year."
"As Oil Outlook Dims, Industry Slips into the Red," Fox Business, October 2015
Companies will continue to consolidate in 2016.
"A lot of pump companies were servicing (the oil and gas) industry in one way or another, and globally that market is going to continue to be soft. There's still opportunity, but there are fewer opportunities. What we're going to see is consolidation of small players, so smaller operating oil and gas companies are going to get eaten up by larger, more fiscally sound companies."
Paul Schlumpberger, President, Pioneer Pump, November 2015
Canadian worries persist.
"PSAC (Petroleum Services Association of Canada) expects a total of 5,150 wells (rig releases) to be drilled in Canada in 2016. PSAC's forecast suggests that next year will see the same slumped activity that hit the sector hard in 2015, but indicates the bottom has leveled off as 2015 finishes out with a total forecast of 5,340 wells drilled, in comparison. …"
Petroleum Services Association of Canada statement, November 2015
The Keystone XL decision may pose some challenges.
"'The Keystone XL decision does not mean less oil sands overall, but it may complicate oil sands access to the U.S. Gulf Coast, where there is substantial refining capacity for heavy types of crude,' (said) Jim Burkhard, vice president at IHS Energy. Burkhard sees Venezuela and other countries that ship heavy oil to the U.S. as benefiting from the Keystone XL rejection. Venezuela heavy crude 'will continue to be consumed by U.S. refineries in the absence of access to Canadian crude oil,' he said."
"After Keystone rejection, oil industry to rely on trains, other pipelines to move oil," Associated Press story in U.S. News & World Report, November 2015
Global instability is causing concern among traders.
"Oil prices had nudged up immediately after the (November 2015) weekend attacks in Paris and retaliatory French airstrikes on Islamic State strongholds in Syria, causing some concern about potential disruption of oil output from the region. Since then, prices have been trading in a narrow range with small moves up and down as traders weighed the geopolitical risk of output halts with the oversupply situation."
"Oil futures end higher after dip below $40 a barrel," MarketWatch, November 2015
Issue