100th Anniversary Special Section
In 1917, representatives from 16 pump companies met to establish the Hydraulic Institute, which not only led to standards for the manufacture and supply of pumps, but opened the door to growth and a robust industry. HI's 100th birthday will be marked by celebrations, learning opportunities and a commemorative coffee table book. Looking back over the last 100 years, HI has set the standard for operational excellence not just in the United States, but also with a growing global reach. For information about anniversary events, visit pumps.org.
While the official beginning of the Hydraulic Institute is listed as 1917, the history of the organization precedes that date, as groups of pump industry professionals would gather in various ways to promote and improve their industry. Early records show that on July 9, 1873, the Pump Manufacturer's Association of the United States met at Saratoga Springs at Congress Hall.

Hydraulic Institute Timeline
According to Noble Dean Jr. of Dean Brothers Pumps, in a 1974 letter to Lawrence Spence of Allis-Chalmers Industrial Pump Division, the "antecedent of the present Institute was the Hydraulic Club formed on January 18, 1905."
Spence was the HI historian in the mid-1970s, when he reached out to members asking for information about the organization's past.
"Exhibit B is a copy of the minutes of the first Hydraulic Society meeting, held the 18th and 19th of April 1917, in Chicago. This document is interesting because of its candor and the expressed concern of the Federal Government through the newly established F.T.C. (Federal Trade Commission) in the organization of the industry for war," Dean writes of an attachment to his letter that included minutes from that meeting.
Those minutes recorded that "the members of the Hydraulic Society present partook of a banquet in the parlors of the La Salle Hotel and exchanged experiences in business as well as social matters to the edification of all those present. The banquet was most pleasant as well as most profitable meetings of this character that has ever been held."
At that meeting in 1917, the first HI committees were created by those present. The committees included the following: plan and scope, commercial, technical, cost, membership, nominating and publicity. These early committees established much of the structure that still guides today's Institute.
Sixteen independent pump manufacturers were part of the first HI meeting. While they competed, they had assembled that day largely to lend support to World War I production efforts and to coordinate those efforts while following new governmental requirements.
At this meeting, the following companies were represented: Advance Pump & Compressor, American Steam Pump, Blakeslee Manufacturing, Buffalo Steam Pump, A.S. Cameron Steam Pump, Deming Pump, DeLaval Steam Turbine, Epping Carpenter, Fairbanks Morse, Gardner Governor, Gould Manufacturing, National Steam Pump, National Transit, Platt Iron Works, Worthington Steam Pump and Wagener Steam Pump.
From the beginning, the group grew.
A photo from a meeting in 1921 shows a gathering of 44 industry leaders, from companies that included—in addition to the 16 founding businesses—Ingersoll Rand Company, Alberger Pump, Dean Brothers Steam Pump Company, Lea Courtney Company, Dayton Dowd Company and Midwest Pump & Engine Company. Also counted in attendance were representatives from the Hydraulic Society of New York.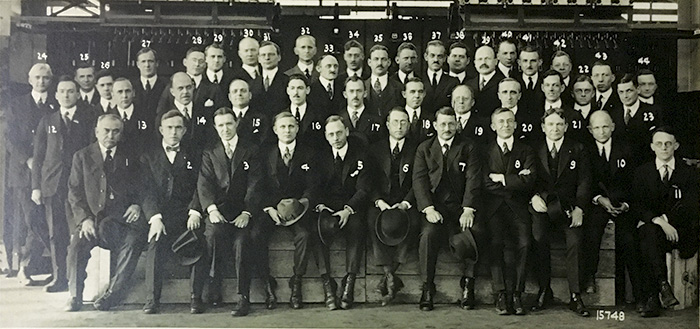 A 1921 meeting includes 44 pump industry representatives in South Philadelphia
Members of this event in 1921 met at Westinghouse Electric & Manufacturing Company in South Philadelphia.
Annual Meetings
In the early days, HI members were a lively bunch. While they met to address the serious business of the day, they also took time to enjoy fellowship with each other.
"When I came aboard some of the 'old timers' had mellowed, but they enjoyed reminiscing about the various places they'd been thrown out of … They were a tough, hard-working crew," Dean said in his letter to Spence. "All of us who have been associated in any way in the Hydraulic Institute can remember similar instances. There are lots of stories to tell. But we're a pretty conservative bunch. Our industry is somewhat fragmented but very fundamental, and the roll of the Institute representatives is made up of many strong individuals. This is good, and I hope it stays that way."
Following World War I, the Hydraulic Society sought to keep pace with a changing world. In the early part of the Depression, in 1933, a new constitution and bylaws were adopted to keep pace with these changes, according to HI archives. This is the year that the name of the organization was changed to the Hydraulic Institute.
In 1967, on HI's 50th anniversary, the annual meeting was held at the Pittsburgh Hilton. During the dinner event, members dined on fruit supreme princess, roast prime ribs of beef au jus, vegetables and bisquit glace with strawberry sauce.
The program pointed out that "modern pump designs and applications are legion." It said:
"In the U.S. alone, there are several hundred manufacturers, which produce millions of pumps every year. There followed much important work, which formed the foundation for what is today the principal trade association of American industrial pump manufacturers.
Pages