A retrofit brought reliability to the island's wastewater system.
Zoeller Engineered Products
Randall's Island in New York City encompasses 433 acres on the Harlem and East Rivers, between Manhattan and Queens. It is a well known location, having been used for a variety of purposes over the past 350 years. In 1992, an alliance of dedicated New Yorkers saw its potential as a great recreational resource for the city's residents.
Since then, it has become the premier destination for sports and recreation, including 60 athletic fields, a golf and tennis center and Icahn Stadium, a world-class track and field facility. It has also become a popular event site for hosting concerts, art fairs and cultural festivals.
Image 1. Removal of existing clogged pump (Images courtesy of Zoeller Engineered Products)
The Problem
The island is also home to the New York Department of Environmental Protection's Wards Island Wastewater Treatment Plant. The island is serviced by a collection system, which includes numerous small pump stations. Being a year-round attraction, its 3 million annual visitors depend on its wastewater collection system and associated facilities.
A few years ago, some submersible pump stations began to experience regular clogging problems requiring emergency repairs. The operators and service providers were looking for a solution when Gary Smith of G.T. Smith & Associates of Laurel Springs, New Jersey, became aware of the problem.
He suggested that a unique product might be able to alleviate the problem and be retrofitted into the existing system.
The ability to use the existing system while updating to a more modern product was intriguing, and they wanted to know more.
The Solution
Information was provided that detailed a specially-designed grinder pump. The pump manufacturer noted that grinders have successfully handled many problem applications that cause traditional solids handling and grinder pumps to struggle. The design of this particular product incorporates rotating blades that cut axially as the solids are being pulled through a stationary flat grinder plate, designed with a unique pattern of slots and orifices. The cutter and plate are each made of 440C stainless steel hardened to a Rockwell HRC 58 "cutlery" steel that is considered the strongest and most desirable knife making material.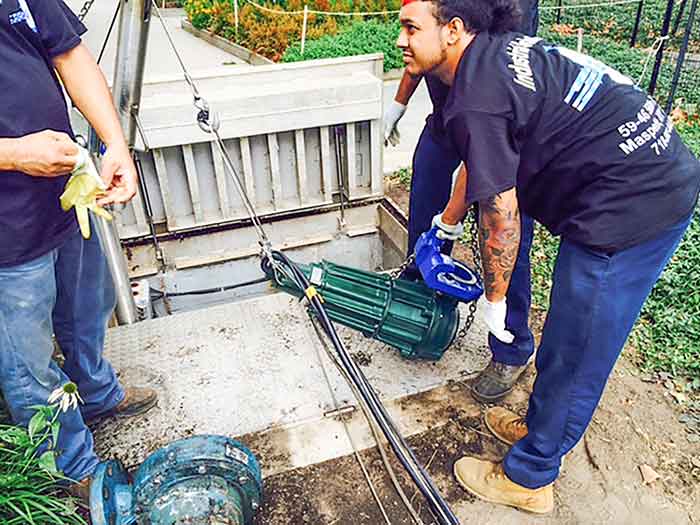 Image 2. Installation of new pump
The benefit of this design is not only its ability to cut up solids in the waste stream, but also its change in direction of the rotating blades with each cycle. During an operating cycle, it cuts clockwise, then reverses course and cuts counter-clockwise during its next cycle. The bi-directional cutting action operates in this manner of reversing cutting direction each time it is called on to pump. Operating in this manner keeps the cutting surfaces clean and prevents roping of materials from occurring, which is what often occurs and leads to a clogged pump. As an added feature, this product was able to be retrofitted onto the existing rail system and operate from the existing control panel.
In July 2015, two 5 horsepower (hp) grinder pumps and a reversing box were purchased. When the system was installed and started up in September, the pump manufacturer received positive feedback on the user's operation with no clogging occurring during the first few months of operation. While that was good news, success could not be claimed until the pumps went through a full year's cycle of operation.
After a year of operation, the pump manufacturer inquired into the status of the application to see how the pumps had been performing. While it was reported that the original Randall Island's pumps were clogging on a regular basis, the reversing grinder pumps had not failed to perform even after 14 months of operation. In the wake of the success of the new Randall's Island system, two additional sets of these pumps and reversing boxes were ordered, retrofitting two more stations at the site.
Issue