Key factors that have sustained strong activity and valuations over the last several years are expected to continue.
Last year's highlights include:
2019 deal activity was strong with 71 announced transactions. 
Strategic realignments, expanding geographic footprint and channel integration were among the key factors driving deal activity. 
2019 valuations remain very deal specific but at a high level. 
Deal Activity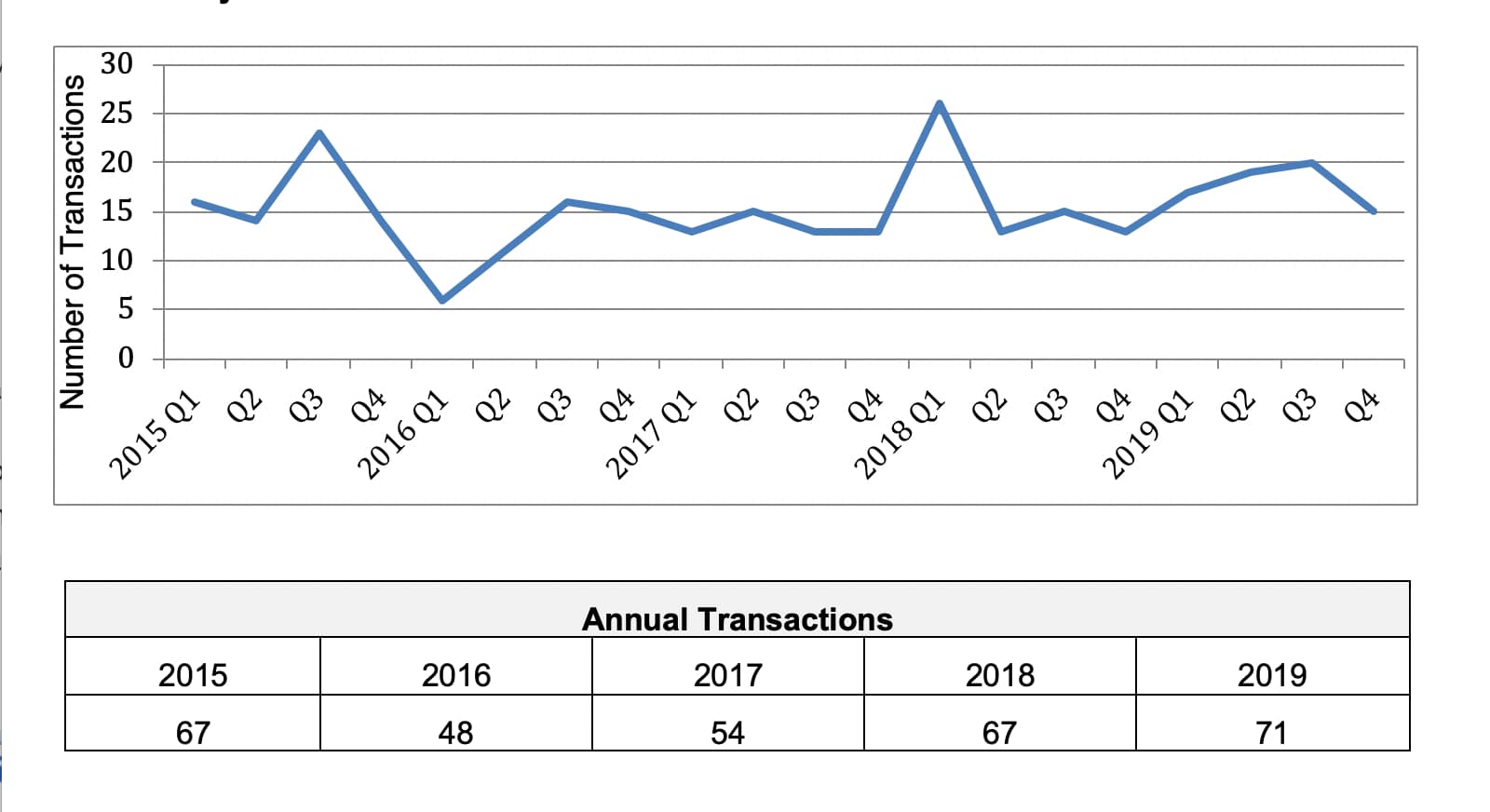 The deal activity in the fourth quarter (Q4) was average following three quarters of above average activity, making 2020 the strongest year for fluid handling industry mergers and acquisitions (M&A) activity in the last five years.
Some of the activity, such as strategic realignments, was at least partially driven by companies taking advantage of the strong valuations to divest noncore assets or create additional focus by spinning off strong businesses that can stand alone. In addition, private business owners decided to sell now rather than risk having to ride out another full business cycle.
On the other hand, some of the activity was happening despite the strong valuation environment. Private equity firms have more cash while strategic buyers are looking for growth opportunities in the form of capabilities expansion, geographic expansion, channel integration and acquiring new technologies.
These factors, plus the availability of low-cost debt, seem to be overcoming macrofactors such as economic and geopolitical uncertainty and created a strong year for M&A activity in the fluid handling industry. 
Valuations
The disclosed transaction valuations remain strong with 2019 median enterprise value/earnings before interest, tax, depreciation and amortization (EV/EBITDA) multiple of 11.0 versus the full year 2018 multiple of 8.6. The median EV/revenue multiple 2019 is 1.33 versus 1.32 for the full year 2018.
Demand remains strong for quality acquisitions with a continuation of favorable M&A conditions, although there seemed to be more economic uncertainty as we progressed through the year.
2019 Notable Transactions
Kaman Corporation sold their industrial distribution business to Littlejohn & Co. for $700 million to take advantage of the current favorable market conditions and to focus on their aerospace business.
IDEX Corporation acquired Velcora Holdings AB. The business consists of mechanical seal manufacturer Roplan and hygienic mixer and valve manufacturer Steridose. The companies complement the IDEX sealing solutions as well as their health and science platforms.
Ingersoll-Rand entered an agreement to acquire Precision Flow Systems from BC Partners Advisors and the Carlyle Group in a transaction valued at $1.45 billion, and then sold their industrial division, including the pending PFS transaction, to Gardner Denver in a transaction valued at $7.7 billion, creating an increased focus as a pure play climate solutions company while Gardner Denver becomes a $6.6 billion (pro forma) revenue flow creation and industrial business.
Weir Group is selling their flow control business, which serves the power and downstream oil and gas markets, to private equity firm First Reserve for $358 million. This enables Weir to increase its focus on the aftermarket dominated end-use markets of mining and upstream oil and gas production.
Colfax Corporation announced they are selling their Air and Gas Handling business to KPS Capital Partners. This transaction follows the sale of the Colfax Fluid Handling business in 2018 and the acquisition of DJO Global (medical technology) in the first quarter of 2019. According to the company, this completes their strategic realignment to diversify their end-market exposure, reduce cyclicality and increase profitability. It will also enable Colfax to pursue bolt-on acquisitions in their medical technology and fabrication technology segments. 
Genstar Capital acquired major industrial distributor Ohio Transmission Corporation (OTC) from Irving Capital. OTC serves more than 13,000 customers in a variety of end-use markets including transportation, industrial machinery, metals, chemicals, and food and beverage from 38 branch locations. OTC has completed 16 acquisitions since 2010.
SPX Flow has entered into a definitive agreement to sell a substantial portion of its former power and energy reportable segment ("the P&E business") to an affiliate of funds managed by Apollo Global Management, Inc. Under the terms of the purchase agreement, the Apollo fund affiliate will purchase the P&E business in an all-cash transaction with an enterprise value of $475 million.
Target Industries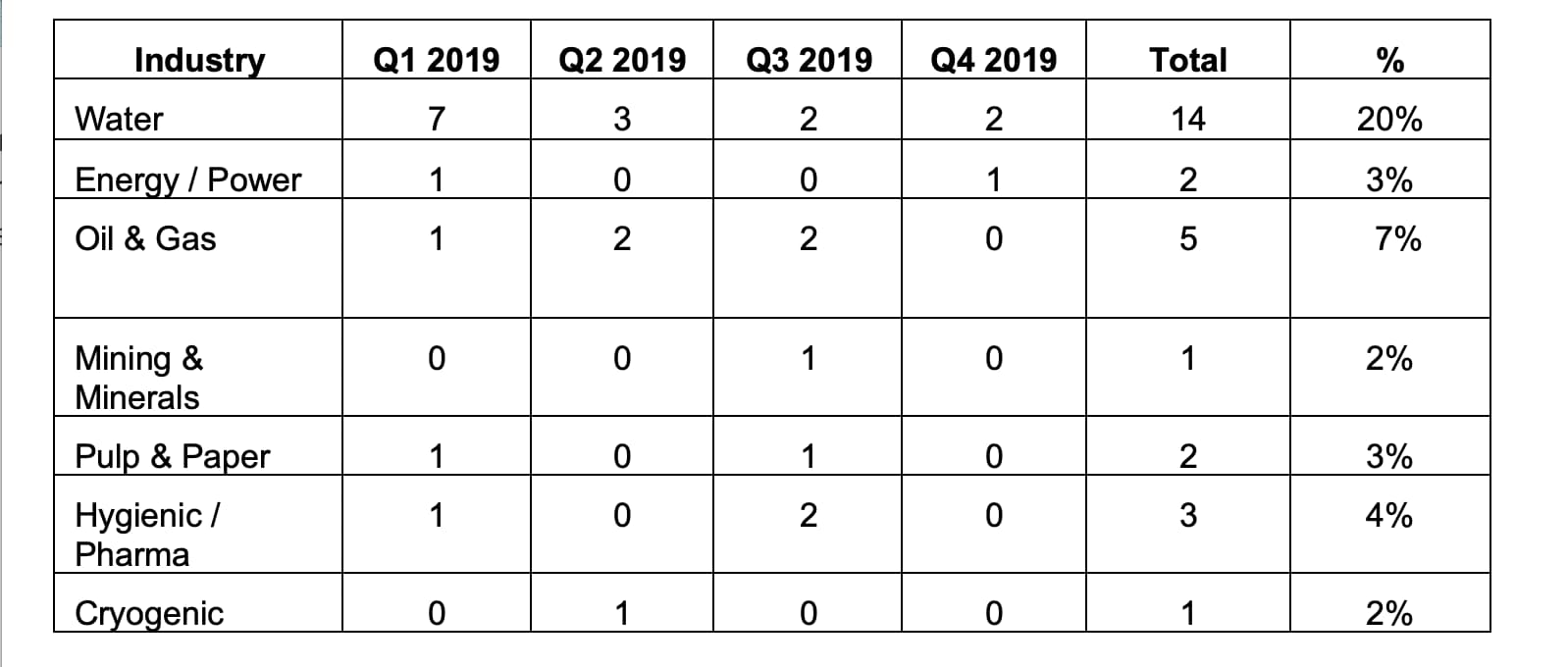 In 2019, water was once again the predominate industry served by target companies that have a specific industry focus. 
Outlook for 2020
There does not appear to be any major changes on the horizon for the key factors that have sustained strong activity and valuations over the last several years: 
low-cost debt 
capital flowing into private equity 
companies looking to supplement organic growth 
an economic outlook that is positive enough 
Particularly with private equity firms having acquired significant platforms in 2019—SPX Flow power and energy, Weir/Flow Control, Colfax/Gas and Air Handling, Kaman industrial distribution, Ohio Transmission Corp. (OTC), and in January 2020 the acquisition of Sundyne by Apollo Management—it can be expected that these firms, among others, will be aggressively seeking add-on businesses for these platforms in 2020 and beyond.