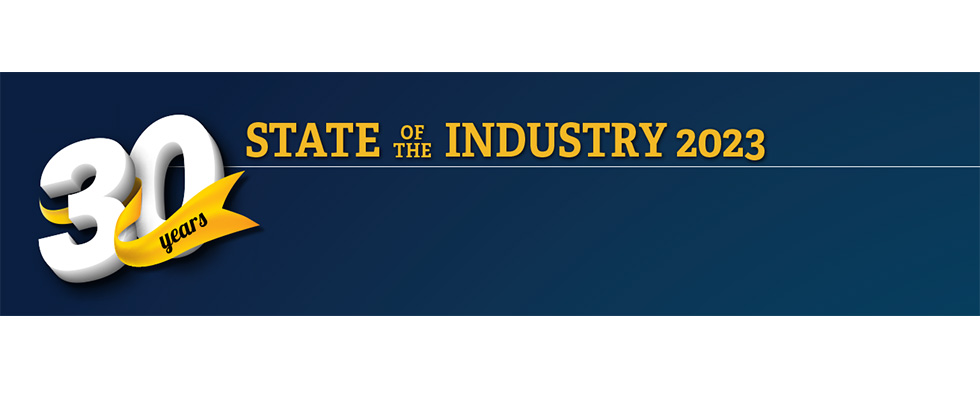 Pumps & Systems is celebrating our 30th anniversary in 2023. What do you think has made the biggest impact on the industry in the last 30 years?  
Pump clogging by so-called consumer flushable wipes and materials has adversely affected the wastewater pump industry more than anything. The extra labor and material costs associated with this issue create a severe impact on municipal budgets. Positively, the continued development of packaged pumping systems, in part pioneered by Smith & Loveless (S&L) in the wastewater market, has improved pump system offerings in multiple ways, including simplified procurement, factory-testing that benefits the end-user, and quicker installation and start-up. Additionally, the manufacture of complete (packaged) pumping systems allows for product improvement and testing to improve both pump and total system efficiencies. 
 
What do you think needs to happen to push the industry forward in the next 30?  
Innovation that leads to positive end-user outcomes will always drive the pump industry.  S&L invests extensively in R&D to develop component and system packages that solve end-user problems like the flushables issue, currently available today to the market. In terms of moving our industry forward, Artificial Intelligence (Ai) and remote communication will drive the industry, especially given the increasing shortfall of skilled and even willing labor. Additionally, energy efficiency guidelines for water and wastewater pumps driven by the cooperative efforts of the Department of Energy and the Hydraulic Institute will guide the industry as well.    
What are your thoughts regarding Build America, Buy America? How has that impacted your company?  
S&L proudly manufactures all its pumping systems and products in the United States. Even though Build America, Buy America (BABA) sounds like a great idea politically in support of U.S. manufacturing, this mandate, much like the American Iron and Steel (AIS) provisions, is fast becoming irrelevant with unnecessary waivers. Essentially, BABA stirs up noise, but so far it has had little impact on Smith & Loveless.   
How have any price increases of products or materials impacted you or your company?  
 Price increases have strongly affected our industry like other manufacturing sectors. This results in longer lead times, from quote phase, to bidding, to submittal approval to the actual start of manufacturing. At the start of the inflationary period, Smith & Loveless absorbed inflationary costs to meet customer obligations. 
What needs to happen in regard to industry improvements in the short term?  
Consumer awareness regarding "flushable" products needs to improve. There must be a larger national campaign to address this widespread problem. There needs to be continued push to promote labor opportunities in both the manufacturing and operations aspects of the pump industry.  
What issues have you seen with any material shortages or supply chain issues?  
Availability of electrical components continues to be an issue along with skilled labor in general. 
What industry trends are you seeing as we go into 2023?  
There are multiple trends occurring as we approach 2023 that relate to one another. First the lightning-fast pace of Artificial Intelligence (Ai) occurring in various sectors is happening here too, particularly as we see the fewer technicians and operations professionals enter the workforce. The need for increased automation, remote communications and Ai will help compensate with the trend of diminishing skilled labor.   
Also related, the trend for increased operator safety while reducing labor requirements (operational time and costs) continues to grow. Since the 1990s, generational labor changes and the prevalence of wastewater pumps placed in designated confined spaces caused maintenance mindsets to shift from "old-fashioned preventative maintenance" to "out of sight, out of mind", the latter of which resulted in more of a pump "throw away/replacement" mentality rather than engaging in critical routine maintenance to preserve the existing equipment. Today, pinched budgets necessitate maintaining pump station assets not only to extend the life of the pumping system, but to reduce labor costs and attract candidates. Pumping systems that cause designated confined spaces are less attractive because municipalities can no longer afford to send multiple staff members to a confined space workplace in what ideally should be a one-person maintenance job. Likewise, people are not looking to work in hazardous environments. S&L is bullish on the trend of municipalities -- and even industry -- that are looking to implement above-ground, operator-safe pumping systems that eliminate confined space entry and facilitate safe and easy routine maintenance.  
What's on your mind/what are you most concerned about?  
Recession may not affect our industry because water / wastewater management is generally stable, but a recession will indirectly affect our organization. For example, public works projects may experience a lag in our industry. Likewise, as housing starts come to a screeching halt, the need for the infrastructure that supports this kind of development may have a lag effect.  
What are you most looking forward to in 2023?  
The end of supply chain issues and inflationary rates less than 4 percent. 
Issue