International politics, the skills gap, IIoT adoption and more are top of mind.
The Pumps & Systems editorial team reached out to dozens of industry leaders to prepare for the 2019 Pumps & Systems State of the Industry issue. Company executives, end users and trade group administrators. Early on, the theme became clear.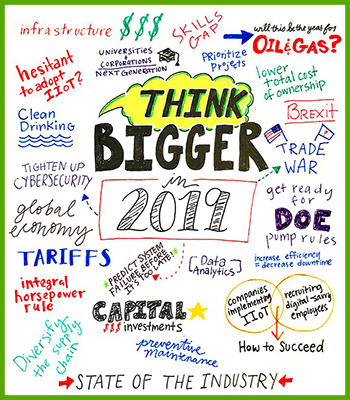 See more of our State of the Industry 2019 coverage.
Think bigger.
Whether your team takes to white boards (like we did for our cover) or attends elaborate management planning getaways, 2019 is a year to consider the options, find the best people you can and embrace the inevitable wave of change.
Continuing stock market unpredictability, a shifting global political landscape, changing regulations and disrupted supply chains are keeping some industry leaders up at night.
Our editors enjoy talking to the pump insiders for each January issue. The insights help frame topics for the coming year and beyond. The Pumps & Systems team will keep an eye on the geopolitical, workforce and technological issues we discuss in this issue, and we will "think bigger" in 2019— right along with the rest of the industry.
Editor's note: Click on the orange company names below to read more from that company's representatives.
How has the current political climate affected your industry?
"Increased budgets for infrastructure improvement is a promising sign for the wastewater industry as a whole. We are excited to see that the government recognized the issues in budgetary constraints that many of our municipal customers face and hope that the increases will allow ... improvements to wastewater collection and treatment plants in 2019."
Jacqueline Boudreau
Director, Product Marketing, Crane Pumps and Systems
"Business has been very good this year, with every major industry showing positive growth. We continue to experience challenges with tariff-related price increases and general inflation, but most end customers understand that these are costs which distributors cannot control and must be passed along. While not the norm, some manufacturers are being stretched a bit with capacity, service levels and production issues. Beyond that, we are cautiously optimistic and well-positioned for the future."
Randy Breaux
President, Motion Industries
How are global politics & the steel tariffs affecting the industry?
"There is a cost impact with some of the raw materials and all the tariffs attached to those materials. We do see the impact in the U.S. Being a global company, we do have factories in different regions. We can move around and get products from India instead of China and France instead of Asia. If you rely on China at this particular moment, then I can expect that our counterparts are probably suffering and that will be transferred to the end users."
Carlos Uribe
General Manager of Water & General Industry, Milton Roy
"Tariffs will significantly impact the pump industry as steel and aluminum are key components within the industry ... Production costs certainly will increase, and manufacturers will have difficult choices to make."
Gennaro A. D'Alterio
Vice President, Product Management, CECO
What is your company doing to address the skills gap?
"Not a day goes by without some form of training, whether it's face to face, lunch and learn or online webinar. There is no doubt that technology is will play an increasing role in the development and management of our Knowledge Management strategy."
Jonathan Hamp-Adams
President, Grundfos USA
"With the evolution of social media and advancements in data-sharing, we continue to create training modules for a variety of learning environments. For example, we utilize tools like augmented and virtual reality to provide a multidimensional view into product construction and how the equipment functions within an operating system."
Mike Licastro
Manager, Training & Education, Commercial Buildings/HVAC, Xylem - Bell & Gossett
Is your company trying to attract young employees? To hold on to retirement-age employees?
"Our talent platform is designed to meet the needs of our employees at every stage of a career. Additional learning platforms are offered to the advantage of all employees as they develop across their career lifecycle. We encourage job rotations, mentoring and shared learning projects in order to actively re-recruit our talent throughout their tenure with us."
Keith Weiss
Senior Vice President, Industrial Sales, USA and Canada, SKF
What are you most optimistic about for 2019?
"There is a tremendous amount of pent-up demand after the long period of stagnation we have experienced over the recent past. Add to this the cooperation from the U.S. federal government to spur economic activity—as seen with tax policies, such as the 100 percent deductibility of capital expenditures in a given fiscal period, as an example. ... Demand is on the upswing, which requires supply to follow. It's really a simple equation. I am optimistic we will see growth in every sector."
Gino Mersino
President, CEO, Mersino
Pages