Flow rates capable of exceeding 108,000 gallons per minute power the FlowRider sheet wave surf pool.
Since the early 1960s—when the Beach Boys produced a string of surfing records that struck a chord with people around the world—surfing has become a popular sport and pastime for millions. While surfing year-round was once limited to California or Hawaii, modern pumping technology makes this pastime a possibility virtually anywhere.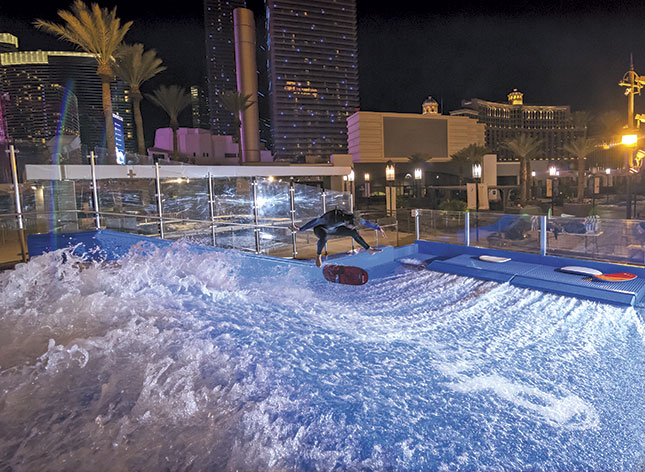 Image 1. Planet Hollywood Resort and Casino, Las Vegas (Images courtesy of White Water West)
In recent years, water parks and holiday resorts around the world have invested in a new and popular water attraction: sheet wave surfing rides. Leading the market in the development of the surf wave technology is the White-Water West Industries and USA Licensee Aquatic Development Group (ADG) with their FlowRider wave simulators. Designed for both outdoor and indoor locations, the FlowRider allows people of all ages and skills to surf and body board every day of the year.
The wave pool is now becoming the must-have attraction for resorts, hotels, theme parks, sports centers and even cruise ships.
Marshall Myrman, chief operating officer of White-Water West, says that one of the most popular rides at their parks around the world is the FlowRider surf wave simulator. "We are fun brokers," Myrman says, "and the FlowRider is an exhilarating ride that is hugely popular. It is a combination of skateboarding, snowboarding, wakeboarding, skimboarding and surfing. It is a great product for water parks, and it is a prime attraction—particularly for visitors who like to see it as a sport—and this aspect is developing. The greatest flow-boarders in the world today come from skateboarding backgrounds and are doing the moves and tricks that they have developed on sheet waves."
How it Works
The FlowRider's sheet wave is created by pumping very high volumes of low-pressure water up a suspended flexible membrane surface that mimics the form and shape of a wave. Pumping the water up and over the ride surface provides a 1.5- to 3-inch continuous flow of water that can be used for surfing on a flow board or body board. The actual height of the wave form is about 5 feet from top to bottom, and the entire surface is between 20 and 30 feet wide.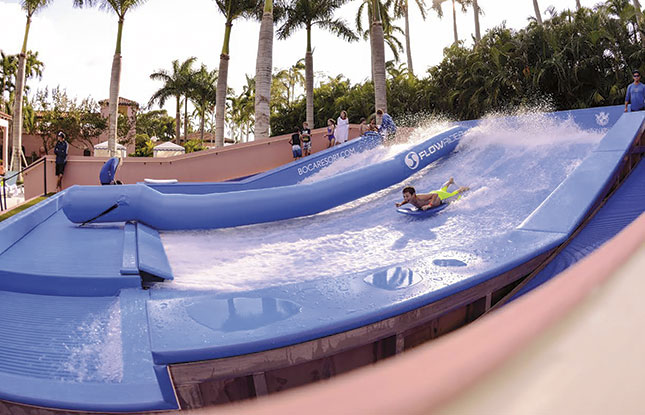 Image 2. Boca Raton Resort and Club, a Waldorf Astoria Resort
Below this ride surface is a concrete containment tank that houses two submersible horizontally positioned pumps. The pumps' discharge is attached to a FlowRider nozzle assembly, which curves upward, spreading the discharge flow across the ride surface approximately 5 feet above the bottom of the containment tank. The thin sheet of water shoots out across the entire surface of the ride membrane and then flows back into the pump chamber, creating a continuous wave effect.
Meeting the Demand
Because the FlowRider requires continuous operation, many parks have selected submersible pumps that are also used in a variety of demanding storm water, municipal and other water transport applications. One particular submersible pump used in the FlowRider attraction has a flow rate capable of exceeding 108,000 gallons per minute (GPM), which is ideal for the large volumes of water pumped by the ride. If the flow rate and volume of water drops, then the wave will not form sufficiently for riders.
Unlike some other submersible pumps, the pumps used in the FlowRider can be mounted horizontally in the water containment tank below the ride surface and can withstand a high concentration of chlorine and other chemicals. For White-Water and ADG, this pump also offers several key benefits regarding installation and operation. Because the weight of the pumps ensures self-centering seating in the discharge tube, the pumps are relatively easy to install. Similarly, the lack of anchoring or anti-rotation elements allows for quick installation and hassle-free removal.
The pumps are also hydraulically optimized, providing a low-vibration hydraulic system with inlet ribs and optimized bellmouth for vortex-free inflow.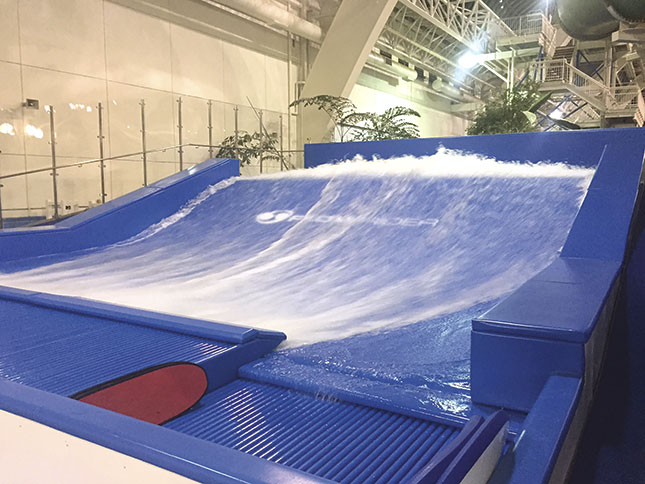 Image 3. West Edmonton Mall, Canada
Reliability & Performance
The continuous flow of large volumes of water required by FlowRider makes reliability a top priority.
"The attraction itself is the FlowRider Double, which is our bread and butter and is typically around 2,000 square feet," Myrman says. "We want our customers to have a hassle-free experience with FlowRider, which is a tough demand on the pumps as they have to move a lot of water over a vinyl fabric in the safest manner possible."
When reviewing the pump types suitable for this application, White-Water and ADG were looking for equipment made with quality parts and engineering as well as technical and spare parts support. They needed pumps that would operate with little maintenance but also wanted adequate aftermarket support should maintenance be needed. To date, these submersible pumps have been used in about 12 installations and have had no operational problems, says ADG Vice President David Keim.
"The pumps are equipped with many sensors constantly monitoring the systems along with the tandem mechanical seal. With a second seal acting as a 100 percent back-up, the pump can continue operating even when the first seal is leaking, allowing for uninterrupted operation,' says Azir Khan, the pump manufacturer's regional manager. "Trouble-free operation is down to the liquid reservoir and high-quality, wear-resistant seal face materials. Reliability is assured through bearing temperature monitoring, thermal motor protection, leakage sensors in the motor/connection space and leakage monitoring of the mechanical seal system. And we must not overlook the fact that the slim motor minimizes discharge tube flow losses, so making it highly efficient."
Even when moving more than 20,000 gallons of water per minute with frequent starts and stops, Khan says the pumps have proven to be reliable.
Issue