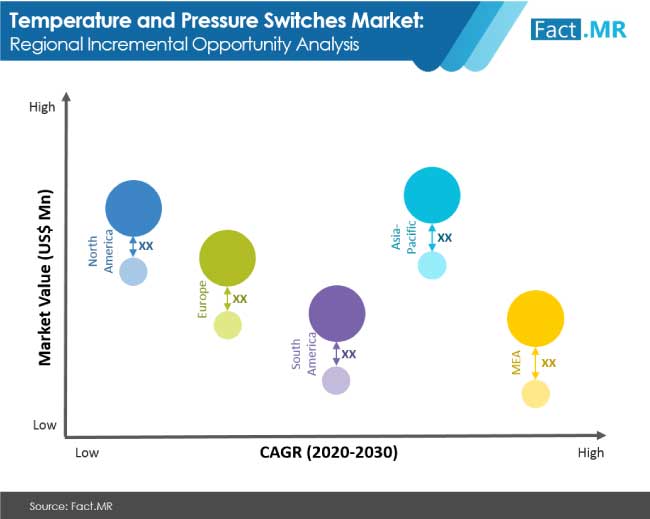 The market has been experiencing minimal impact from COVID-19 pandemic.
The production of automobiles, chemical manufacturing, HVAC, and iron and steel are contributing to the growth of the temperature and pressure switches market.
The temperature and pressure switches worldwide market is expected to reach $4 billion by 2030. The market should expand steadily at a compound annual growth rate (CAGR) from 2020 through 2030.
Developments in manufacturing have opened up other avenues to enhance a country's economic development, and using technological advancements to streamline manufacturing has led to the use of temperature and pressure switches. End-use industries put these switches in use at different stages of manufacturing processes.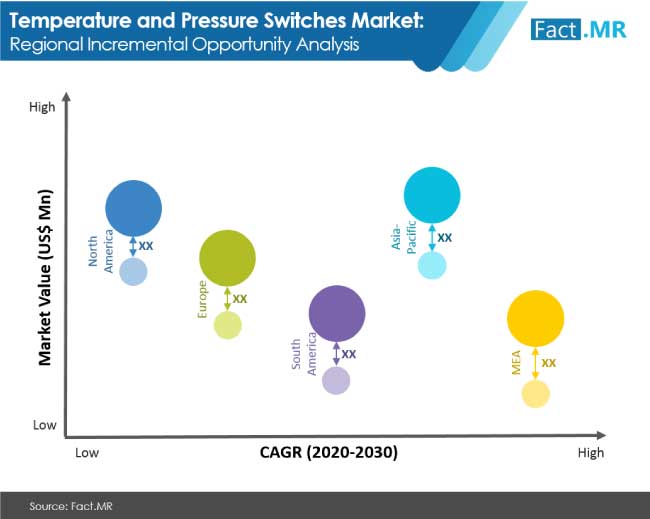 Key Takeaways
The growing demand for white goods is expected to accelerate the revenue prospects of the temperature and pressure switches market.
 
The increase in use of pressure switches by the HVAC industry will be attributed to increased consumption in emerging economies.
 
Asia-Pacific is likely to dominate the global temperature and pressure switches market, with Europe and North America to follow.
 
The market is not likely to be majorly affected by the COVID-19 pandemic because of the sustained demand from marine and heating and ventilation industries.
 
The online marketing of temperature and pressure switches is expected as the use of smart devices grows.
Temperature & Pressure Switches Market Competitiveness
Prominent companies operating in the global temperature and pressure switches market are focusing on expanding global outreach through portfolio expansion, strategic acquisitions, and collaborations with other players. The are also looking to establishing regional distribution networks and extending research and development capacities.
In July 2020, ABB announced its collaboration with Accenture to enhance its digital solutions. This collaboration will build on ABB's expertise in digitalized processes for the transformation of industries and Accenture's information and operational technologies (IT/OT) architecture and software development capabilities across industries.
 
In August 2020, Danfoss announced the launch of its highest capacity oil-free compressor with the objective of bringing in efficiency and long-lasting performance to larger applications such as data centers, hospitals and university campuses.
 
Schneider Electric revealed a series of antibacterial and self-disinfecting switches and sockets as a part of the "Aatmanirbhar Bharat" mission announced by the Indian government amidst the pandemic crisis. 
 
Texas Instruments, a prominent switch manufacturer, offers a range of analog switches and multiplexes, which help maintain signal integrity across a system while reducing design complexity.