Manufacturers must develop a long-term market position by diversifying.
After a period of falling prices, from more than $100 per barrel in late 2014 to $49 per barrel in January 2015, a subsequent rise in oil prices indicated that supply and demand for crude oil may be beginning to balance out.
In the best case scenario, oil prices could rise until production grows and offset the decline in inventories from decreased drilling activities. In the worst case scenario, the price of oil is expected to fluctuate, which could lead to a structural change in the supply and demand of crude oil. Given the role metering pumps play in upstream crude oil production, these two scenarios could affect the demand for metering pumps.
In the last decade, hydrocarbon investments in remote shale oil and gas areas and offshore activities have fueled the demand for metering pumps. As a result, a number of suppliers found a niche market in the individual shale plays. Similarly, the development of offshore drilling, which began near the coast and has now turned into a race to conquer the deep sea, created niche opportunities for metering pump players with specialization capabilities and more robust specifications that allow equipment to withstand high pressures and extreme temperatures.
The connection between unconventional drilling activities and its metering pump suppliers entered its first rocky stage with the oil crash in 2008 to 2009 and again in 2014. The falling prices resulted in a decline in the number of new oil rigs, presenting a difficult landscape for suppliers.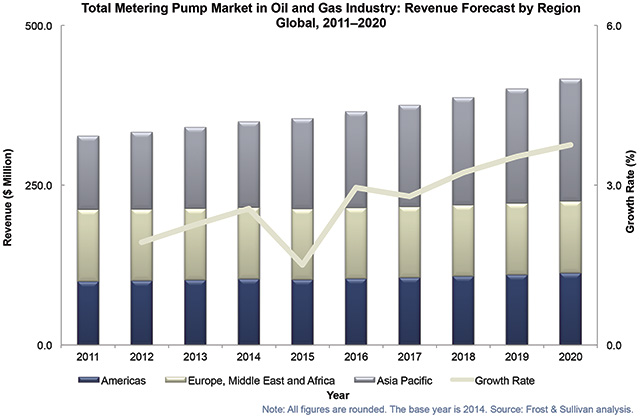 Figure 1. Total metering pump market in oil and gas industry—revenue forecast by region (Courtesy of Frost & Sullivan)
With prices rising by nearly 40 percent in the last six weeks of the year and inventories declining to nearly 3.9 billion barrels in the first week of May 2015, the market may have been showing signs of recovery. Also, when oil prices reached $60 per barrel, at least a portion of the calculated 2,500 to 3,500 nonoperational rigs were expected to enter operation. The current downward spiral in oil prices closely resembles the downward trend of the 2008 to 2009 oil price crash, which suggests that a similar upward trend can be expected after its bottom low.
Less optimistic views argue that the downward spiral of oil prices is here to stay. Given the static and sometimes declining demand for oil in the worldwide markets and the growing trends toward the use of alternative sources of power, the dynamics of the oil market are projected to endure an integral change. The industry might continue to trend downward.
Metering pump manufacturers are speculating whether a definitive price increase is approaching or a prolonged weak market from high price uncertainty. As old projects begin to close, the ability to maneuver among the various exploration activities and diversify into downstream activities will enable manufacturers to weather the storm.
While the total metering pump market is projected to follow a slow-growth period, market application areas such as anti-corrosion and anti-foaming processes are seeing a demand in the short term. Use of energy-efficient technologies and drilling equipment is influencing long-term purchasing decisions, which is projected to impact the demand for metering technologies.
The challenge for metering pump manufacturers is to develop a long-term market position by maneuvering among different activities, diversifying into related lines of business, and adopting energy-efficient technologies.
Issue