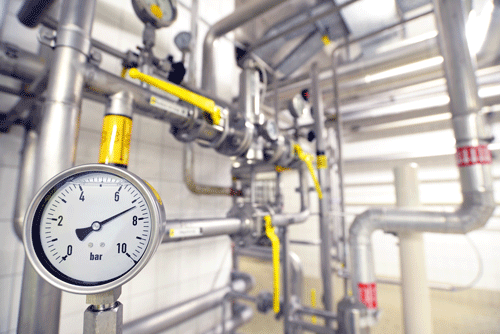 How investing in a new compressor saved a company more time down the line.
Industrial companies in nearly every sector are seeking to make their operations more efficient and sustainable. One
critical element of operations that has been traditionally overlooked and is providing new opportunities for energy savings is air compressors. Compressed air is often considered the fourth utility for industrial applications, but compressors are often operated inefficiently. By closely examining a facility's compressed air system, companies can reveal hidden opportunities for reducing energy demand, lowering carbon emissions and cutting operational costs.
A commercial painting company located in Kent, Washington, worked with a compressed air and vacuum distributor to analyze its air compressor operations that support the heat and sandblasting of steel used in prefab construction, mezzanine structures, staircases and more.
The painting company had been using two 200-horsepower (hp) rotary screw air compressors. Their old age had posed many challenges—frequent breakdowns were resulting in expensive service bills and halted production, which decreased the company's operational uptime. Additionally, the older and less efficient design was contributing to high energy bills. The primary compressor needed to run continuously and a backup compressor would kick in when additional air was needed. This spiked energy use during the operation, as both compressors would run simultaneously to prevent downtime. Recognizing the challenges, the compressed air and vacuum distributor proposed an upgrade to the compressed air system for lowering energy costs and enhancing operational efficiency.
A Data-Driven Solution
To determine the most optimal solution, the distributor's technicians collected multiple weeks of data from the commercial paint company's compressors using specialized electronic loggers. The results were analyzed with custom software that showed exactly when the company's energy use was spiking—specifically, certain shifts on specific days and times. The technicians' analysis showed that the company could potentially save 100,000 kilowatts (kW) per year of electricity by replacing the old air compressors with a single variable-speed air compressor. In addition, a new air compressor would provide reliability and uptime benefits, along with a new warranty and support services.
The distributor recommended a 250 hp rotary screw compressor. The design of this compressor enables operations at extreme temperatures—from cold to hot, and from dry to extremely humid conditions, leading to overall higher reliability in industrial settings. Its air ends are equipped with η-V profile rotors that have a 4/5 lobe combination, enabling it to run at low rotor speeds and maximize air compressors' life and efficiency. This design reduces pressure losses, and together with oil separation by impact and centrifugal action (OSBIC), its three-stage separation provides oil contamination reduction (< one part per million [ppm]) and energy efficiency.
In addition, the new air compressor came equipped with an in-built variable frequency drive (VFD), which helps match the compressor output with the demand by varying the motor speed. This results in reduced power consumption following the reduced demand, thus eliminating the frequent load-unload cycle and offering an energy-efficient solution with low operating speed, low maintenance and low sound level.
The distributor provided a turnkey installation to the company, subcontracting the electrical work to make the project easy for the company. The entire process of installing the new compressor was completed in one day and the company saw immediate results. One of the company's older air compressors became a backup, meaning it will only be used if the primary compressor is offline. This eliminates additional energy consumption and improves the company's uptime prospects for the future.
After installation of the compressor, the distributor used data loggers to obtain readings on the company's new air compressor usage. The result indicated that the new setup is more energy-efficient, along with operating more quietly. Auditors confirmed the data's results, and its field technician visited the company to confirm its success on-site. The energy savings from its new air compressor, combined with the energy company rebate, will enable the company to recoup the cost of the new air compressor in just two years.
Issue