The Jordan, Knauff & Company (JKC) Valve Stock Index was down 22.1 percent over the last 12 months, while the broader S&P 500 Index was up 3.0 percent. The JKC Pump Stock Index also decreased 16.8 percent for the same time period.1
The Institute for Supply Management's Purchasing Managers' Index (PMI) fell slightly to 50.1 percent for the month of October compared with a reading of 50.2 percent in September. A PMI above 50 signals factory sector expansion, while a number below 50 signals contraction. The New Orders Index increased to 52.9 percent from 50.1 percent, while the Production Index increased 1.1 percentage points to 52.9 percent. The Employment Index declined to 47.6 percent from 50.5 percent in September, the lowest level for this measure of factory employment since 2009.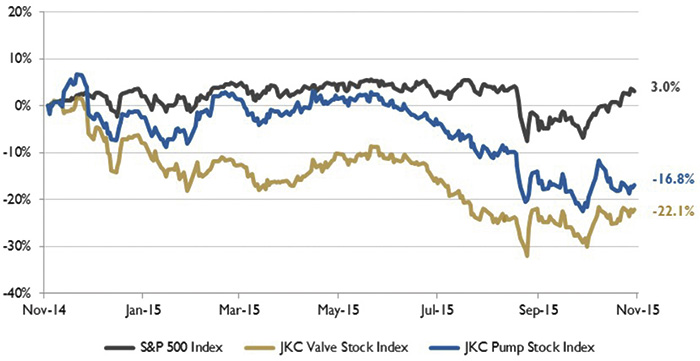 Figure 1. Stock indices from Nov. 1, 2014, to Oct. 31, 2015
Source: Capital IQ and JKC research. Local currency converted to USD using historical spot rates. The JKC Pump and Valve Stock Indices include a select list of publicly traded companies involved in the pump and valve industries weighted by market capitalization.
The Bureau of Labor Statistics reported that nonfarm employment increased by 271,000 in October, which was much higher than economists expected. Gains were made in construction, professional and business services, education and health services, and leisure and hospitality. The year-over-year gain in construction was more than 3 percent, while the service sector increased 2.1 percent year over year, reflecting continued economic growth. The manufacturing sector lost a combined total of 27,000 jobs in the past two months but was unchanged for October. Improvements in the labor market are starting to lead to increased wages, which have risen 2.5 percent year over year.
Because of lower petroleum product prices and continuing employment and economic growth, U.S. liquid fuel consumption is projected to increase by 1.8 percent this year compared with an increase of 0.8 percent last year, according to the U.S. Energy Information Administration (EIA). The consumption growth was led by gasoline, which is expected to increase 2.1 percent in 2015. As new petrochemical plant capacity increases the use of hydrocarbon gas liquids (HGL), consumption of HGL is expected to increase this year and next, compared with a 1.9 percent decrease in 2014.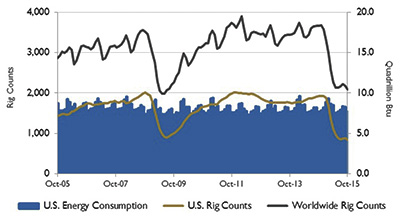 Figure 2. U.S. energy consumption and rig counts
Source: U.S. Energy Information Administration and Baker Hughes Inc.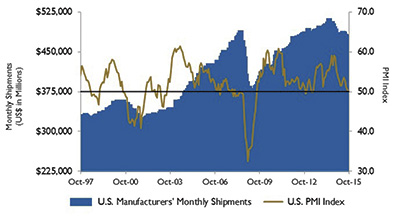 Figure 3. U.S. PMI and manufacturing shipments
Source: Institute for Supply Management Manufacturing Report on Business® and U.S. Census Bureau
Compared with the same period last year, gross exports of U.S. petroleum products are up almost 12 percent through July. More than half of this export growth is from HGL. The combination of the growth in domestic liquid fuels consumptions, along with the increase in refined products exports, has resulted in U.S. refinery utilization rates averaging 91.2 percent during the first seven months of the year, compared with 89.4 percent last year.
On Wall Street, the Dow Jones Industrial Average was up 8.6 percent, the S&P 500 Index increased 8.1 percent and the NASDAQ Composite rose 9.2 percent for the month of October. A rise in health care stocks and a rebound in energy shares due to a rise in oil prices boosted the markets. Investors were encouraged by the possibility of more economic stimulus programs in China and the Eurozone. The Federal Reserve Bank also kept key interest rates unchanged at its October meeting.
Reference
1. The S&P Return figures are provided by Capital IQ.
These materials were prepared for informational purposes from sources that are believed to be reliable but which could change without notice. Jordan, Knauff & Company and Pumps & Systems shall not in any way be liable for claims relating to these materials and makes no warranties, express or implied, or representations as to their accuracy or completeness or for errors or omissions contained herein. This information is not intended to be construed as tax, legal or investment advice. These materials do not constitute an offer to buy or sell any financial security or participate in any investment offering or deployment of capital.
Issue