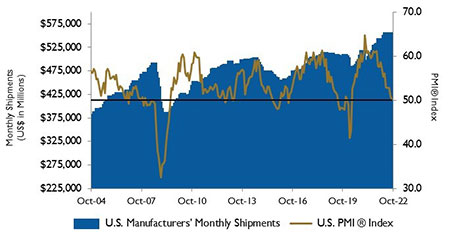 Exploration activity has been up and down this year.
The Jordan, Knauff & Company (JKC) Valve Stock Index was down 10.6% over the last 12 months, and the broader S&P 500 index was down 16.1%. The JKC pump stock index fell 21.3% for the same time period.1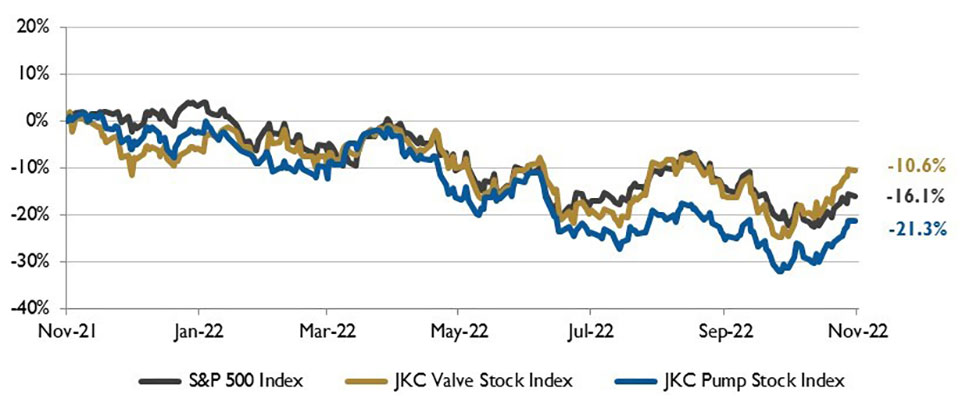 The Institute for Supply Management's Purchasing Managers Index (PMI) fell in October to 50.2% from 50.9%, the slowest growth in factory activity since the contraction in mid-2020. The New Orders Index was in contraction for the second straight month at 49.2%. The Backlog of Orders Index fell from 50.9% to 45.3%. Export orders fell further into contraction at 46.5%. The Prices Paid Index continued to ease for and fell into contraction territory at 46.6%. The Employment Index showed little change at 50% versus 48.7% in September.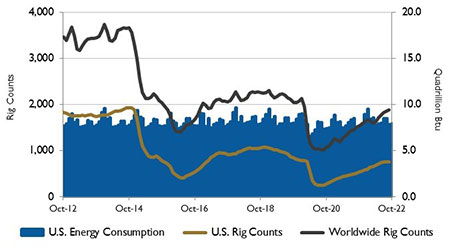 The Labor Department reported nonfarm payrolls increased by 261,000 in October. Monthly job growth has averaged 407,000 so far this year, compared with 562,000 per month in 2021. Healthcare payroll growth was 53,000, while leisure and hospitality continued to add jobs at 35,000. Professional and technical services added 43,000 jobs.
Manufacturing added 32,000 jobs, mostly in durable goods industries which increased 23,000. Manufacturing employment has increased by an average of 37,000 per month so far in 2022, compared with 30,000 per month in 2021. Employment changed little over the month in other major industries.
In the last week of October, the number of operational United States oil and gas rigs totaled 768. This was an increase compared to September and a reflection of expected higher oil demand toward the end of the year despite lower oil prices. Exploration activity has been up and down this year.
Natural gas production has averaged record volumes (over 96 billion cubic feet per day), up 4% from last year and up 2.2% from 2019 annual production. In September, strong natural gas production and reduced seasonal demand led to more natural gas injections into underground storage and lower natural gas spot prices.
Injections into U.S. working natural gas storage in the lower 48 states during the 2022 injection season (April through October) brought storage levels back near historical averages. The Henry Hub natural gas spot price fell more than 30% throughout September, averaging $9.38 per million British thermal units (MMBtu) on September 1st and $6.40/MMBtu on September 30th. In early October, natural gas prices fell below $6.00/MMBtu.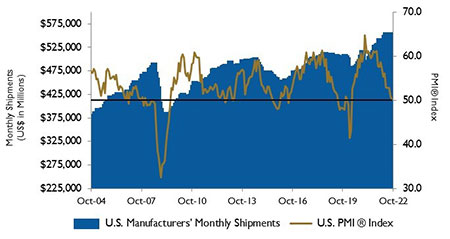 On Wall Street, the Dow Jones Industrial Average had its best month since 1976 and its best October performance ever closing up 14%. The S&P 500 Index gained 8% and the Nasdaq Composite rose 3.9% in October.
Third quarter corporate earnings were mixed, but optimism around easing inflation has helped markets. Investors are also hopeful that the Federal Reserve Bank may go slower on future rate increases.
Reference
1 - The S&P Return figures are provided by Capital IQ.
Issue