The Jordan, Knauff & Company (JKC) Valve Stock Index was up 0.6 percent over the last 12 months, while the broader S&P 500 Index was up 4.4 percent.
The JKC Pump Stock Index fell 15.6 percent for the same time period.1
The Institute for Supply Management's Purchasing Managers' Index (PMI) increased from 57.7 percent in October to 59.3 percent in November. Demand remained strong with the New Orders Index rising 4.7 percentage points to 62.1 percent. Consumption strengthened with production and employment continuing to expand over the prior month. The Production Index rose 0.7 percentage points, while the Employment Index grew 1.6 percentage points rising to 58.4 percent. The Export Orders Index remained at a two-year low of 52.2 percent in November. The Prices Index fell 10.9 percentage points to 60.7 percent as oil prices fell about 30 percent over the month.

Image 1. Stock Indices from Dec. 1, 2017 to Nov. 30, 2018. Local currency converted to USD using historical spot rates. The JKC Pump and Valve Stock Indices include a select list of publicly traded companies involved in the pump and valve industries, weighted by market capitalization. Source: Capital IQ and JKC research.
According to the "second" estimate released by the Bureau of Economic Analysis, real gross domestic product (GDP) increased at an annual rate of 3.5 percent in the third quarter of 2018. In the second quarter, real GDP increased 4.2 percent. Corporate before tax profits rose 10.3 percent compared to the third quarter of last year, the fastest pace since 2012. Domestic profits continued to rise, but due to slower global growth and recent dollar strength, foreign profits dropped $7.7 billion in the quarter.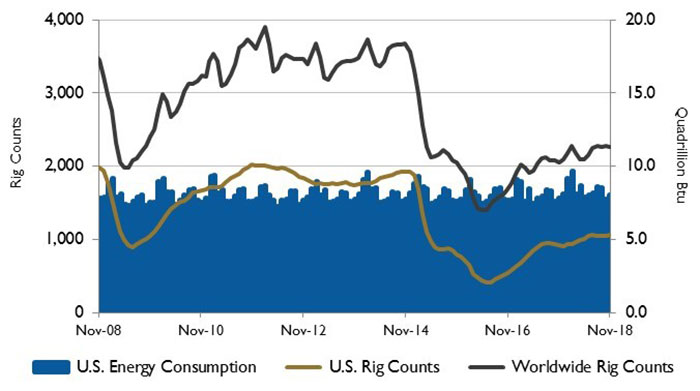 Image 2. U.S. energy consumption and rig counts. Source: U.S. Energy Information Administration and Baker Hughes Inc.
The development of shale resources increased the proved reserves of crude oil and natural gas to new records in 2017, according to the U.S. Energy Information Administration. Crude oil reserves increased 19.5 percent over 2016, reaching 39.2 billion barrels to surpass the previous peak of 39.0 billion barrels set in 1970. Proved reserves of natural gas increased 36.1 percent over 2016 to reach 464.3 trillion cubic feet in 2017 and surpass the record set in 2014.
Changes in proved reserves reflect new discoveries (in new fields, new reservoirs in old fields or extensions of existing reservoirs), net revisions to previous estimates, and reductions from annual production of each fuel. Higher fuel prices often increase reserve estimates as operators believe a broader portion of the resource base is economically producible. In 2017, the annual average spot price for crude oil increased 20 percent over 2016. Natural gas prices increased by 21 percent in 2017.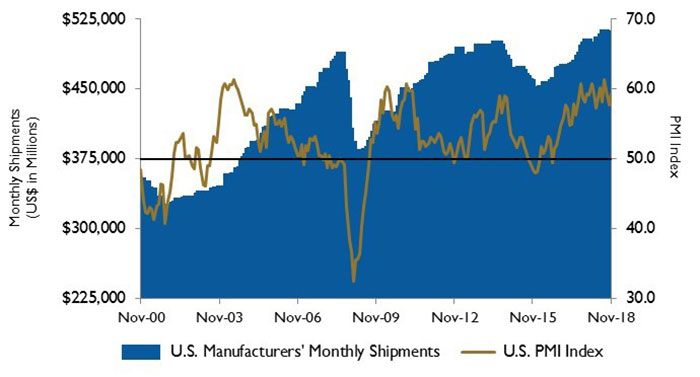 Image 3. U.S. PMI and manufacturing shipments. Source: Institute for Supply Management Manufacturing Report on Business and U.S. Census Bureau
On Wall Street, the Dow Jones Industrial Average rose 1.7 percent, the S&P 500 Index gained 1.8 percent, while the NASDAQ Composite rose 0.3 percent. Investors were encouraged by the Federal Reserve Chairman's statement that interest rates are close to neutral, a possible resolution of the trade conflict with China, and strong economic data including personal consumption expenditures, consumer confidence and third quarter gross domestic product.
Reference
1. The S&P Return figures are provided by Capital IQ.
These materials were prepared for informational purposes from sources that are believed to be reliable but which could change without notice. Jordan, Knauff & Company and Pumps & Systems shall not in any way be liable for claims relating to these materials and makes no warranties, express or implied, or representations as to their accuracy or completeness or for errors or omissions contained herein. This information is not intended to be construed as tax, legal or investment advice. These materials do not constitute an offer to buy or sell any financial security or participate in any investment offering or deployment of capital.
Issue