The Jordan, Knauff & Company (JKC) Valve Stock Index was up 10.8 percent. The JKC Pump Stock Index decreased 3.0 percent for the same time period.1
The Institute for Supply Management's Purchasing Managers' Index (PMI) declined from 59.3 percent in March to 57.3 percent in April. New orders registered 61.2 percent in April, a slight decline from March, but still showing growth as it has been above 60 percent since April of last year. The prices index has been above 70 percent all year and rose to 79.3 percent in April, its highest point in seven years.
For the month, 61.2 percent of survey respondents reported paying higher prices. The employment index has been above 50 percent since October 2016 and fell 3.1 percent in April to 54.2 percent.
U.S. construction spending fell 1.7 percent in March with private spending falling 2.1 percent and public spending relatively flat. On a year-to-date basis, total construction spending is up 5.5 percent over last year. Residential construction spending declined 3.5 percent, with an 8.0 percent drop in home improvement spending. Single family spending was down slightly but remained 9.7 percent above year-ago levels.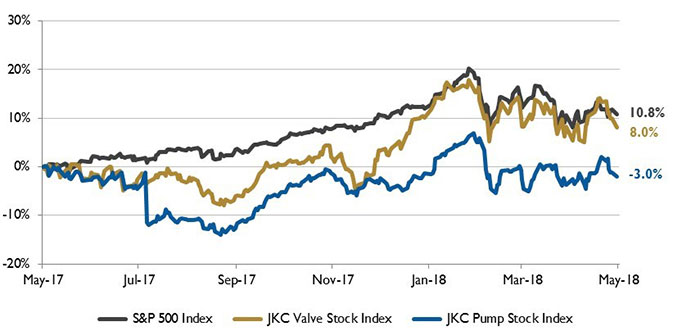 Image 1. Stock Indices from May 1, 2017 to April 30, 2018. Local currency converted to USD using historical spot rates. The JKC Pump and Valve Stock Indices include a select list of publicly traded companies involved in the pump and valve industries, weighted by market capitalization. Source: Capital IQ and JKC research.
Brent crude oil spot prices averaged $66 per barrel in March. The U.S. Energy Information Administration (EIA) forecasts that Brent spot prices will average about $63 per barrel in both 2018 and 2019. The EIA expects West Texas Intermediate crude oil prices to average $59 per barrel in both 2018 and 2019.
U.S. production of crude oil grew 5 percent last year reaching an annual average of 9.3 million barrels per day. The EIA expects that U.S. crude oil production will continue to grow in 2018 and 2019, averaging 10.7 million barrels per day (bpd) in 2018 and 11.3 million barrels per day in 2019. These levels would surpass the previous production record of 9.6 million bpd set in 1970.
Image 2. U.S. energy consumption and rig counts. Source: U.S. Energy Information Administration and Baker Hughes Inc.
Crude oil production in the Federal Gulf of Mexico increased to its highest annual level on record last year reaching 1.65 million barrels per day and is expected to continue at record levels through 2019. Nine new production projects came online in 2016 and 2017 with four new projects expected in 2018 and six more in 2019. Due to the amount of time needed to discover and develop large offshore projects, oil production in the Gulf of Mexico is less sensitive to short-term oil price movements than onshore production.
On Wall Street for the month of April the Dow Jones Industrial Average and the S&P 500 Index each increased by 0.3 percent, while the NASDAQ Composite increased by 0.1 percent. Fears of a global trade war, tensions related
to Syria and rising bond yields all contributed to muted returns. Even strong earnings results by most large corporations could not excite investors.
Reference
1 - The S&P Return figures are provided by Capital IQ.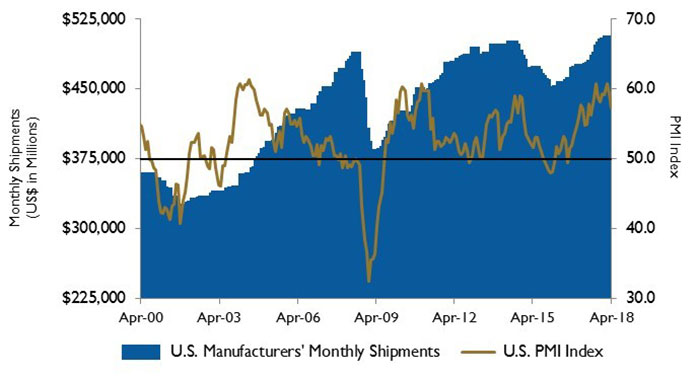 Image 3. U.S. PMI and manufacturing shipments. Source: Institute for Supply Management Manufacturing Report on Business and U.S. Census Bureau
These materials were prepared for informational purposes from sources that are believed to be reliable but which could change without notice. Jordan, Knauff & Company and Pumps & Systems shall not in any way be liable for claims relating to these materials and makes no warranties, express or implied, or representations as to their accuracy or completeness or for errors or omissions contained herein. This information is not intended to be construed as tax, legal or investment advice. These materials do not constitute an offer to buy or sell any financial security or participate in any investment offering or deployment of capital.
Issue